The blue screen with a sad face error, also known as the Blue Screen of Death (BSOD), is a common and daunting issue that can occur on Windows laptops or desktop PCs. When a Blue screen of death (BSOD) occurs, it will usually show an unhappy sad smiley face with some error messages accompanied by a STOP code.
This article will discuss the possible causes, troubleshooting methods, and solutions to resolve the blue screen with sad face error on Windows 10 and Windows 11.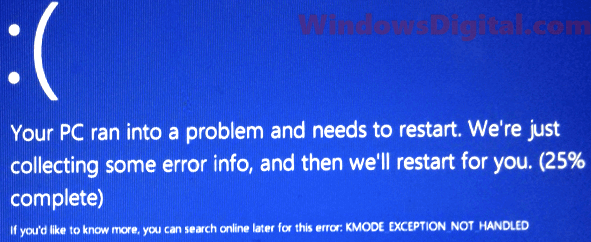 Common causes of Windows 10/11 blue screen with sad face issue
While the causes of BSOD can be numerous and sometimes unknown, they can generally be attributed to a few common categories:
Driver error
Hardware error
Software conflicts
Missing or corrupted Windows system files
Also see: Computer Restarts Randomly in Windows 11 (How to Fix)
Driver error
A corrupted or incorrectly installed driver can cause Windows to fail to work with your hardware, resulting in a blue screen. This issue can occur randomly while using your computer or during Windows startup, preventing you from booting into Windows.
Hardware error
Malfunctioning hardware components or those showing signs of failure can also cause the blue screen error. This is especially common when dealing with a failing hard disk drive, RAM, or a peripheral.
Software conflicts
Incompatibilities between software programs can lead to the blue screen with a sad face error. Additionally, missing or corrupted Windows system files can cause issues. When Windows itself is corrupted, you may find yourself stuck in a Windows rollback loop.
Fixing blue screen with sad face on Windows 11 or 10 PC
To begin troubleshooting a blue screen error, gather as much information as possible, such as the error message accompanying the sad face.
Aside from the common error message stating, "Your PC ran into a problem and needs to restart. We're collecting some error info, and then we'll restart for you. (100% complete)," most Blue Screens of Death (BSOD) display an error code known as a STOP code. This STOP code assists in identifying the specific problematic driver, system file, or hardware component that is causing the BSOD. Some common BSOD STOP codes and their solutions can be found below:
Identifying the STOP Error
For example, in the screenshot below, the STOP error at the bottom of the blue screen with a sad face reads DRIVER_IRQL_NOT_LESS_OR_EQUAL atikmdag.sys. This indicates that the issue is caused by a driver file called atikmdag.sys, which is part of the AMD ATI graphics driver.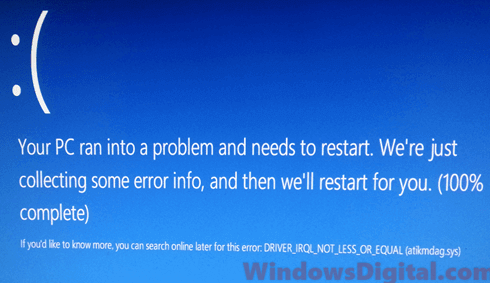 Once you've identified the cause of the blue screen of death error, you can take appropriate action. In the example above, you could update the graphics driver, reinstall it, or disable the software that uses it, such as overclocking software.
If you see a driver file and have an idea of which driver it relates to, try to update the driver in Windows 11/10 or remove the software associated with it.
In some cases, particularly when stuck in a blue screen startup loop, you can attempt to fix the error by applying a few repair tools (commands) during startup. Read: How to startup repair Windows 11/10 using command prompt.
Keep in mind that the STOP error shown above is just an example. Your specific STOP error may be different, and you can search online for more information about the issue you're encountering. You can also try searching for your STOP error on our site using the "search a problem" section at the top right corner of this page to find workarounds and solutions we provide.
Windows 11/10 blue screen with only the sad smiley face
If your blue screen displays only the sad smiley face, it indicates that even Windows itself couldn't identify the problem. This is particularly common after a new major Windows update, which can cause conflicts and errors.
If you're facing this issue and there's nothing else you can do other than reporting the bug to Microsoft, try the following: