When booting up your PC and it gets past the BIOS splash screen, you may encounter a blue screen of death (BSOD) showing a Windows STOP code – SYSTEM THREAD EXCEPTION NOT HANDLED. This error usually includes a driver SYS file, such as nvlddmkm.sys, bcmwl63a.sys, ntfs.sys, atikmdag.sys, or dxgmms2.sys. This guide will explain what the error means and how to fix the root of the problem.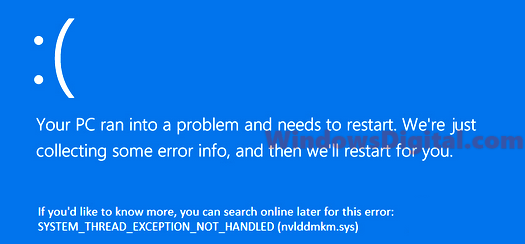 Update: Lately, numerous reports have surfaced about the SYSTEM THREAD EXCEPTION NOT HANDLED error occurring randomly during Fortnite gaming sessions. In most instances, this issue stems from a graphics card driver that appears to be incompatible with Fortnite at the moment. To resolve this problem, update your graphics card driver to the latest version.
What is the "SYSTEM THREAD EXCEPTION NOT HANDLED" blue screen error?
This particular blue screen STOP error in Windows 10 and 11 indicates a driver issue most of the time. When a driver is faulty, outdated, incorrectly installed, or manipulated by malware, it may cause the System Thread Exception Not Handled error.
When a hardware component is failing or has failed, it could also cause the blue screen error upon booting. If the error occurs only after launching a program, it may imply that the driver the program relies on is either incompatible with the program or is faulty.
How to fix the BSOD error on Windows 10/11?
To fix the error, we need to know which driver is causing the issue and update or repair the particular driver. To identify the problem driver, look at the driver's file name beside the STOP error "System Thread Exception Not Handled" in the blue screen, which usually ends with a .sys file extension.
This particular file name may help you learn which driver is causing the error. You can then resolve the issue by updating the problem driver accordingly. For example, below are some of the most common driver files that come with the blue screen error in Windows 10 and 11.
Nvlddmkm.sys – Nvidia Windows kernel mode driver which relates to Nvidia graphics card's driver.
Bcmwl63a.sys – Broadcom 802.11 Network Adapter wireless driver developed by Broadcom Corporation for the Windows Operating System.
Ntfs.sys – Windows NT Server developed by Microsoft for the Windows Operating System.
Atikmdag.sys – ATI Radeon Family developed by AMD for Windows OS which relates to ATI video card's driver.
Dxgmms2.sys – DirectX Graphics MMS associated with Windows 10 and 11 Operating System which relates to DirectX drivers.
By looking at the SYS file, you can identify the problem driver that causes the BSOD issue. You can then fix the driver by either updating it or uninstalling and reinstalling it.
If you have a different SYS file that comes with System Thread Exception Not Handled BSOD error and you have no idea what it is for, search the entire driver file name on Google to learn which part of your hardware is using the file as its driver. Then, you can fix the issue accordingly.
If no SYS file was shown in the blue screen error, you can try to update all major drivers, such as your display driver, network LAN or Wireless adapter driver, sound and audio driver to see if it helps to get rid of the blue screen issue. You can also try to run some repair tools such as SFC and DISM via command prompt on Windows Recovery to fix the issue.
Fixing the BSOD error by updating the problem driver
There are several ways to update a device driver in Windows 10 and 11. The most reliable way would be to search for and download the latest driver from your hardware's manufacturer websites, for example, Nvidia video driver from nvidia com. This ensures that you get the latest driver for your hardware device.
Since most users would not be able to boot into Windows to perform any driver update, you can force your Windows 10 or 11 to boot into safe mode, bypassing the blue screen. See: How to enter safe mode in Windows 11/10 if your Windows is corrupted.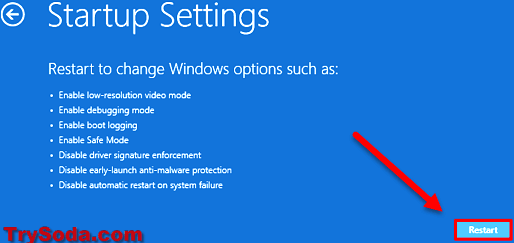 When you're booted into Windows 10 or 11 safe mode, follow the steps below to update a device driver through Device Manager.
Go to the start menu.
Search for Device Manager and open it.
Look for the driver that you've identified previously in the blue screen error.
For example, if the issue is with your graphics driver, in Device Manager, expand Display adapters.
Right-click on your primary graphics card and then select Update driver.
Click Next to allow Windows 10 or 11 to search for and install the correct driver for your video card automatically.
Alternatively, you can select Uninstall driver when you right-click on your device to uninstall its driver. If the driver is faulty or incorrect in the first place, uninstalling it would help to fix the "System Thread Exception Not Handled" issue. On the next restart, Windows will automatically identify and find the best matched driver for that particular device automatically from Microsoft driver's repository.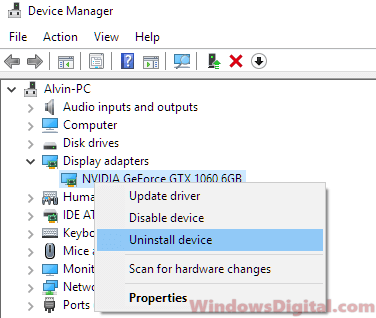 You can also use another computer to manually download the driver installer from the device's manufacturer website. Then, copy the installer to an external storage such as a USB flash drive and open it on your problem computer while it's booted into Safe Mode.
"SYSTEM THREAD EXCEPTION NOT HANDLED" Ntfs.sys or Dxgmms2.sys
If you are getting an error with a SYS file that is irrelevant to any of your hardware, it may be related to your Windows system files.
If you are seeing Ntfs.sys, for example, it could be due to missing or corrupted system files, or even disk errors on your Windows system drive. Running the SFC, DISM, and chkdsk scans may help to resolve the issue. You can check this guide here: "How to Startup Repair Windows 10/11 using Command Prompt" to learn how to use these tools if you can't boot into Windows.
If you are getting the blue screen error with Dxgmms2.sys error instead, try to run Windows Update to update DirectX 12 on Windows 10 or 11 safe mode.