The scariest and most frustrating error that can happen to your Windows computer is a Blue screen of death error. It usually happens when your Windows is entirely crashed, which as a result, you can't do anything except to restart your computer. Blue screen often comes with a STOP code error to help identify the source and cause of the BSOD problem. KMODE_EXCEPTION_NOT_HANDLED is the STOP code error we will be looking at now. This post explains about the STOP code KMode Exception Not Handled in Windows 10, particularly after Windows Update or fresh install of Windows 10, and how to fix it.
In simple language, KMode Exception Not Handled Windows 10 error, in most cases, is a result of conflicts in memory overwriting between programs and Windows when they run in the Kernel mode. Thus, the STOP code KMODE_EXCEPTION_NOT_HANDLED can be caused by invalid, corrupted or missing Windows system files, registry and drivers. An incorrectly installed software or a faulty hardware such as RAM or HDD could also be the reason why KMode Exception Not Handled in Windows 10 is occurring.
Some users from Reddit also reported that the KMODE_EXCEPTION_NOT_HANDLED error also comes with a driver file called ntfs.sys. The issue is commonly caused by overclock of hardware.
Since the reasons that can cause this specific blue screen error is vast, it can become very complicated when troubleshooting the error. However, we've sorted out the most common causes of this error and have listed the most working solutions below.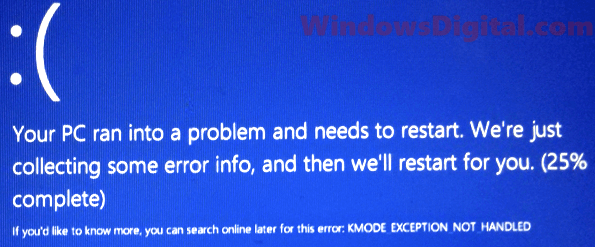 How to fix KMode Exception Not Handled Windows 10
Disable Fast Startup
In most cases, the STOP code KMode Exception Not Handled error in Windows 10 is caused by a boot option called Fast Startup when it's enabled in Windows. Disabling it should fix the issue. Here's how to do so.
Go to start menu or Cortana.
Search for and open Control Panel.
Click on System and Security.
Then, click on Power Options.
From the left pane, click on Choose what the power buttons do.
On the right, click Change settings that are currently unavailable to unlock the Shutdown settings.
Uncheck Turn on fast startup option to disable fast startup.
Restart your computer.
This should solve the KMODE_EXCEPTION_NOT_HANDLED in Windows 10 issue. If you can't boot into Windows to perform the changes in the first place, read how to enter Safe Mode in Windows 10 from BIOS.
Update your hardware drivers
If you have problem trying to make changes in Windows before the blue screen kicks in, or you can't even boot into Windows due to KMode Exception Not Handled Windows stop error, go to the link shown above to force your PC to enter safe mode without logging in.
Then, in safe mode, go to start menu. Search for and open Device Manager. In Device Manager, click on View from the menu, then click Show hidden devices. This is to ensure every connected hardware is shown on the list.
From the list look for devices with yellow exclamation mark beside it, usually named Unknown device, under Other devices category. Right-click these devices and then select Update driver software to allow Windows to update the driver automatically.
Since the KMode Exception Not Handled Windows 10 stop error directly relates to drivers of your connected hardware, updating these missing or corrupted drivers may help to fix the issue.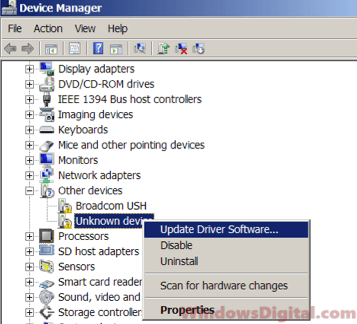 Remove recently installed programs
If the methods above didn't work to solve your KMode Exception Not Handled issue, try to recall what program or software you've recently installed right before the error started to occur. Try to uninstall these programs and see if it fixes the error.
The KMode Exception Not Handled Windows 10 error also implies that there could be conflicts between Windows and installed program when handling memory used. If a program is incompatible with how Windows 10 works, it may cause the KMODE_EXCEPTION_NOT_HANDLED error in Windows 10.