The Blue Screen of Death (BSOD) is a term used to describe a common error message that can appear on Windows PCs. This error message is usually accompanied by a blue screen and is considered one of the scariest things that can happen to your PC. It can happen without warning and at any time, leaving you with no time window to save your ongoing work.
The CRITICAL_PROCESS_DIED error is one specific type of BSOD that can occur on Windows 11 and Windows 10, particularly after a Windows update. This error message can be particularly alarming, as it can occur when you're simply clicking any built-in Windows app, and there's nothing you can do except to restart your computer. In this article, we will provide you with solutions to help you fix this error.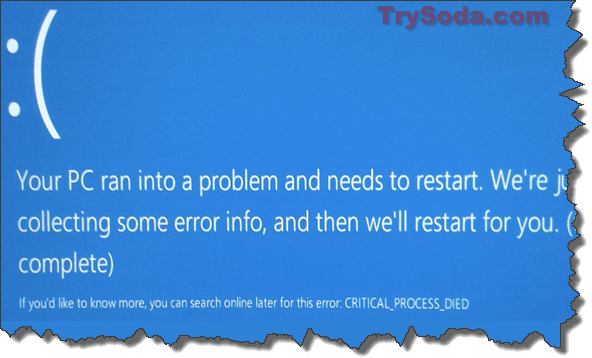 Causes of the CRITICAL_PROCESS_DIED error
The CRITICAL_PROCESS_DIED blue screen with a sad face error is typically caused by a problem with Windows drivers. The error usually occurs when a critical Windows component detects an unauthorized modification of its data, indicating that there may be a compatibility issue between a particular driver and the operating system.
The error can also occur after a Windows update, indicating that one or more drivers are causing conflicts with the update. This is because Windows updates can sometimes change the way that drivers interact with the operating system, which can cause compatibility issues.
Update all your drivers
Updating your drivers is the first and most important step in fixing the CRITICAL_PROCESS_DIED error. Outdated or faulty drivers can cause a variety of issues with your PC, including blue screen errors. Updating your drivers can help ensure that your PC is running smoothly and that you are protected against security vulnerabilities.
If you have not run Windows Update in a while, you can run it again to automatically install the latest drivers for your computer. Windows Update will check for any missing or outdated drivers and will install them automatically.
However, if the update was installed recently, and then the BSOD started to happen, you will need to check your manufacturer's website for the latest drivers. This is because some drivers may not be included in the Windows Update process, or they may not be updated as frequently as Windows updates.
Clean boot your computer
A clean boot is a troubleshooting technique that allows you to start your PC with a minimal set of drivers and startup programs. This can help you identify and resolve any issues that may be causing the CRITICAL_PROCESS_DIED error.
By starting your PC with a clean boot, you can eliminate any potential conflicts between drivers and startup programs. This can help you isolate the issue and determine the root cause of the error.
To perform a clean boot, follow these steps:
Go to Start and search for "msconfig."
Go to the Services tab.
Check the checkbox that reads "Hide all Microsoft Services."
Click on the "Disable all" button. This will disable all other services except Microsoft services.
Go to the Startup tab.
Click on "Open Task Manager."
Sort the status and disable all the enabled startup programs.
Restart your computer.
Your computer should now be booted clean, and the blue screen should be temporarily fixed.
Alternatively, you can try to re-enable these startup programs one by one until you find the problematic program that causes the Critical Process Died BSOD error.
Roll back to an earlier Windows build
Rolling back to an earlier Windows build is a way to revert your PC to a previous version of the operating system. This can help you resolve issues that may have been caused by a recent Windows update.
When you roll back to an earlier build, you essentially undo any changes that were made by the most recent update. This can help you eliminate any potential compatibility issues that may be causing the CRITICAL_PROCESS_DIED error.
To roll back Windows 10/11 to an earlier build, follow these steps:
Hold and press the Windows Key + I to open the Settings app.
Click on Update & security.
From the left pane, click on Recovery.
Under Go back to the previous version of Windows, click on the Get started button.
Simply select a reason, then click on Next.
Click No thanks when you're offer to download latest updates.
Click a couple of Next again, then select Go back to earlier build.
It may take 30 minutes to a few hours for the rollback process to complete. Do not interrupt it as it may break your Windows. It will restart itself in the process, and once it's booted in Windows, you will be in your previous build prior to the problematic update.
Use System File Checker tool to fix BSOD
The System File Checker (SFC) tool is a built-in Windows utility that allows you to scan and repair any corrupted system files. Corrupted system files can cause a variety of issues with your PC, including blue screen errors.
When you run the SFC tool, it will scan your system for any corrupted files and attempt to repair them. This can help you resolve any issues that may be causing the CRITICAL_PROCESS_DIED error. To run SFC in Windows 11/10, follow the steps below:
Go to Start and type "cmd."
Right-click "Command Prompt" and select "Run as administrator." This is important as SFC will only work when you have admin privilege.
In the command prompt, enter "sfc /scannow." SFC will begin scanning now. It may take a while.
Restart your computer when the process is done.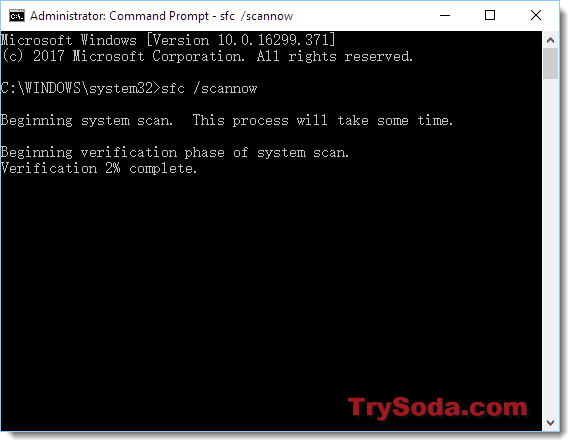 What to do when nothing works
If you're still experiencing the CRITICAL_PROCESS_DIED error after trying the above solutions, there are a few additional things you can try.
First, if you can't even boot into Windows to try any of the solutions, you can try to boot into safe mode. Safe mode is a diagnostic mode that starts Windows with a minimal set of drivers and services, which can help you isolate the issue that is causing the CRITICAL_PROCESS_DIED error.
If you can't boot into safe mode, the last resort is to clear your CMOS. However, this is an advanced fix that should only be attempted by those who have experience with hardware and know what they are doing. Clearing the CMOS involves physically touching your motherboard, such as switching the CMOS jumper or resetting the CMOS battery. If you need to do this, it's best to search for a guide on how to do it and follow the instructions carefully.
Another possible cause of the CRITICAL_PROCESS_DIED error is malware or viruses. Malware can cause conflicts with your system files and drivers, which can ultimately lead to blue screen errors. If you have antivirus software installed, run a scan on your computer to see if there is any malware causing the issue. It's always essential to have antivirus software installed to protect your computer from potential threats.
Finally, if you have just updated your Windows recently, it may take some time for the manufacturers of your hardware to come up with new drivers that are compatible with the current Windows update. In this case, it's best to temporarily roll back to an earlier build and wait for a week or two until these manufacturers release new compatible drivers. It's also important to wait for Microsoft to release any necessary patches or updates to fix the issue.