In an interconnected world where cyber threats are lurking at every corner, ensuring the safety of your digital assets is paramount. One type of file that often raises concerns is the executable file, commonly known as the .exe file. This article will guide you on how to scan an .exe file for viruses in Windows 11 and Windows 10, providing several methods to ensure that you're interacting with a safe and clean file.
Also see: How to Know Which App is Using The Internet in Windows 11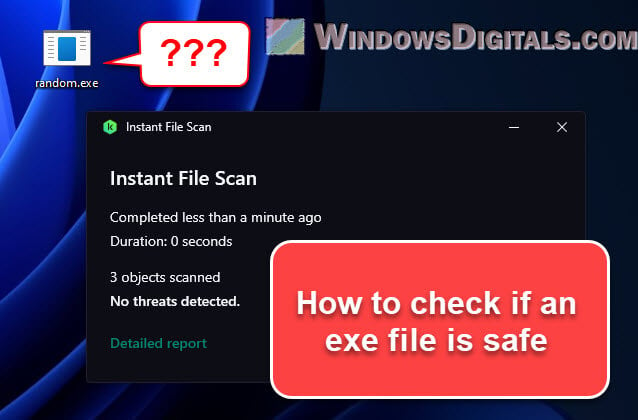 Why scan .exe files?
The EXE file format, short for executable, is a type of binary file primarily used by Windows operating systems to trigger particular actions on your computer. They are fundamental to the routine operations of your system and applications. However, due to their capability to access vital system resources and initiate potent actions, they may also pose a significant risk if they turn out to be malicious.
Malware, including viruses, worms, spyware, and more, often disguises itself as seemingly innocuous .exe files. These could appear as regular software installers, game files, or even system utilities. When executed, they can infect your computer, hijack sensitive data, or, in extreme cases, commandeer your entire system. This deception underscores the necessity to scan .exe files before running them, particularly those downloaded from the internet where the origins might be unclear.
Useful tip: How to Know Which Process is Using a File in Windows 11
How to scan .exe files for viruses
Method 1: Using a third-party antivirus software
Antivirus software is your first line of defense against potential threats. Nearly all such programs provide an option to scan individual files, including .exe files, to check if it's safe to run. Here's a step-by-step guide:
Right-click on the .exe file you want to scan. A context menu will appear.
Look for an option that says something like "Scan with [Your Antivirus Name]". The exact wording can vary depending on your antivirus software.
Click on the scan option. The antivirus software will begin to scan the file and alert you if it detects any threats.
Note: Make sure your antivirus software is up to date. Antivirus programs regularly update their databases to recognize new threats, so updating your software is key to effective scanning.
Common malware: Trojan:Win32/Wacatac.H!ml: What You Need to Know
Method 2: Using online virus scanning services
If you want a second opinion or if your antivirus software didn't detect anything but you're still suspicious, online virus scanning services like VirusTotal can be a valuable resource for checking if an .exe file is safe.
Follow these steps to use VirusTotal:
Open your preferred web browser and go to the VirusTotal website: https://www.virustotal.com.
On the homepage, click on "Choose File".
Navigate to the location of the .exe file on your computer and click "Open".
After selecting the file, click on "Confirm upload".
VirusTotal will scan the file with multiple antivirus engines and provide a detailed report.
Remember, no antivirus is 100% accurate, and VirusTotal is no exception. However, it uses multiple engines to increase its detection rate.
Related resource: How to Limit CPU Usage of a Process in Windows 11
Method 3: Using the Windows Security app
For Windows users, a built-in tool can be used for scanning individual files: the Windows Security app, specifically the Windows Defender feature. Here's how to use it to check if your .exe file is safe:
Right-click on the .exe file you want to scan, triggering a context menu to appear.
Click on "Scan with Microsoft Defender" or "Scan with Windows Defender" from the context menu. This action instructs Windows Defender to start scanning the file. If you're using Windows 11, you may need to select "Show more options" first after right-clicking the .exe file.
If any threats are detected, Windows Defender will alert you and suggest appropriate actions, which might include quarantining or removing the threat.
Note: If you have installed third-party antivirus software on your system, you might not see the "Scan with Windows Defender" option. This happens because when a third-party antivirus software is installed and active, Windows Defender's functionality is often partially or fully disabled to prevent conflicts between the two. This is based on the "Security Center" policy of Microsoft, designed to avoid potential issues arising from having multiple antivirus programs running concurrently.
Linked issue: "You're using other antivirus providers" Windows 11 (Fix)
If you still wish to use Windows Defender for this task while a third-party antivirus is active, you would need to temporarily disable the third-party antivirus. However, do this with caution and ensure to re-enable it once you're done. Remember that maintaining active antivirus protection is crucial for your system's security.
Method 4: Testing an .exe file in Windows Sandbox
Windows Sandbox is a relatively new feature introduced in Windows 10 and still available in Windows 11, allowing users to run potentially unsafe applications in an isolated environment. This method won't technically scan the .exe file, but it will allow you to execute it safely and observe its behavior, which can be a telltale sign of malware.
Search for "Windows Sandbox" in the Start menu and select it.
With the Sandbox open, drag and drop the .exe file into the Sandbox window. If drag and drop doesn't work, try copying and pasting the file instead.
Run the .exe file within the Sandbox. You can now observe how the file behaves without worrying about your system's safety.
Once you're done examining, close the Sandbox. Every change made within the Sandbox will be discarded, preventing any potential malware from affecting your system.
Note: If Windows Sandbox is not available when you search for it in the Start menu, you may need to enable it. To do this, type "Turn Windows features on or off" in the search bar, scroll down in the pop-up window, and check the box next to "Windows Sandbox".
Conclusion
Keeping your computer, especially a Windows-based system, safe from threats is a multifaceted task that requires vigilance and knowledge. While it's critical to scan .exe files to check if they're safe before executing them, it's equally important to maintain good digital hygiene: keep your system and antivirus software updated, only download from trusted sources, and make regular backups of your essential data.
With the methods provided in this guide — including third-party antivirus software, online scanners, Windows Security, and Windows Sandbox — you have a comprehensive toolkit to ensure the safety of any .exe file you encounter. By taking steps to secure your own computer, you're also contributing to the broader internet community's safety, creating a healthier and safer digital environment for everyone.