The world of software applications is full of various files and processes that can sometimes seem unfamiliar. One of these may be Detection.exe by Husdawg. In this article, we will look into what Detection.exe is, whether it is safe, how to run it, and what the online community such as Reddit thinks about it.
Also see: How to Scan an .exe File for Viruses to Check If It's Safe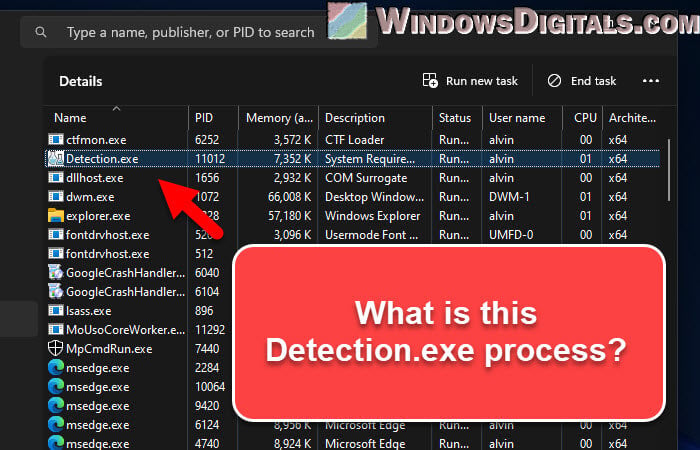 What is Detection.exe?
Detection.exe is an executable process that originates from the software known as System Requirements Lab Detection developed by Husdawg, LLC. In a nutshell, Detection.exe is a system analysis tool that scans the hardware and software attributes of your computer. This thorough examination determines whether your system aligns with the minimum or recommended requirements for specific applications or video games.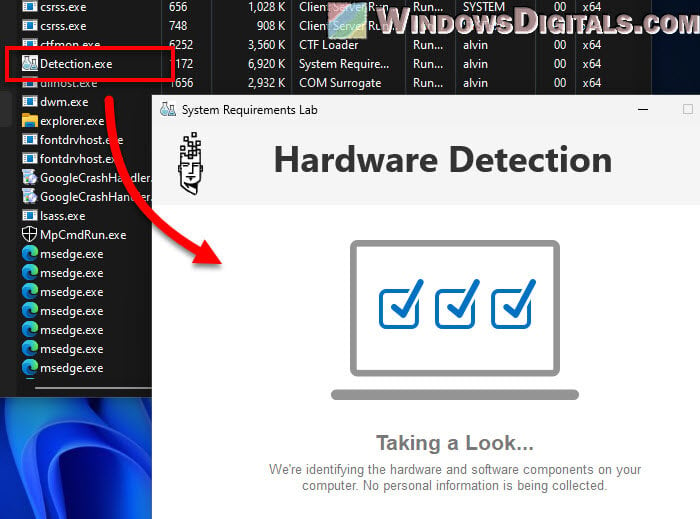 The power of this tool lies in its preemptive approach. By assessing system compatibility before installing software or games, it helps users avoid any potential performance issues or technical glitches. In other words, Detection.exe ensures that you have a smooth, uninterrupted experience when running new applications or games on your system.
Useful tip: How to Know If an App is Using The Internet in Windows 11
Is Detection.exe safe or could it be a virus or malware?
Typically, the Detection.exe file or process is entirely safe, with no inherent malicious intent or harmful components. However, it is essential to remember that the safety of any file or process on your computer largely depends on its source.
Malicious entities often disguise harmful files or processes as legitimate ones, such as Detection.exe. To ascertain the safety of the Detection.exe file on your computer, you should run an antivirus scan or use trusted online tools such as VirusTotal.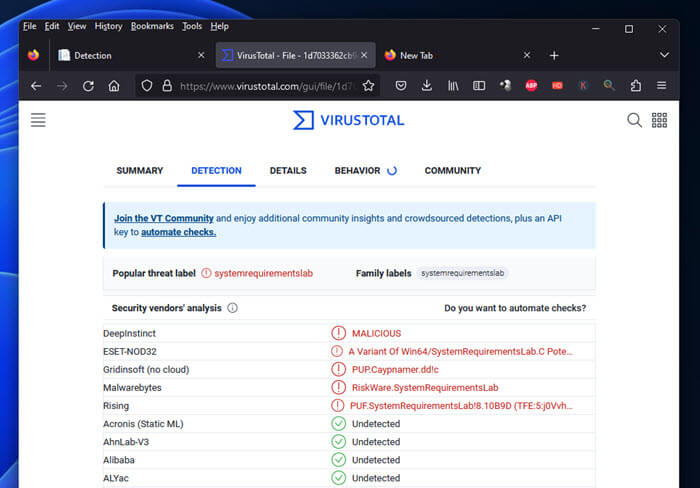 Another useful safety tip is to check the location of the Detection.exe file. The genuine file is typically located in a subfolder within the "C:\Program Files\SystemRequirementsLab" directory. The full path to the file will look something like this:
C:\Program Files\SystemRequirementsLab\detection.exe
Note: The file could also be located in your Downloads folder if you downloaded it from the System Requirements Lab website and ran it directly from there. For other software that uses this process, it may also appear in the respective software's installation directory.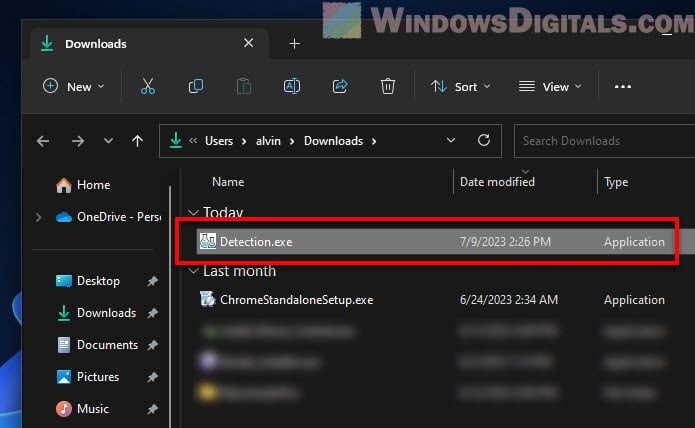 Related resource: How to Know Which Process is Using a File in Windows 11
Can you run Detection.exe?
Yes, Detection.exe is designed to be user-friendly and can be manually run by users. It was developed with the express purpose of allowing users to scrutinize their system compatibility with different applications or games.
To run Detection.exe, you need to navigate to the directory where the file resides (usually within a subfolder in the "C:\Program Files\SystemRequirementsLab" or the Downloads directory). Once you're in the correct location, double-click the file to execute it.
If you encounter any issues while attempting to run Detection.exe, it might be due to restricted access or administrative privileges. In such cases, right-click on the file and select the "Run as administrator" option.
Recommended guide: How to Allocate More RAM to a Game in Windows 11 or 10
How to download Detection.exe
Detection.exe comes as part of the System Requirements Lab software suite, so to download it, you need to download the full program.
Here are the steps you need to follow:
Open your web browser and navigate to the official website of the System Requirements Lab: https://www.systemrequirementslab.com/.
On the homepage, look for the "Can You Run It" button. It's usually prominently placed and easy to find. Click on it to initiate the analysis. As you go through the steps, you'll be prompted to download the Detection.exe file.
You'll need to run this file so the program can determine whether your system can handle your selected game.
Once the detection.exe process has finished running, you can return to the webpage to view the results.
Remember, downloading software from reputable sources is crucial for your digital safety. Downloading and installing software from unverified or suspicious websites can expose your system to unnecessary risks.
What Reddit users think about Detection.exe?
Online communities like Reddit are often invaluable resources for insights into real-world user experiences with various software processes, including Detection.exe. According to the majority of Reddit users who have discussed Detection.exe, it's generally viewed as a useful and legitimate tool for checking system compatibility for games or software.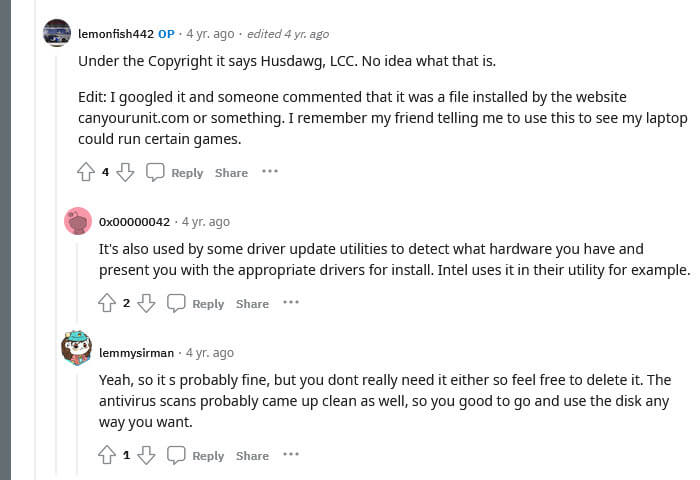 Despite this, Redditors commonly recommend scanning any exe file, including Detection.exe, with antivirus software or online services like VirusTotal, if there are any doubts about the process. This advice stems from a popular mantra within the tech community: "Trust, but verify". This means that even if a file seems benign, it's always a good idea to perform a routine check, particularly if the file is behaving unusually.
How to uninstall Detection.exe
If you no longer need to use Detection.exe or the System Requirements Lab software, you can easily remove the Detection.exe file from your computer. Since Detection.exe is an independent executable file, you can simply delete it without needing to go through an uninstallation process.
To remove Detection.exe, locate the file on your computer. You can typically find it in the folder where you originally downloaded it or in the installation directory of the System Requirements Lab software.
Once you have located the Detection.exe file, simply right-click on it and select the "Delete" option from the context menu. Confirm the deletion if prompted, and the file will be removed from your system.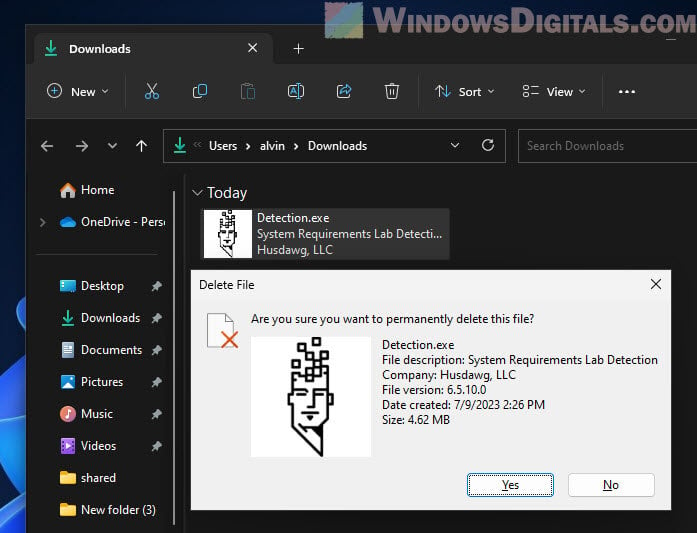 It's important to note that by deleting Detection.exe, you will no longer have access to the System Requirements Lab functionality for analyzing system compatibility. If you ever wish to use the software again in the future, you will need to download and install it from the official System Requirements Lab website.
Summary
In conclusion, Detection.exe by Husdawg is a legitimate and functional process that is part of the System Requirements Lab. It provides a beneficial service by assessing whether your computer meets the hardware and software requirements of certain games or applications. However, as with any other executable file, you should always be certain it originates from a reliable source and perform routine safety checks.