PDF24 is a tool that has gained traction among numerous internet users due to its ability to convert, edit, and manage PDF files with ease. However, as is the case with any software or online tool, users often wonder: is it safe and is it genuinely free? Navigating the internet, especially when using tools that handle potentially sensitive documents, necessitates caution. In this article, we'll provide insights into what PDF24 is, its reputation and safety, whether it's truly free, and aspects users should be mindful of.
Also see: How to Edit PDF File for Free on Windows 11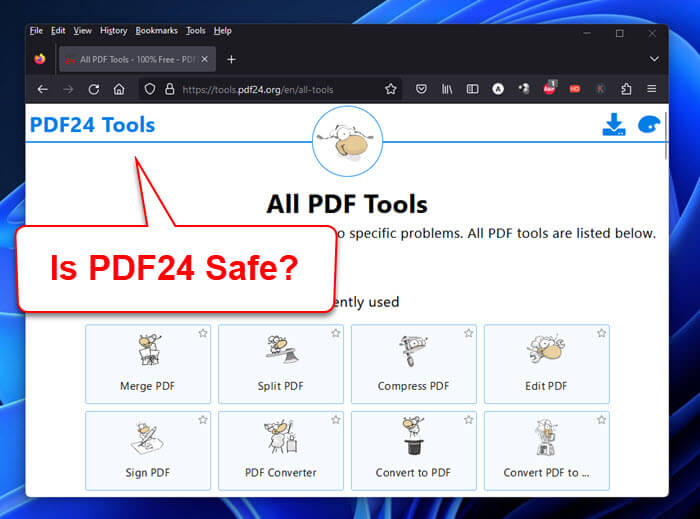 Is PDF24 truly free?
When exploring the world of PDF tools, it's not uncommon to come across software that claims to be "free," only to discover hidden costs or premium features locked behind a paywall. With PDF24, understanding its cost structure is crucial for users who are looking for a reliable tool without unexpected fees.
Yes, PDF24 is 100% free
Unlike many PDF software options available in the market, PDF24 remains completely free. It stands out by offering its entire suite of tools without any hidden costs. Whether you're using its online platform or the PDF24 Creator for desktop, you won't be prompted to upgrade to access advanced features – simply because there isn't a premium version. Every feature, tool, and functionality is available to all users at no charge.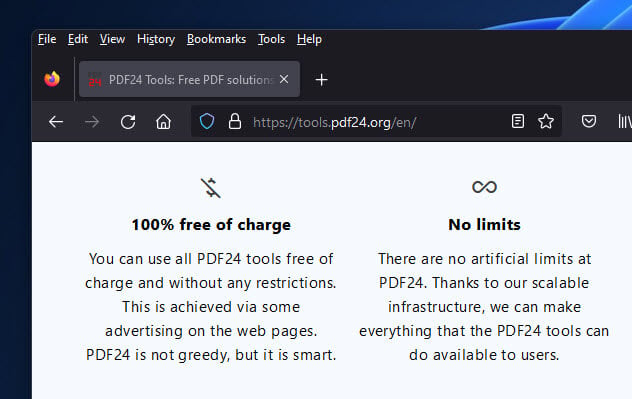 PDF24 online tools and desktop version
PDF24 provides two primary modes of operation:
Online Version: Accessible via any web browser, the online version of PDF24 offers a comprehensive set of PDF editing tools. From merging and splitting to converting and editing, users have a plethora of options right at their fingertips.
PDF24 Creator: For those who prefer an offline solution, the PDF24 Creator is a downloadable desktop software that allows users to manage their PDF tasks without needing an internet connection. It's especially useful for those concerned with data security or those who often find themselves working without a reliable internet connection.
In both versions, users can rest assured knowing that the tool they're using is entirely free. There's no bait-and-switch, no trial period, and no advanced features locked away.
Useful tip: How to Add Text to PDF in Windows 11 using only Edge
How safe is PDF24?
In our digital age, safety and security are paramount, especially when you're dealing with documents, some of which might contain sensitive or private information. It's natural to have concerns about any software that interacts with your files. With that in mind, let's take a closer look at the safety measures and considerations surrounding PDF24.
Suggested read: How to Scan an .exe File for Viruses to Check If It's Safe
They don't keep your documents
Whenever you're using online tools, it's always wise to acquaint yourself with the tool's data protection policies. PDF24, understanding user concerns, has been transparent about its policies. When using the online version of the tool, uploaded documents are automatically removed from their servers after a short duration, ensuring they aren't lingering online unnecessarily.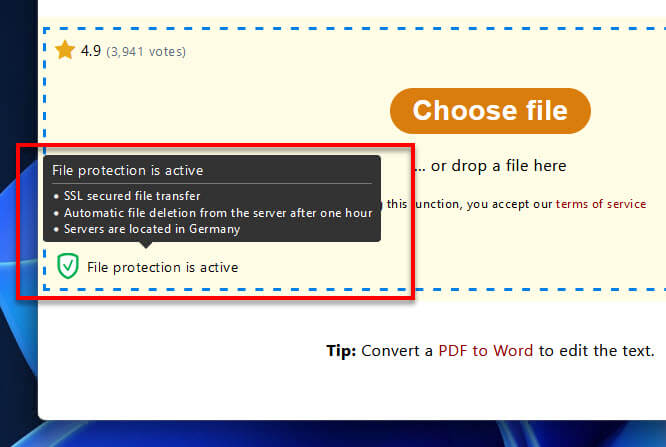 SSL encryption for online version
Secure data transfer is critical when you're working with online platforms. PDF24 employs SSL encryption when users are transferring data to and from the website. This means that the documents you upload and download are safeguarded against potential interception during transit.
PDFs are processed locally with PDF24 Creator
One of the standout features of the PDF24 Creator (the desktop version) is that much of its processing happens locally on the user's machine. This local processing means your files aren't being transmitted over the internet unless you specifically choose to do so, offering an added layer of security for those particularly cautious about online data transfer.
Beware of phishing scams
It's essential to always obtain PDF24 from its official website (pdf24.org) or trusted sources. There have been instances where third-party websites pose as official providers of popular software, only to distribute malware or collect user data maliciously.
Always ensure that you're on the correct website (check the URL) and that you click on legitimate download or upload buttons. Be wary of pop-up ads or unexpected download prompts.
Insights from Reddit users about the safety of PDF24
In various discussions across Reddit, users commonly report that PDF24 is generally regarded as a safe option for PDF editing tasks. They commented that it's easy to use, has good features, and importantly, takes security seriously. While everyone's experience might not be the same, most comments suggest that PDF24 is a reliable choice for editing PDFs. It has gathered a group of users who find it simple, effective, and safe.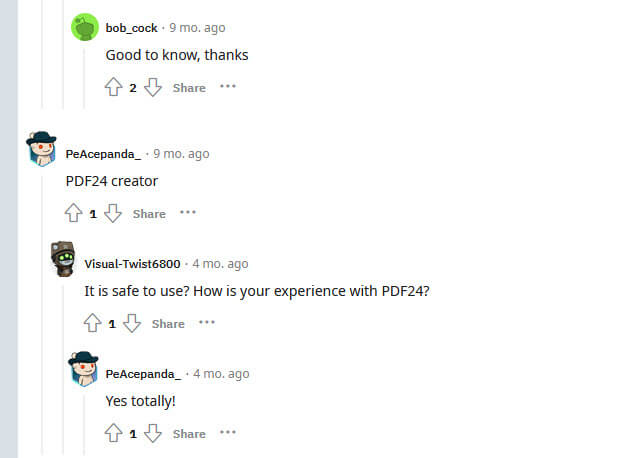 Is PDF24 open source?
PDF24 is often mistaken for open-source software due to its free availability. However, being free doesn't necessarily mean it's open source. As of the latest information available, PDF24 is not open source, which means its source code isn't publicly available for modification or redistribution. While users can utilize the software without any costs, they don't have the freedom to view, modify, or distribute its underlying code. For the most up-to-date details regarding its licensing and status, it's always best to refer to the official website or documentation.
Handy guide: How to Convert HTML to PDF in Windows 11 / 10
How to use PDF24 tools
For both seasoned digital professionals and those new to online PDF tools, it's essential to understand how to navigate and efficiently use PDF24's suite of features. Whether you're using the online platform or the downloadable PDF24 Creator, below is a brief walkthrough on how to utilize these tools.
Online version: No software needed
Using the online version of PDF24 is straightforward and quick. Here's how to get started and make the most out of its features:
Accessing the tool: Simply visit the PDF24 official website using your preferred web browser. You'll be greeted by a clean interface with a clear set of tool options.
Uploading files: Depending on your task, you can click on the appropriate tool – be it merge, split, convert, or edit. After selecting your desired tool, you'll usually be prompted to upload your PDF(s). Click "Select Files" or drag and drop your documents into the designated area.
Using the tools: Once uploaded, the interface will present you with various options tailored to your selected tool. For example, if you chose 'merge', you'd be able to arrange the order of multiple PDFs.
Exporting and downloading: After making the desired changes, every tool will have an option to save or download your document. Click on "Download" to retrieve your modified PDF.
Related resource: How to Change Default PDF Viewer in Windows 11
PDF24 Creator: Edit your PDF offline
For users looking for an offline solution, PDF24 Creator provides a robust platform for all your PDF needs. Here's a simple guide to help you get started:
Download the Software: Visit the official PDF24 website and select the "Download desktop version" to download the PDF24 Creator. Ensure you're downloading from the official source to guarantee the software's authenticity and safety.
Installation: Once downloaded from the official website, run the installation process. Follow the on-screen prompts to install PDF24 Creator on your machine.
Launching the software: After installation, open PDF24 Creator. The interface is intuitive, with clear icons representing different tasks like merging, splitting, or converting.
Working with files: To start, either drag and drop your PDF into the software or use the "Open" option to locate your file. The software will display a preview of your PDF, alongside various editing tools.
Saving and exporting: After editing or performing your desired tasks, click on "File" in the upper left corner, and select "Save" or "Save as" to store your modified document.
Summary
Searching for a reliable and free PDF editor can be challenging, especially with many that covertly introduce a premium paywall after a few edits. However, if you're in search of a genuinely free and trustworthy PDF editor, PDF24 stands out. With both an online platform and an offline "Creator" version, it provides comprehensive editing solutions without hidden fees. For those seeking a dependable and cost-effective tool for their PDF tasks, PDF24 is certainly worth considering.