Windows rollback loop is a Windows 10 startup loop error in which you are stuck seeing a blue screen asking if you want to exit and continue to Windows Rollback (loop) or to troubleshoot, and you are also asked to choose your keyboard layout and language during the loop. No matter how many times you try to restart your PC, it will go right back to the Windows 10 rollback loop screen.
This problem becomes popular since the major Windows 10 April update 1803 in 2018 where immediately after the update, PC gets into the Windows rollback loop indefinitely.
So, what we want is just to be able to get into the Windows again. The error is usually caused by corrupted or missing system file error, disk error or corrupted Windows 10 boot parameters. Before you give up and go straight to restore, reset or reinstall your Windows 10, try the following solution. It may be able to fix the Windows rollback loop and help getting you back to your Windows 10 without restoring or doing any rollback.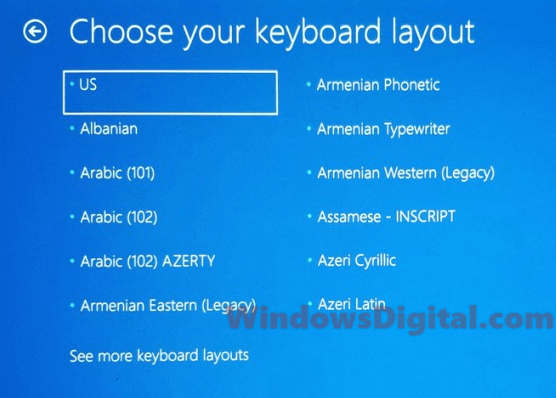 Fix: Windows rollback loop after update in Windows 10
Since we will need to execute several commands to scan and repair system file, disk error and boot parameters, we need command prompt access. In order to access to command prompt, we need to get into the Windows 10 recovery mode, also known as Windows Recovery Environment.
To get into Windows system recovery mode, press F8 while booting your PC. If F8 doesn't work, try F11. If neither key is able to bring you to recovery mode, do this: Hold and press the power switch of your computer for 5 seconds until it's completely off. Start it up again. As soon as it starts loading Windows, hold and press the power switch to force another switch off. Repeat this for 3 times. When Windows 10 detects multiple failed startups, it will automatically boot into Windows recovery mode.
When you get into Windows recovery mode, follow the steps below to fix the Windows rollback loop error.
Update: We have a new fix (that actually works for many others) for the issue here: Windows 10 Update choose your keyboard layout and black screen Fix.
In the recovery mode, select Troubleshoot.
Select Command Prompt.
Enter the following commands, and press Enter key after each command. Assuming the targeted Windows 10 is stored in C:\, otherwise replace C: with the correct drive.

chkdsk c: /f

sfc /scannow

bootrec /fixmbr

bootrec /fixboot

bootrec /rebuildbcd

bcdboot c:\windows /s c:
Restart your computer if it didn't restart itself after entering the commands. If it tells you access denied during the execution of any of the commands, make sure you are entering the correct drive letter where your Windows 10 is stored.
If your PC is still stuck in the Windows rollback loop even after trying all the available fixes, you can then decide if you want to restore Windows 10 to a previous date if you have a saved restore point, or reset Windows 10 if you don't.