If your PC boot into the "Choose an operating system" screen every time you boot or restart your computer, it means that you have multiple Windows installed on your system. Thus, Windows pops the screen to let you choose which Windows to boot during startup. The screen is also known as dual boot options menu. This guide will show you how to remove or disable the Choose an Operating System screen from ever showing again in Windows 10.
Regardless if you have formatted your primary hard drives, the "Choose an operating system" screen will still show up as long as your Windows detects other existence of Windows OS on other partitions or other drives that you did not format. Besides, you don't have to format your drive just to get rid of the dual boot menu options screen. You just have to remove the old Windows from being listed on the dual boot menu, leaving only your current Windows, so that there is no other operating system to choose from, thus, skipping the choose an operating system screen on startup.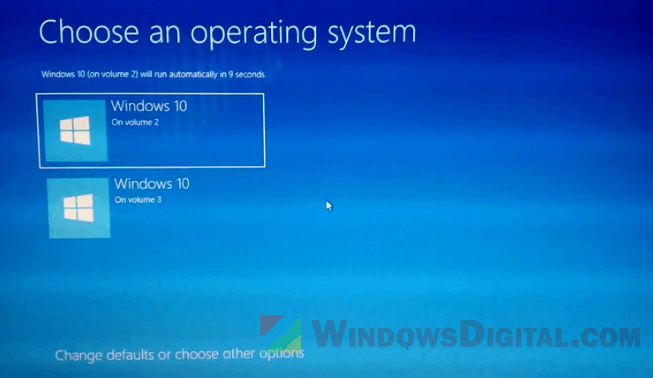 How to Remove Choose an Operating System Screen
If you currently use only one Windows, you can remove the old Windows which you no longer use from being listed on the boot option. Doing so will tell Windows that there is only one Windows to boot from, thus, no need for the "choose an operating system" screen to appear. Here's how to do it.
In Windows 10, go to start menu or Cortana. Type "MSCONFIG" to search for and open System Configuration.
In the System Configuration window, go to Boot tab.
You should then see a list of Windows that ever installed on different drives in your computer. Select those that you no longer use and click Delete, until only the "Current OS; Default OS" is left.
Click Apply and restart your PC. The startup should now skip the "Choose an operating system" screen automatically.
If you are stuck in this screen regardless if u have only one Windows installed, especially after a recent major Windows Update, this article below explains what might be the cause of the issue and how to possibly fix the problem.