Understanding the vast multitude of processes that run on a Windows system can often be a daunting task. With countless .exe files operating in the background, it is crucial to distinguish between necessary system processes and potential threats. In this article, we will focus on an executable file named CC_Engine_x64.exe, explaining its purpose, discussing its relation to MSI Center and Dragon Center, and addressing potential concerns such as high resource usage and malware suspicions.
Also see: How to Know Which App is Using The Internet in Windows 11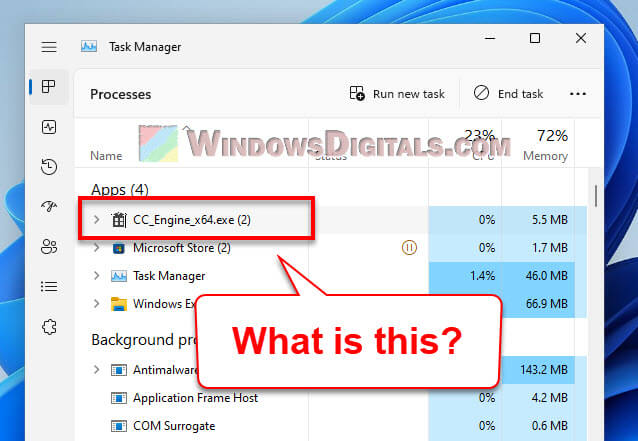 What is CC_Engine_x64.exe?
The CC_Engine_x64.exe is an executable file that plays an integral part in the functioning of the Dragon Center or the One Dragon Center Software, developed by Micro-Star International (MSI). This software is a central control hub for MSI computer components, allowing users to control and monitor various aspects of their system such as the system's fan speed, core temperature, and system performance, to name a few.
The CC_Engine_x64.exe is typically located in one of the following directories:
C:\Program Files (x86)\MSI\MSI Center\Engine\
C:\Program Files (x86)\MSI\One Dragon Center\
C:\Program Files (x86)\MSI\Dragon Center\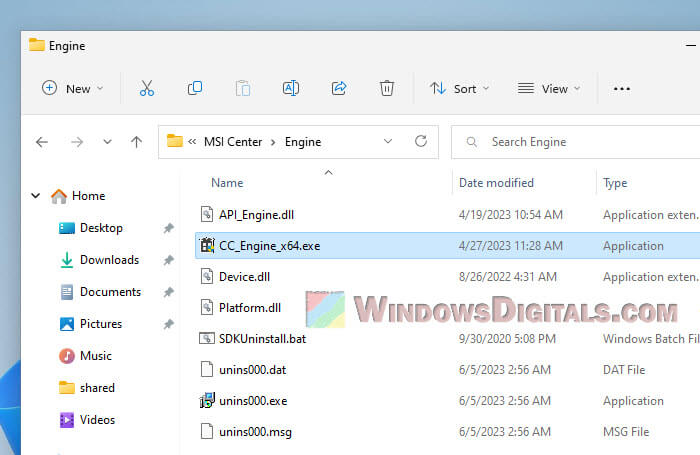 These are the default installation paths for Dragon Center software and can be used to locate the process and its associated files.
Useful tip: How to Know Which Process is Using a File in Windows 11
What is MSI Center and Dragon Center?
The MSI Center (previously known as Dragon Center) is a hardware monitoring and tuning software developed by MSI. This utility software is designed to provide users with complete control over their MSI hardware component settings.
Whether you're overclocking your system, controlling RGB lighting, monitoring system health, or updating your system software, MSI Center and Dragon Center are the central hubs to handle all these functionalities.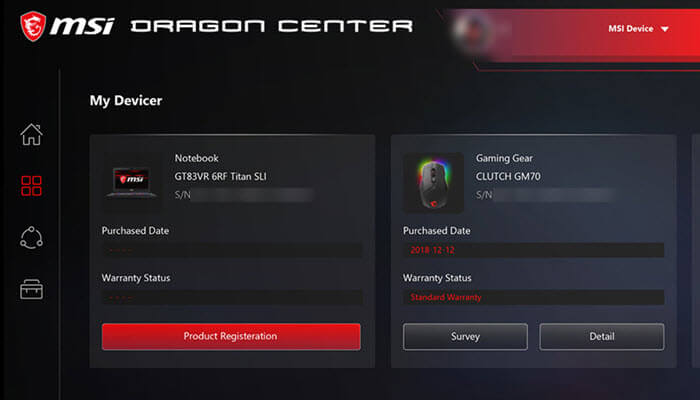 Dragon Center is typically included in the software suite of MSI's gaming laptops and desktops, while MSI Center is a more recent incarnation of the software, intended to work with a broader range of MSI hardware components. Both Dragon Center and MSI Center utilize the CC_Engine_x64.exe process to perform their tasks.
Linked issue: GPU 100% Usage When Idle or Gaming (Good or Bad)
Is CC_Engine_x64.exe a virus or malware?
The genuine CC_Engine_x64.exe file is not a virus or malware. It is a legitimate file that is part of MSI's hardware management software. However, it's important to remember that any executable file can be used maliciously. Cybercriminals may disguise malware as a legitimate file, so it's crucial to ensure the authenticity of the file.
If you're unsure about the legitimacy of the file, run a virus scan using your antivirus software or use Windows Defender to ensure the file isn't harmful. Be sure to keep your antivirus software up-to-date to effectively catch any potential threats.
CC_Engine_x64.exe is causing high CPU, memory or disk usage
There have been instances reported on platforms like Reddit, where users experienced high CPU, memory, or disk usage related to the CC_Engine_x64.exe process. Although these cases are not the norm, they can occur due to software bugs or conflicts with other system resources.
If you're facing this issue, consider updating your MSI Center or Dragon Center software, as newer versions often come with bug fixes and performance improvements. If the problem persists, you might need to uninstall and then reinstall the software.
Handy guide: How to Limit CPU Usage of a Process in Windows 11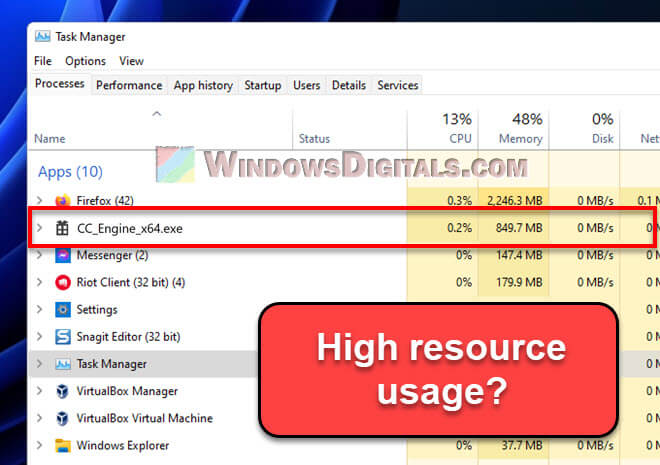 How to remove CC_Engine_x64.exe
If you wish to remove the CC_Engine_x64.exe process, follow the steps below. Note that this will also uninstall the MSI Center or Dragon Center software.
First, right-click on the taskbar and select "Task Manager". In the Task Manager window, find and select "MSI.CentralServer.exe" under the Processes tab. Click "End Task".
After closing the task, click on the "Start" button and then select "Settings".
In the Settings window, select "Apps", then click on "Apps & features".
In the search bar under "Apps & features", type "MSI Center" or "Dragon Center" (depending on which software is installed on your system). Click on the appropriate software from the results, and select "Uninstall".
If you can't find the software in Apps & features, you can manually uninstall it. Navigate to C:\Program Files (x86)\MSI\MSI Center\Engine, and double-click on "unins000.exe" to start the uninstallation process.
Before removing this software, ensure that you no longer need the functionalities offered by MSI Center or Dragon Center. After removing the software, the related process, CC_Engine_x64.exe, will also be removed.
Related resource: Can't Completely Uninstall a Driver in Windows 11 (Fix)
Summing up
The CC_Engine_x64.exe process is an essential part of the Micro-Star International (MSI) hardware management ecosystem. While it might occasionally lead to high system resource usage, it plays a crucial role in providing users with detailed control over their hardware components. If you decide that you no longer require the functionalities provided by the MSI Center and wish to remove the CC_Engine_x64.exe process, you can proceed with its uninstallation as explained above. As always, any modifications to system files and processes should be carried out with caution, ensuring system integrity and security.