Intel Celeron, a brand that has been a staple in the world of budget-friendly processors for years, has seen its fair share of updates and iterations. However, as technology advances and operating systems like Windows 10 and Windows 11 become the norm, finding the right graphics drivers, particularly their integrated graphics, for Celeron processors can pose a significant challenge. In this article, we will explore the nuances of obtaining Intel Celeron graphics drivers for Windows, discuss the compatibility of these drivers with various Windows OS versions, and provide step-by-step guidance on where and how to download the appropriate drivers for your specific Celeron processor.
Also see: Intel HD Graphics: This computer does not meet the minimum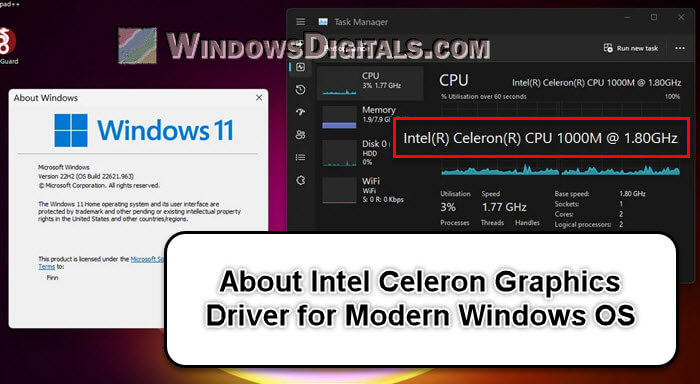 The legacy of Intel Celeron processors
Before jumping into the ways to obtain a compatible graphics driver for modern Windows operating systems, it's essential to understand the Celeron branding's heritage. Initially introduced in 1998, the Intel Celeron was pitched as a budget-friendly alternative for both desktop and laptop computers, to Intel's higher-end processors.
Over the years, the brand has seen multiple generations, each bringing its own architectural changes and improvements. However, the older branding of Celeron can create confusion when trying to identify the correct graphics driver for a specific processor generation.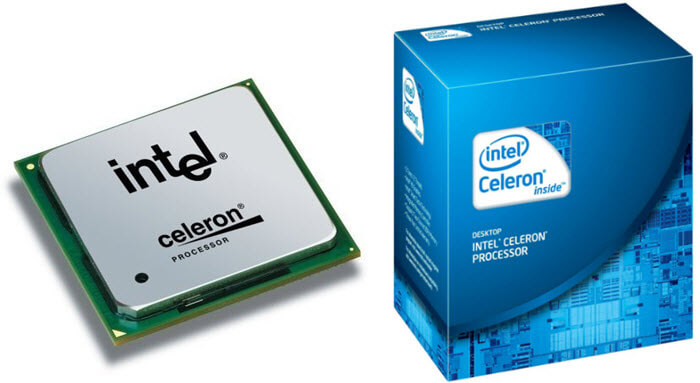 With each passing generation, the focus of development and support gradually shifted towards newer products. This shift often leaves users of older Celeron generations grappling with compatibility issues, particularly when updating or changing their OS. For users of Windows 11 and 10, this challenge is especially pronounced given the advanced graphics requirements and features of these modern OS versions.
Additionally, there's a misconception that Celeron, being an entry-level offering, is not worthy of continuous updates. While it's true that Celeron chips may lack some advanced features present in premium lineups, they're still potent for many everyday tasks. This can leave users in a tricky situation where the hardware is still functional, but the software (drivers) may be lagging or non-existent.
Pro tip: How to Force App or Game to Use Integrated Graphics or Dedicated GPU
Common Intel Celeron processor models
When searching for Intel Celeron graphics drivers, it's essential to know the specific model of your Celeron processor. Below is a list of some common Intel Celeron processor models:
Intel Celeron N4000
Intel Celeron N3350
Intel Celeron N3060
Intel Celeron J1800
Intel Celeron N2840
Intel Celeron J1900
Intel Celeron N2830
Intel Celeron N3050
Intel Celeron N5095
Intel Celeron N2940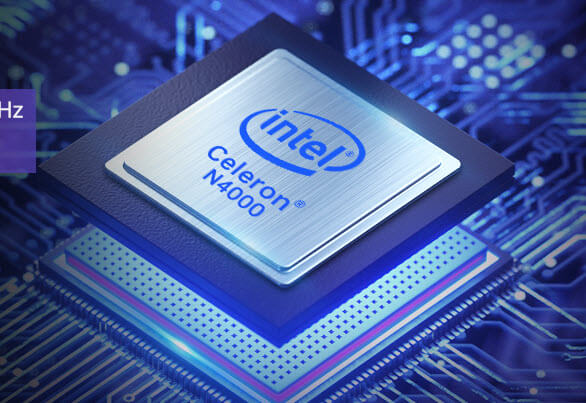 Each of these processor models may belong to different generations, and the availability of graphics drivers may vary depending on the generation and compatibility with your Windows operating system. Remember that accurate identification of your processor is crucial when seeking the correct graphics drivers.
Related resource: How to Check Your Graphics Card on Windows 11/10 (Intel, NVIDIA or AMD)
Methods to download Intel Celeron graphics drivers for Windows
When it comes to obtaining Intel Celeron HD graphics drivers for Windows, there are several methods to consider. The approach you choose will depend on your processor's generation and your preferences for driver installation. Below, we'll outline the primary methods to acquire these drivers.
See also: How to Update Graphics Driver in Windows 11
1. Intel Driver & Support Assistant (Intel DSA)
The most straightforward method to obtain the latest graphics drivers for your Celeron processor is by using the Intel Driver & Support Assistant, commonly known as Intel DSA. This official tool from Intel is designed to automatically detect your processor and recommend the appropriate drivers, including graphics drivers.
Follow these steps to use Intel DSA:
Download and install: Visit the Intel DSA download page and download the tool. Install it on your Windows PC.
Run Intel® DSA: Launch the Intel® DSA application, and it will scan your system for Intel hardware, including your Celeron processor.
Driver recommendations: Intel® DSA will provide a list of recommended drivers, including graphics drivers. Click on the relevant graphics driver recommendation to download and install it.
This method is the easiest and most reliable way to ensure you have the correct graphics driver for your Celeron processor.
Linked issue: Second monitor not detected Intel HD Graphics on Windows 11/10
2. Manual search on Intel Website
If you prefer a more hands-on approach or encounter issues with Intel® DSA, you can manually search for the graphics driver on the Intel website using your processor's generation as the keyword. Intel maintains a comprehensive database of drivers organized by processor generations.
Here are some example URLs for specific Celeron processor generations: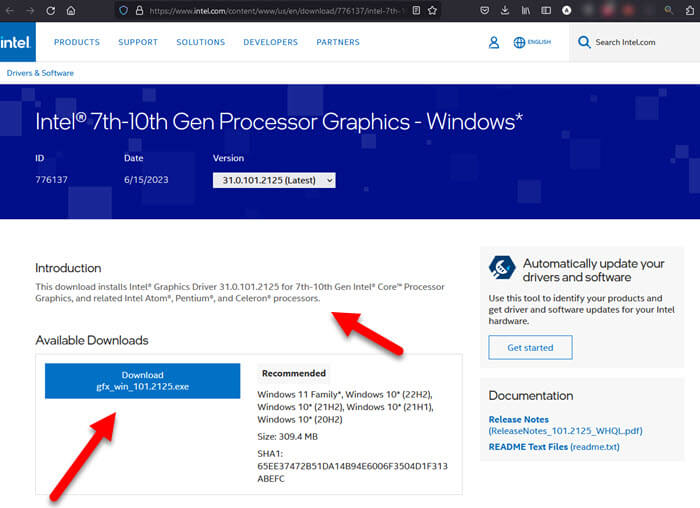 3. Windows Update
Another option to obtain Celeron graphics drivers is to rely on Windows Update. Windows will often search for and provide driver updates through its update mechanism. However, this method may not always deliver the latest graphics drivers, and it may take some time for Windows to identify and install them.
To use Windows Update:
Open Settings: Click "Start," then click "Settings."
Windows Update: Select "Windows Update" from the left-hand menu.
Check for Updates: Click "Check for updates" and let Windows scan for available updates, including graphics driver updates.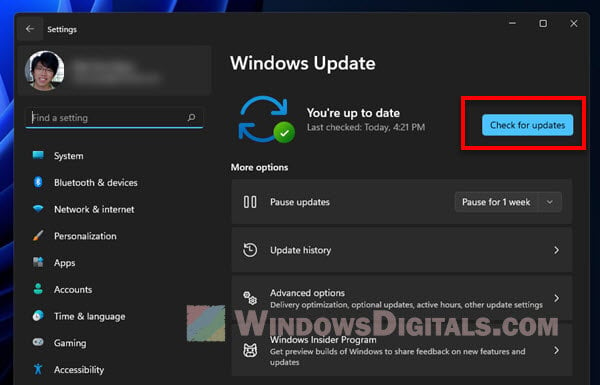 4. Third-party websites (not recommended)
While it's typically advised to stay clear of third-party sources for drivers due to potential security concerns, some users might still consider this route due to desperation or particular needs. If you opt for this method, proceed with caution:
Always ensure that the third-party website you're using has a credible reputation. Research reviews or feedback from other users.
Download drivers only from HTTPS-secured websites to avoid potential malware or phishing threats.
Prior to installing, scan the downloaded file with a trusted antivirus solution to check for any malicious content.
Always create a system restore point before installing any driver from a third-party source. This will allow you to revert your system back if anything goes awry.
Related problem: Generic PnP Monitor Windows 11/10 Driver Download Problem
5. Obtaining Celeron graphics drivers from the laptop manufacturer's website
In addition to the methods mentioned earlier, another reliable way to obtain Intel Celeron graphics drivers, especially if you're using a laptop, is to visit the website of your laptop manufacturer. Laptop manufacturers often provide customized driver packages tailored to the specific hardware configurations of their devices, ensuring optimal compatibility.
Follow these steps to find and download graphics drivers from your laptop manufacturer's website:
To get started, you need to identify the exact model of your laptop. This information is typically found on a label on the bottom of your laptop or in your laptop's user manual.
Once you have your laptop model information, go to the official website of your laptop's manufacturer. Common laptop manufacturers include Dell, HP, Lenovo, ASUS, Acer, and others.
Navigate to the "Support" or "Drivers" section of the manufacturer's website. This section is where you'll find driver downloads and support resources.
Use the model name or number of your laptop to search for driver downloads. Some manufacturers may provide a search bar for this purpose.
Ensure that you select the correct Windows operating system version (e.g., Windows 10 or Windows 11, 64-bit or 32-bit) that matches your laptop's current OS.
Look for the graphics driver section or category. It may be labeled as "Graphics," "Video," or something similar.
Once you've located the graphics driver for your laptop model and Windows version, download the driver package. Follow the manufacturer's instructions for installation. This usually involves running an installer program that will guide you through the process.
Using your laptop manufacturer's website is an excellent approach, especially if you have a customized laptop with specific hardware configurations. The drivers provided by the manufacturer are tailored to work seamlessly with your laptop's hardware, ensuring stability and performance.
However, keep in mind that in some cases, laptop manufacturers may not provide the very latest Intel graphics drivers due to their customization process. If you require the absolute latest driver updates, you may still want to check Intel's official website or use the Intel® Driver & Support Assistant as mentioned in the previous sections.
Compatibility concerns with Celeron graphics drivers on modern Windows versions
As technology advances, so does software complexity, making it essential for drivers to stay updated. For older Celeron processors, especially those in aged laptops, the main concern is ensuring compatibility with modern Windows versions. Even if a driver is available, it might not support all the features or optimizations present in Windows 10 or 11.
It's crucial to read the driver's release notes or documentation before installation to understand its compatibility range. Sometimes, even if a driver works, certain graphics features might be limited or unsupported, which could affect the overall user experience.
In such cases, it might be worth considering either an OS downgrade (where feasible) or contemplating hardware upgrades to better align with software advancements.
Conclusion
Finding the correct integrated graphics driver for older Celeron processors, whether on a laptop or desktop running Windows, can indeed be a challenge. The methods we've explored, such as using Intel® DSA, manual searches on the Intel website, or relying on Windows Update, may not always yield the desired results, especially for processors with aging architecture.
When all else fails, seeking additional opinions and assistance from communities like Reddit or Microsoft forums can be a valuable resource. Often, fellow users who have encountered similar challenges can provide insights and solutions. Additionally, reaching out to Intel's support channels to inquire about driver compatibility and assistance may prove to be a helpful step.