This is a case about when you plug a second monitor to your integrated or onboard GPU (Intel HD Graphics), it couldn't be detected in Windows 11 or Windows 10, while your primary monitor that is plugged into dedicated GPU is working fine. Here's a few solutions to fix the problem and things you need to know about how to properly enable integrated GPU to get it to work.
Question: I've decided to add another monitor as a second monitor for my PC. Since my Nvidia GPU doesn't have any extra port for it, I have to plug the second monitor to my onboard built-in GPU via HDMI (also tried DVI and VGA). But, it seems that Windows 10 couldn't detect the second monitor, as if even the integrated graphics (Intel HD Graphics in my case) doesn't exist. How do I fix this?
See also: Second Monitor Not Detected After Upgrading to Windows 11
Second monitor not detected in Windows 11/10 using Intel HD Graphics
This is a common case especially if you have ever disabled your integrated GPU before. People tend to often disable their onboard GPU if their primary display is on a dedicated GPU (Nvidia, AMD, etc). Even the technician who assemble your PC would sometimes disable your onboard GPU to prevent conflicts when it's not in used.
This is actually a common and good practice as the integrated GPU may cause waste of energy when it's not in used. So, if integrated graphics was disabled on your PC, monitor connected to it will not be detected in Windows. Here's how to enable it again.
Solution 1: Enabling Integrated Graphics on BIOS
The option to enable or disable integrated graphics is primarily in the motherboard's BIOS settings. To access to the BIOS, as soon as you switch on your PC, keep pressing the DEL button on your keyboard until it gets into the BIOS page.
Please know that your BIOS interface may look different depending on the brand of your motherboard. However, the options and settings in the BIOS are pretty much the same across different brands. The option you should be looking for should read as Integrated Graphics, Onboard Graphics or something similar.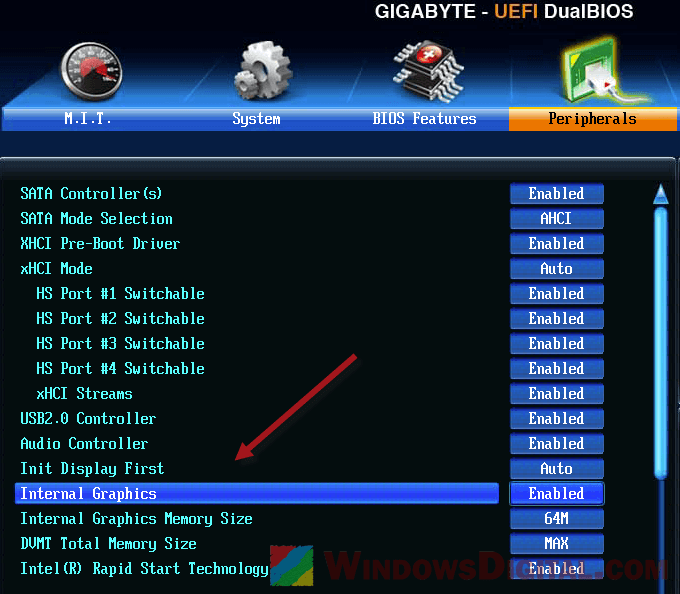 If you are using Gigabyte's motherboard, it should be under "Peripherals" settings. When you find it, change its option to "Enabled" if it's not enabled already.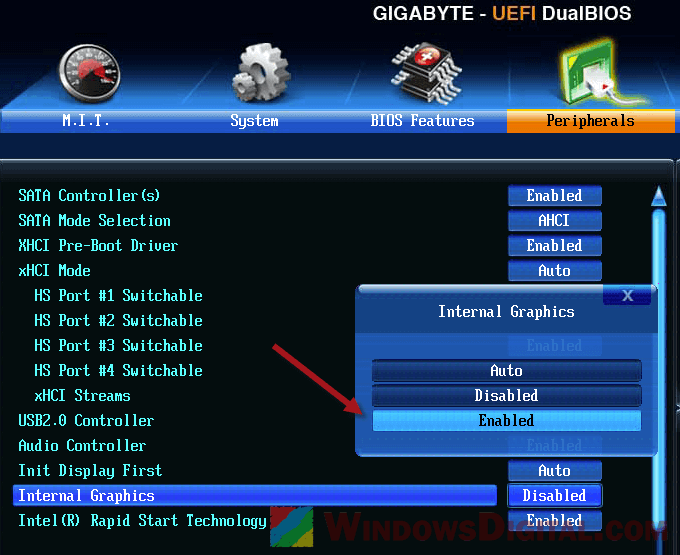 When you are done, press F10 to save the settings and quit the BIOS. When your PC boot into Windows, verify if the second monitor is detected now.
If it's still not detected, go back to the BIOS and look for settings called Integrated Graphics Standby Mode and Integrated Graphics Deep Standby Mode. They are usually under Power Management category. Make sure they are Disabled. Then, press F10 to save and restart your PC.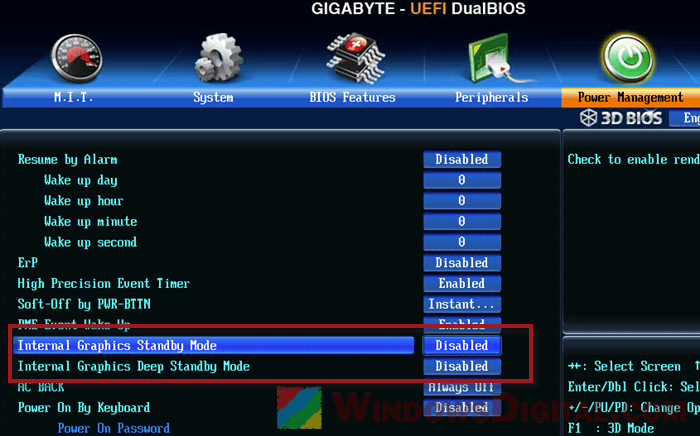 The integrated graphics standby mode settings are to save power when it detects that your integrated graphics is not in used. But it sometimes can be the reason the integrated graphics doesn't run. Disabling them would make sure that your Integrated graphics stay active.
Solution 2: Update / Install Integrated Graphics Driver
Driver can be another possible reason your monitor couldn't be detected. Driver is needed for your Windows to recognize and run the hardware successfully in Windows, in this case now, the integrated graphics driver. If you open Device Manager, under Display adapters, if you don't see your integrated graphics driver, which is usually shown as Intel HD Graphics, it means either the driver is not installed or the hardware doesn't exist. There are a few ways to install or update your integrated graphics driver. (However, if you are able to see the driver on device manager, right-click it and select Update driver to update it and see if it can fix the problem.)
The most reliable method is to install it by using the driver CD that comes with your motherboard, if you still manage to find it. You can usually find it in the box that came with the motherboard. Insert it to your PC and find the setup usually relates to VGA driver or Intel HD Graphics.
If you don't have the driver CD, the best thing you can do is to search for the driver on Google or other search engine with the brand name and model of your motherboard. Most motherboard manufacturers will provide drivers downloads on their official website.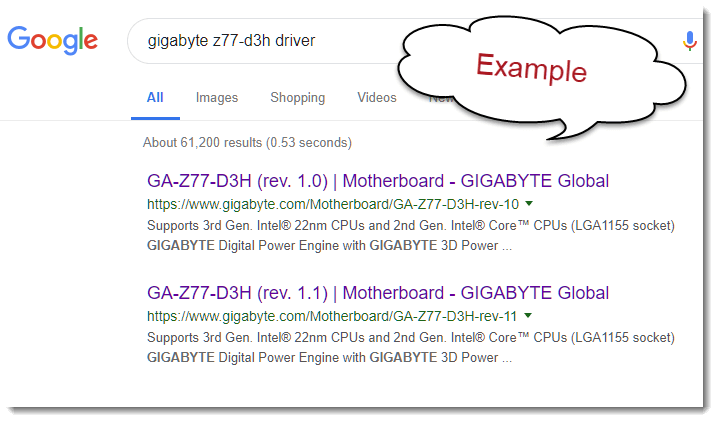 If none of the above is applicable, you can try to run Windows Update. Windows Update in Windows 11/10 has the ability to automatically detect outdated or nonexistent driver, and then download and install it for your PC.
Hopefully this will help to fix your monitor problem. If the integrated graphics option is enabled in BIOS and you are sure that its driver is installed and updated, yet Windows still couldn't detect your second monitor, it may signal a hardware issue.