Do you have a Bluetooth device but your Windows PC couldn't detect it? It's likely that you don't have the Bluetooth driver installed. In this guide, we'll show you how to download Bluetooth Driver for Windows 10/11 64-bit or 32-bit PC.
When Windows is unable to detect Bluetooth devices, such as speakers, headphones, mice, keyboards, or other peripherals on your desktop or laptop computer (from brands like HP, Dell, Acer, Lenovo, Toshiba, Asus, etc.), and you are certain that a functional Bluetooth adapter is present, downloading or updating the driver for the adapter could help resolve the problem.
Also see: How to Reinstall Bluetooth Driver in Windows 11
Download Bluetooth Driver for Windows 11/10
There are several methods to download or update the Bluetooth driver for Windows 11 or Windows 10. Try each of the following methods below until you find one that works to detect your Bluetooth device.
Run Windows Update
Normally, Windows 10/11 should be able to detect the missing Bluetooth driver if a connected Bluetooth adapter is detected on the PC. Windows will then automatically install the driver for the Bluetooth adapter when you boot into Windows.
If it doesn't, try running Windows Update to allow Windows to automatically detect and find the correct Bluetooth driver from Microsoft's driver repository and install it for you.
Update Bluetooth driver through Device Manager
Alternatively, you can try to update the Bluetooth driver via the Device Manager in Windows 11/10. To do so, go to Start, type devmgmt.msc and hit Enter to open Device Manager. Next, expand the category called Bluetooth or Bluetooth Radios.
If the Bluetooth driver is not installed, you should see a yellow exclamation icon next to whichever model of Bluetooth adapter or receiver you have. Right-click on it and then click on Update Driver Software to allow Windows to automatically search for and install the latest driver for the Bluetooth adapter.
However, if you have a very specific Bluetooth adapter that Windows couldn't recognize, you will have to manually download and install the Bluetooth driver yourself.
You may also want to see: Bluetooth Not Working on Windows 11/10 after update.
Download Bluetooth Driver from PC manufacturer websites
The best way to update your Bluetooth Driver for Windows 11/10 is by going to your PC manufacturer websites to search for and download the latest version of Bluetooth Driver that matches the model of your computer.
For manufacturers such as Dell, HP, Acer, Asus, Toshiba and Lenovo, they do have their own official websites that provide driver downloads for their computers and peripherals. That includes the Bluetooth drivers for computers manufactured by them.
First, go to the manufacturer's website (for example, dell.com for Dell computers) and look for its driver download page. Search for your PC model on their driver support page and download the latest version of Bluetooth driver for Windows 11/10.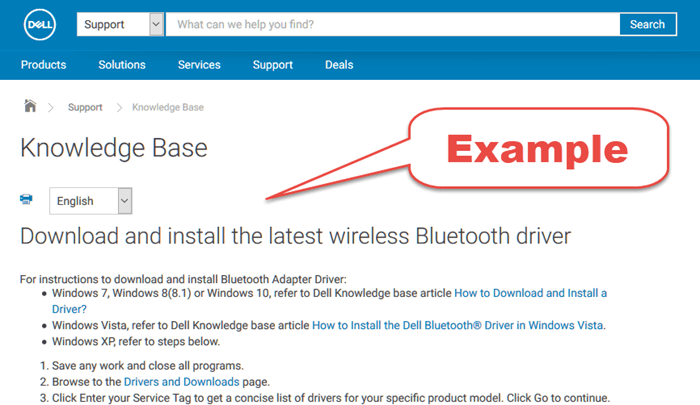 Alternatively, you can use the driver CD that came with your computer. If your PC has a Bluetooth adapter, the driver CD will usually have the Bluetooth driver. However, it may be an outdated driver if you've purchased your PC for some time now.
Download Intel Wireless Bluetooth driver for Windows 11/10
Most PCs, especially laptops and notebook computers, use Intel Wireless Bluetooth technology as their generic built-in Bluetooth adapter. If you have no idea what type of Bluetooth adapter you have, you can try to download and install the Intel Wireless Bluetooth driver for Windows and see if it works.
Go to Intel's website to download the latest Intel Bluetooth driver for Windows 11 or Windows 10. Select the correct Bluetooth driver based on your Windows version.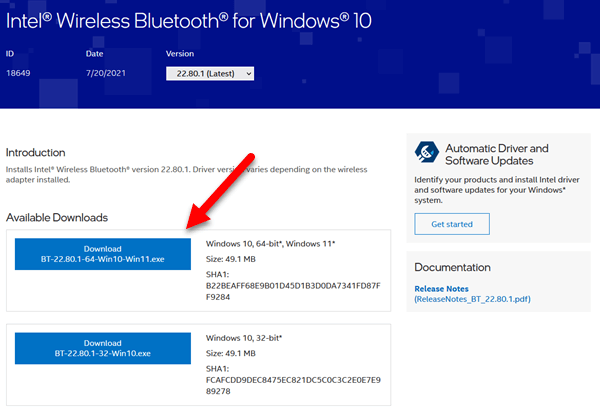 If you know the brand or chip manufacturer of your Bluetooth adapter, for instance, Intel, Realtek, Broadcom, Ralink, AMD, Atheros or others, you can also go to their website to find and download the latest Bluetooth driver for Windows 10/11 from their driver support page, for example, realtek.com for Realtek Bluetooth adapters.
How to tell if you have Bluetooth driver installed
To check if you have the Bluetooth driver installed, try to turn on Bluetooth in Windows 11/10 and try to connect or pair a device by clicking on the "Add Bluetooth or other device" option. If Windows shows an error when you try to turn Bluetooth on, it likely indicates that there is either a missing driver or a bad driver (or hardware failure).