Zebronics, one of India's leading brands in electronic peripherals, offers a variety of computer accessories, including USB WiFi adapters. For users on popular operating systems like Windows 11, Windows 10, MacOS, and Linux, ensuring your adapter functions optimally often requires the latest drivers. These drivers act as a bridge between the operating system and the hardware, ensuring seamless connectivity and performance. Whether you've recently purchased a Zebronics WiFi adapter or are looking to update an existing one, this article will guide you through the process of downloading and installing the necessary drivers, ensuring your Zebronics WiFi adapter works as intended..
Also see: "Can't connect to this network" WiFi or Hotspot Issue in Windows 11/10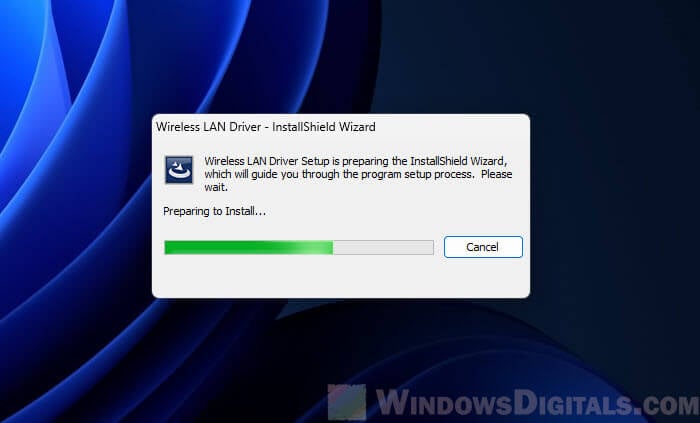 Downloading the right driver for your Zebronics WiFi adapter
To ensure your Zebronics WiFi adapter functions optimally, it's crucial to install the correct driver tailored for your specific model. Here's how you can locate and download the appropriate driver.
Navigate to Zebronics official driver page:

Begin by visiting https://zebronics.com/pages/drivers.

Search for your WiFi adapter model:

On the website, you'll encounter a list of drivers for various peripherals and devices offered by Zebronics.
Use the search bar to find your Zebronics WiFi adapter model. For instance, if you have the Zeb-USB300WFD WiFi USB Adapter, input "Zeb-USB300WFD" into the search bar. A simple keyword like "Zeb-USB" can also be used, which will display drivers for various Zebronics USB WiFi adapter models.

Download the appropriate driver:

Browse through the search results and locate the driver for your specific WiFi adapter model.
Click on the "Download" link next to your model.
You might be redirected to a page titled something akin to "Index of /driverszebronics7991/USB_Devices/ZEB-USB300WF". Here, different operating systems like Linux, MacOS, and Windows may be listed.
Select the OS you intend to use the adapter on and wish to install the driver for. For instance, if you're using Windows OS such as Windows 11 or Windows 10, you should select the driver file named "Windows.zip".
See also: How to Update Realtek Drivers in Windows 11
Alternatively, check the packaging or manual:
Often, the product's packaging or manual contains information about the specific model or version. It's wise to note this down, as searching with this information on the website can yield more accurate results.
Some products also come with a CD or DVD containing the necessary drivers. However, it's still recommended to check the website since it's likely to have the most up-to-date drivers.
Linked issue: How to Fix "No Internet, Secured" WiFi in Windows 11/10
Installing the Zebronics WiFi adapter driver
Once you have successfully downloaded the appropriate driver for your Zebronics WiFi adapter, the next step is to install it. Proper installation ensures optimal functionality and performance of the adapter with your computer's operating system.
Locate the downloaded driver:

Navigate to the folder where the driver has been downloaded. Typically, this would be the "Downloads" folder unless you specified a different save location during the download process.

Prepare for installation:

If the downloaded file is in a compressed format, such as a .zip file, right-click on it and select "Extract All…". Choose a convenient location to extract the files.
After extraction, open the extracted folder to find the installer, usually identifiable by an .exe extension for Windows users.

Begin the installation process:

Double-click on the driver installer.
If prompted by User Account Control (UAC) asking if you want to allow the app to make changes to your device, click "Yes".
You will be presented with an installation wizard. Follow the on-screen instructions.
When prompted, ensure you choose the "Install" or "Next" option to proceed with the installation.

Completing the installation:

The wizard will guide you through the installation steps. Once the process is complete, it's common to see a confirmation message or a prompt to "Finish" the installation.
Click "Finish" or "Close" to exit the installation wizard.

Restart your computer:

After the driver installation, it's a good practice to restart your computer. This ensures the new driver is fully integrated and will function correctly with the operating system.
Click on the "Start" menu, select "Power", and then "Restart".
Useful tip: How to See What Drivers Are Installed in Windows 11
Verifying and troubleshooting the Zebronics driver installation
With the driver installed, it's crucial to ensure that the Zebronics WiFi adapter is functioning optimally. Here's how you can verify its performance and troubleshoot any potential issues:
Verify installation via Device Manager (Windows Users):

Press Windows + X and select "Device Manager" from the menu.
Expand the "Network Adapters" section. Here, you should see the name of your WiFi adapter listed (might be listed as Realtek).
Right-click on the adapter's name and select "Properties". If the driver has been installed correctly, under the "Driver" tab, you should see details related to the driver, such as the provider, date, version, etc.

Test connectivity:

Insert the Zebronics WiFi adapter into an available USB port.
Ensure your computer's WiFi is turned on.
Search for available networks by clicking on the WiFi symbol in the system tray (for Windows) or the menu bar (for macOS).
Try connecting to a known network. If the connection is successful, the driver installation was likely successful as well.

Troubleshooting common issues:

Adapter not recognized: If your computer doesn't recognize the adapter or there's no sign of network activity, try inserting the adapter into a different USB port.
Connection drops or is unstable: Ensure you have the latest driver version. Outdated drivers can sometimes cause instability. Revisiting the Zebronics drivers' page to check for updates can be beneficial.
Driver conflicts: In rare cases, other software or drivers can conflict with the WiFi adapter's driver. You can attempt to isolate the issue by disabling other networking software or drivers temporarily.
Error messages: If you receive specific error messages related to the driver or adapter, noting these down and searching for them online can provide solutions or insights into the underlying problem.

Seek further support:

If the above steps don't resolve the issue, consider reaching out to Zebronics' customer support or seeking help from community forums such as Reddit and Microsoft's forum. These platforms often have experienced users who might have encountered similar issues and can offer valuable insights or solutions.
Related resource: How to Check WiFi Password in Windows 11
Conclusion
While Zebronics WiFi adapters are designed to provide a seamless and efficient connection experience, there may be instances where the adapter fails to detect networks or isn't even recognized by Windows. In many of these cases, the root cause is often the absence of the necessary driver or an outdated version of it.
It's important to note that while Windows does attempt to auto-update and fetch necessary drivers through its Windows Update feature, this might not always be successful. In such scenarios, taking the manual route becomes imperative. Navigating to the manufacturer's website, locating the specific driver for your model, and then downloading and installing it can often resolve these issues. Having the correct and latest driver is essential for your Zebronics WiFi adapter to work properly.