Windows updates occasionally result in issues, particularly driver conflicts between new drivers and your devices. These conflicts may lead to unexpected loss of Bluetooth functionality, as well as difficulties discovering, pairing, or connecting your Bluetooth devices such as mice, keyboards, or headsets after an update.
Laptop users (e.g., HP, Dell, Lenovo, Asus, Acer, Toshiba, etc.) with built-in Bluetooth adapters frequently encounter this problem. In this article, we will discuss various workarounds and troubleshooting steps to resolve Bluetooth connectivity issues following a Windows update in Windows 11 or Windows 10.
Also see: Bluetooth Disappeared after Windows 11/10 Update (Fix)
Check if Bluetooth is turned on
You may have already checked this multiple times, but it's best to check again in the settings to make sure your Bluetooth adapter exists and is enabled.
Search for and open Settings via the Start menu.
Select Bluetooth & devices.
Make sure the Bluetooth toggle is On.
For a more in-depth guide, you can read our article on How to Turn On Bluetooth on Windows 11/10.
If the Bluetooth option is visible and turned on, Windows should be able to discover other Bluetooth devices near your PC. If it's on and still not able to detect your Bluetooth mouse, headset, or keyboard, check your device/peripheral to see if it's properly switched on, has a working battery, and is not broken.
You can also try removing and disconnecting the Bluetooth device, then re-discovering and pairing it again. This is a common workaround for most Bluetooth devices that suddenly stop working in Windows 11/10.
If there is no Bluetooth toggle in the Windows settings, try the following workarounds.
Check if Bluetooth is enabled in Device Manager
If you don't see the Bluetooth toggle in the settings, it most likely means that your Bluetooth adapter driver is either disabled or not correctly installed.
Go to the Start menu or Cortana.
Search for and open Device Manager.
Go to View on the menu and enable Show hidden devices.
From the list of devices, expand the category called Bluetooth or Bluetooth Radios.
Right-click on your primary Bluetooth adapter (usually appears as Intel Wireless Bluetooth adapter, Realtek Bluetooth adapter, Broadcom Bluetooth driver, or Generic Bluetooth adapter for most laptops) and click on Enable device.
If your Bluetooth driver has a yellow exclamation mark beside it and cannot be enabled when you right-click it, try updating the Bluetooth driver. To update the driver, follow the steps as outlined above to open Device Manager to view your Bluetooth adapter. Then, right-click on the problem Bluetooth adapter and select Update Driver Software.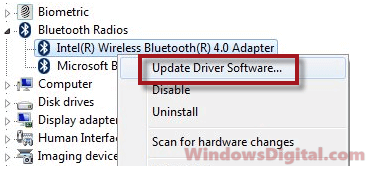 Alternatively, you can also select Uninstall to uninstall the driver and restart your PC. Doing so will allow Windows 11/10 to automatically search for and install the latest Bluetooth driver that matches your Bluetooth adapter.
If the Bluetooth driver isn't even listed in the Device Manager as if it was missing, it could mean that your Bluetooth adapter is faulty, incorrectly connected, or Windows couldn't find the driver for your adapter. If that's the case, try this guide instead: Download Bluetooth Driver for Windows 11/10.
Missing or corrupted Bluetooth drivers are common, especially after applying a recent major Windows update due to changes in system files, which might cause conflicts and problems in Windows.
Try the Bluetooth troubleshooter
If nothing works to resolve your Bluetooth not working issue, try running the Bluetooth troubleshooter from the Settings app.
For Windows 11:
Press the Win+i keys to open Settings.
Under System, scroll down and select Troubleshoot.
Next, select Other troubleshooters.
Then, under Other and next to Bluetooth, click on Run to run the Bluetooth troubleshooter.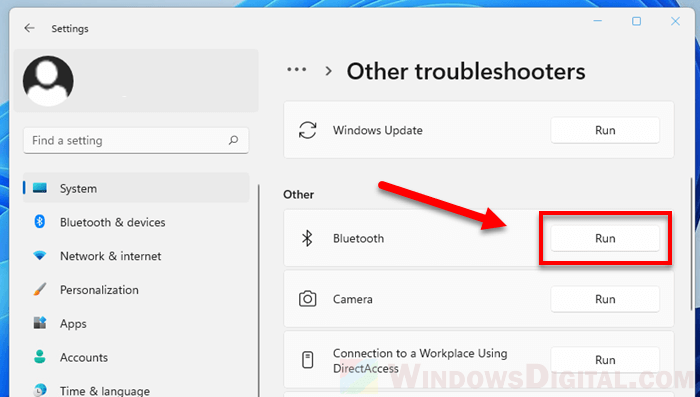 For Windows 10:
Open the Settings app.
Click on Update & Security.
Select Troubleshoot from the left pane.
Scroll down on the right until you find Bluetooth.
Click on Bluetooth.
Click on Run the troubleshooter.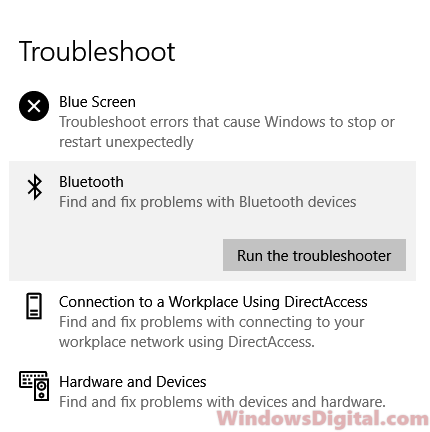 These troubleshooting steps should help you fix the Bluetooth not working issue after a Windows update in Windows 11 or 10. If you continue to experience problems with your Bluetooth devices, you may need to contact your device manufacturer or seek additional technical support.