After a new Windows update, especially in Windows 11 or Windows 10, it's not uncommon for users to encounter unexpected system behavior. One such issue that has cropped up for many is the sudden disappearance of the Bluetooth on/off button, coupled with the absence of Bluetooth adapters or devices in the device manager. This can be particularly frustrating, especially when Bluetooth connectivity is essential for daily tasks. If you've tried using Windows' built-in troubleshooting tool or tampered with the services settings, but to no avail, don't worry. In this article, we will show you several solutions that have proven effective for many users in resolving the issue where Bluetooth disappeared after a Windows Update.
Also see: How to Reinstall Bluetooth Driver in Windows 11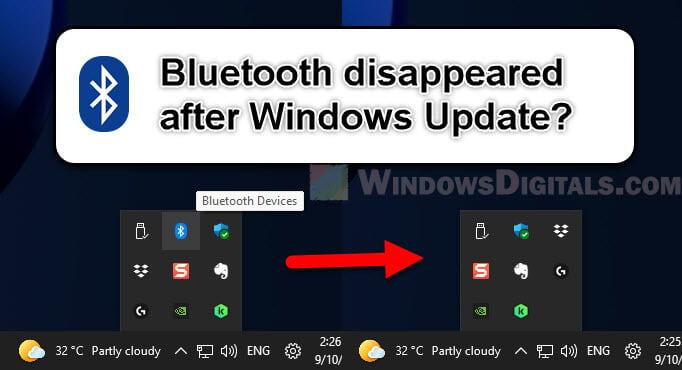 Fixing the issue where Bluetooth disappeared after a Windows update
Below are 6 comprehensive solutions that might help you restore your Bluetooth functionality. We recommend trying them in the order presented, as starting with the most effective solutions can often save you time and effort.
Solution 1: Power cycle your desktop or laptop PC
For those unfamiliar with the term, power cycling refers to completely turning off a device and then turning it back on. In the context of a desktop or laptop PC, it involves a full shutdown and discharging of the PSU's capacitors. Here's how to do it:
Shut down the computer fully: Unlike the typical shutdown, you'll want to do a complete shutdown. To achieve this, hold down the Shift key and click on "Shutdown". This ensures you're not just doing a hybrid shutdown, which is the default on many Windows setups.
Disconnect power: Once the computer is fully turned off, unplug the power cord from the back of your PC or from the wall socket. For laptop users, you should also remove the battery from your laptop. If the battery is not removable, this method may not be applicable for your laptop.
Discharge the PSU's Capacitors: To do this, press the power button on your PC's case a few times. You won't see any lights or action, but this will help discharge any remaining power from the capacitors.
Reconnect and boot up: Plug the power cord back in and start up your computer. Upon boot-up, check the Device Manager ("Dev Man") to see if the Bluetooth option has returned.
This method may sound simple, but it often resolves a variety of hardware recognition issues that can arise post-update.
Similar problem: Bluetooth Not Detecting Devices in Windows 11
Solution 2: Address potential driver issues
Driver mismatches or corruptions are among the top culprits for missing hardware functionalities after updates. Here's a step-by-step guide to addressing this:
Open Device Manager: Click on the Start button and type "Device Manager". Open the application from the search results.
Show hidden devices: Once in Device Manager, click on the "View" menu at the top and then select "Show Hidden Devices". This will reveal any devices that Windows isn't currently recognizing as active.
Uninstall the device: If you find your Bluetooth device listed as a hidden device, right-click on it and choose "Uninstall Device". When prompted, make sure you also check the box for "Attempt to remove the driver for this device".
Reconnect or scan for changes: If you're using a Bluetooth dongle, remove it and plug it back in. If not, click on the "Action" menu in Device Manager and choose "Scan for hardware changes".
Update your driver: Navigate to Settings, click on "Windows Updates", then "Check for updates". Afterward, click on "Advanced options", followed by "Optional updates", and then "Driver updates". If there's a driver listed for your Bluetooth device, install it.
Check the manufacturer's website: Sometimes, the latest and most compatible drivers are available directly from the device manufacturer's website. Check there for Windows 11 compatible drivers for your Bluetooth device.
Linked issue: Can't Completely Uninstall a Driver in Windows 11 (Fix)
Solution 3: Remove failed USB drives from Device Manager
Sometimes, the root of the problem is a failed USB driver. Here's how to resolve this:
Open Device Manager: Again, navigate to the Device Manager from the start search.
Identify failed USB drive: Within Device Manager, look for any entries labeled as a failed USB drive or any devices with a yellow triangle next to them.
Delete the offending entry: Right-click on the failed USB drive entry and select "Uninstall Device".
Restart your PC: After you've deleted the problematic entry, restart your computer. Upon reboot, many users have found their Bluetooth functionalities restored.
Related resource: Bluetooth Remove Failed in Windows 11/10
Solution 4: Utilize Windows System Restore
Windows System Restore can revert your computer's state (including system files, installed applications, Windows Registry, and system settings) to a previous point in time. This can potentially resolve issues caused by recent system changes.
Access System Restore: Click on the Start button, type "Create a restore point", and select it from the search results.
Open System Restore: In the System Properties window, under the "System Protection" tab, click on the "System Restore…" button.
Follow the prompts: Choose a restore point preferably from a date before the issue started. Follow the on-screen instructions to complete the restoration process.
Learn more: How to System Restore Windows 11/10 to a Previous Date
Remember that using System Restore will not affect your personal files, but it might remove apps and drivers installed after the chosen restore point.
Solution 5: Reinstall Bluetooth drivers manually
If the Bluetooth issue persists, manually downloading and installing the Bluetooth drivers might be the solution.
Identify your Bluetooth hardware: Go to the manufacturer's website of your PC or laptop and look for the exact model of your device. This will help in locating the correct Bluetooth driver.
Download the driver: Once you've identified the appropriate driver for your Bluetooth hardware, download it from the official website.
Install the driver: Navigate to the downloaded driver file, usually in ".exe" format, and run the installer. Follow the on-screen prompts to complete the installation.
Reboot your PC: After installation, restart your computer to let the changes take effect.
Solution 6: Check BIOS/UEFI settings
Sometimes, the hardware settings in the BIOS/UEFI can interfere with Windows' ability to recognize connected devices, including Bluetooth. Please note that making changes in the BIOS/UEFI can impact system behavior, so proceed with caution and only change settings you are familiar with.
Restart and access BIOS/UEFI: Reboot your computer, and as it starts up, press the designated key (often "F2", "F10", "F12", "DEL", or "ESC") to enter the BIOS or UEFI settings. The key varies based on the manufacturer, so you might need to look it up for your specific model.
Navigate to integrated peripherals: Look for a section named "Integrated Peripherals" or something similar, depending on your BIOS/UEFI version.
Ensure Bluetooth is enabled: Within this section, make sure that the Bluetooth feature is enabled. If it's disabled, enable it.
Save and exit: Once done, save your changes and exit the BIOS/UEFI. Your computer will restart.
Concluding thoughts
Addressing the Bluetooth disappearance issue after a Windows update can require a bit of troubleshooting. By following the solutions outlined in this article, from power cycling to adjusting BIOS/UEFI settings, there's a good chance you'll restore your Bluetooth functionality on your Windows 11 or Windows 10 computer.
Moreover, it's always crucial to ensure that any drivers or software you download come from reputable sources to maintain the security and performance of your device. If all else fails, consider seeking expert assistance or reaching out to official support channels.