If your device supports Bluetooth functionality, such as a speaker, keyboard, or mouse, and your laptop or desktop is equipped with a Bluetooth adapter, you must enable Bluetooth in Windows 11 or 10 to connect the device.
This guide outlines the process for enabling Bluetooth in Windows 11/10 and offers troubleshooting tips for potential Bluetooth related issues. This guide is compatible with laptops from various manufacturers, including HP, Dell, Lenovo, Asus, Acer, and Toshiba.
Turn on Bluetooth in Windows 11/10
Before starting, ensure that you have a working built-in or USB Bluetooth adapter on your laptop or desktop PC, and that you have installed the required Bluetooth driver for your adapter. Some laptops have a hardware switch, usually with the function keys, to physically turn on the Bluetooth hardware on your laptop before it can be detected and used by Windows.
After ensuring that your Bluetooth adapter is working as intended, follow these steps:
For Windows 11:
Press Win+i keys to open Settings app.
Select Bluetooth & devices on the left pane.
Beside the Bluetooth option, click on the toggle to turn it on if it's not already "On".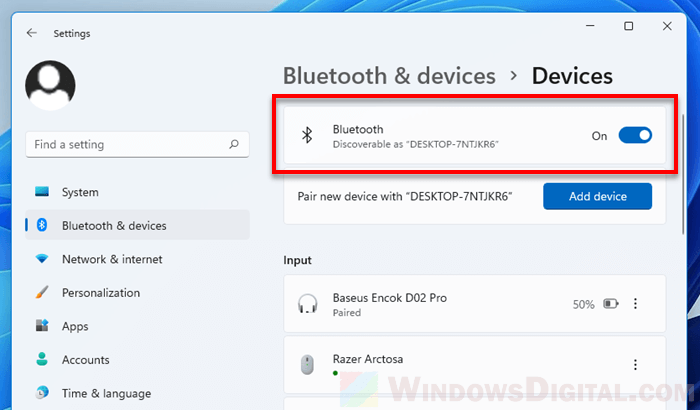 For Windows 10:
Press Win+i keys to open Settings app.
Select Devices.
From the left pane, select Bluetooth.
On the right, under Manage Bluetooth devices, click to toggle on the Bluetooth.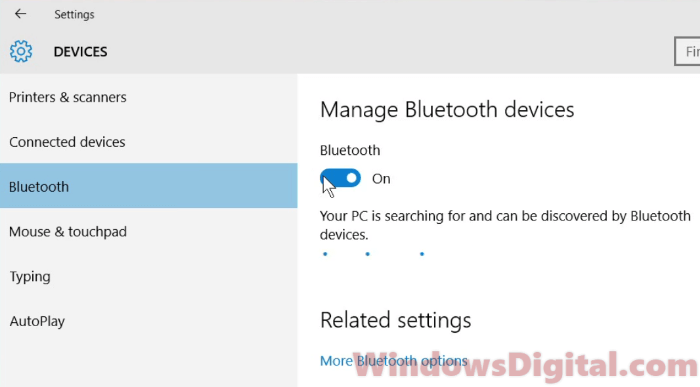 If Bluetooth is turned on, Windows should be able to discover your Bluetooth devices or be discovered by them. If you can't see the Bluetooth option, or if there is no toggle beside it, it may indicate that Windows couldn't detect any available Bluetooth adapter on your PC, or that the adapter has a problem. Check out this fix for more information: Bluetooth Not Working on Windows 11/10.
No Bluetooth Toggle in Windows 10 or 11
If you want to turn on or off your PC's Bluetooth but can't find the toggle option in the Windows settings, try the solutions below.
Check Bluetooth Generic Adapter
If the Bluetooth toggle in Windows 11/10 is missing from the Settings app, it most likely indicates that either the Bluetooth driver is not installed or is faulty. Here's how to check if your Bluetooth adapter's driver is correctly installed:
Go to start menu.
Search for and open Device Manager.
Click View from the menu, then click Show hidden devices.
Expand Bluetooth or Bluetooth Radios.
If you see any Bluetooth adapter with a yellow exclamation mark beside it, it implies that the driver was not correctly installed.
Right-click on the Bluetooth adapter and select Update driver software. If you're not sure which is your primary Bluetooth adapter, update all of them.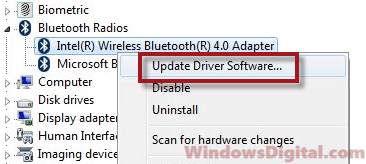 After updating the driver, retry the steps above to turn on Bluetooth via the Windows settings. You should be able to see the toggle in the Bluetooth Settings if the driver is working as intended.
Uninstall all Bluetooth adapter drivers
If you have installed a faulty driver, you may want to try uninstalling all Bluetooth adapter drivers to allow Windows to automatically reinstall them. Windows has a feature that automatically installs missing drivers for your devices when it detects hardware that doesn't have a driver.
To uninstall Bluetooth drivers via the Device Manager, follow the steps outlined above until step 4. Right-click the Bluetooth adapters from the list and select "Uninstall" to remove the driver. After rebooting your PC, the Bluetooth drivers should be installed automatically. You can then follow the instructions above for how to turn on Bluetooth on Windows 10 and see if the toggle is showing up in the Bluetooth settings.

It's worth noting that some Bluetooth adapter drivers come with installed software. Therefore, you may also want to check the "Programs & Features" section to see if there is any Bluetooth-related software and uninstall it if you find any.