Have you ever encountered a situation where your monitor shows up as "Generic PnP Monitor" instead of its actual name on Windows? Or, have you found a yellow exclamation mark next to the monitor name in the Device Manager or the Monitor tab from Advanced display settings? If yes, then this guide is for you. Here we will explain why the "Generic PnP Monitor" issue occurs and how you can fix it on your Windows 10 or Windows 11 PC.
Also see: Monitor Not Working After Windows Update in Windows 11/10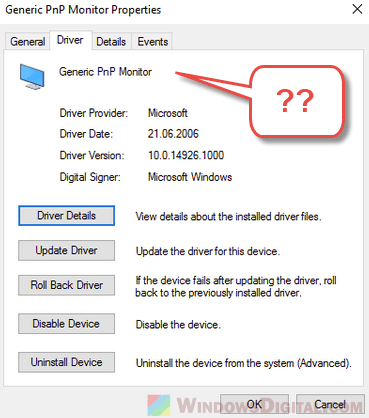 Why do I see Generic PnP Monitor on Windows 11/10?
The "Generic PnP Monitor" appears when Windows fails to find the correct driver for your monitor or the driver is missing or corrupted. As a result, your branded monitor is replaced by the general monitor driver called "Generic PnP Monitor." This state leads to several monitor functions not working properly. For example, you may not be able to change the screen refresh rate to 144Hz even if your monitor supports it.
Related: Second Monitor Not Detected in Windows 11/10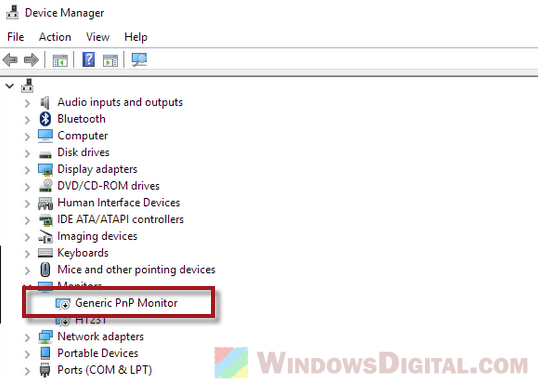 The issue is common, especially after applying a major Windows update or upgrading from one Windows version to another, such as from Windows 10 to Windows 11. Connecting your monitor via a converted cable, such as DVI to VGA or to HDMI, can also cause the problem as your PC may not recognize the monitor. In such cases, try using an alternative connector, such as HDMI to HDMI or display port, instead.
Similar issue: Second Monitor Keeps Flickering, Flashing or Going Black Randomly
Is it normal for my monitor to appear as "Generic PnP Monitor"?
In some cases, it's perfectly normal for your monitor to appear as "Generic PnP Monitor" even if you have installed the correct driver. This is because the monitor's name may not be stored in the driver, or the driver may not be able to read the monitor's name correctly.
In such cases, as long as your monitor is working properly and you're able to use all its features, there's no need to worry. However, if you notice any issues with your monitor's performance, such as a low refresh rate or poor image quality, you may need to troubleshoot the issue and install the correct driver.
How to fix Generic PnP Monitor driver problem in Windows 10/11?
There are several ways to fix the "Generic PnP Monitor" issue on your Windows PC:
Reconnect Your Monitor: Fully unplug the monitor cable from your PC and plug it back in again. Make sure the cables and ports are properly connected.
Use the Monitor Driver Installation Disc: If you have the driver installation disc for your monitor, use it to install the monitor's driver. Most modern monitors come with a driver CD upon purchase. Check your boxes to see if it's still there.
Search and Download the Driver for Your Monitor: You can search for the driver for your monitor on the manufacturer's website or on Google. For instance, if you have an HP monitor, you can search for its driver on support.hp.com. In most cases, if your monitor is not too old, you should be able to find the driver this way.
Let Windows Update the Monitor Driver Automatically: You can update the monitor driver via the Device Manager. Here's how to do it:

Go to the Start menu and search for and open "Device Manager."
Scroll down the list and expand the "Monitor" category.
Right-click on the "Generic PnP Monitor."
Select "Update driver," and then select "Search automatically" to allow Windows to automatically search for the right driver from Microsoft's driver repository for your monitor.
Once installed, restart your PC.
Alternatively, you can uninstall the "Generic PnP Monitor" and restart your computer. To do so, follow the above steps until step 3, right-click the problem monitor and then select "Uninstall driver". Uninstalling the driver and rebooting your computer will allow Windows to re-detect and install the driver for your monitor.