Be it your main or second monitor not detected, monitor no signal, monitor out of range, monitor not turning on, monitor won't display or monitor not working after Windows 10 update, you're certainly not alone with the issue and here's how to fix it.
Monitor not working or not detected problem are usually due to sudden driver changes (monitor driver and video card driver), cable failure, or monitor failure. If that happens immediately after an Windows update, it's most likely a driver software error.
Fix: Monitor Not Working After Windows 10 Update
Here are some fixes you can follow to troubleshoot your monitor problem. Certainly you don't have to follow all of them, but you can work your way down until you find one that works.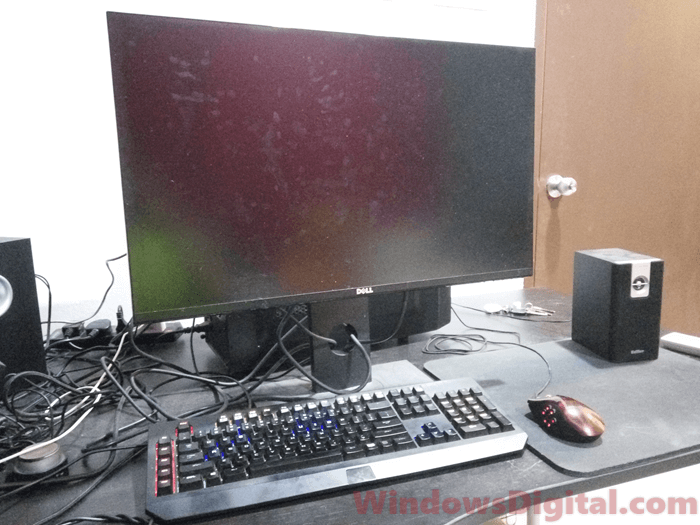 Reconnect monitor and restart your computer
For a monitor that suddenly stopped working, the very first thing to try is to unplug the monitor cable from your CPU and reconnect it. Then, restart your computer to allow Windows to automatically detect and install the monitor.
If that doesn't work, go to the next fix.
Reinstall monitor and video driver
To install any driver, you need to at least have visual on your Windows 10, which means you will need a spare monitor to be able to apply fixes if it's your primary monitor that is not working after Windows 10 update. If it's your second monitor not detect, just use your primary monitor to troubleshoot the problem.
Monitor usually don't need a specific driver installation unless you're using some exotic and rare monitor that Windows can't recognize. Windows is capable of automatically detect and install the right driver for your Monitor. Anyway, if you have a driver CD or if you know where to download your monitor driver from your manufacturer's website, do so and see if it fixes the monitor not working after update issue.
As for video driver, however, it's very common that Windows update could break the video driver if you have specific setup for your computer. Just so you know, if you apply a Windows Update in Windows 10, Windows will first detect what video card you're using and attempt to install the best matched driver from its Windows driver repository and override your existing driver.
If you're using an older video driver or any specific version of video driver, you may want to reinstall the driver as it probably has been overridden by Windows update. If you're using Nvidia or ATI graphic card, it's best to download the latest driver for your graphic card manually from their website respectively.
To update your monitor or video driver, follow the steps below.
Go to start menu.
Search for Device Manager and open it.
Expand the Monitor category.
Right-click on your monitor and select Update driver.
As for graphic card driver, expand Display adapters.
Right-click your graphic card and select Update driver.
If your monitor wasn't installed, it will appear as an unknown monitor with an exclamation mark in the device manager. If that's what you see, updating it should fix the monitor not working after update error.
Uninstall monitor and video driver
If updating the driver doesn't work, you can try to uninstall the driver and allow Windows to automatically detect and install the right driver for you.
Go back to the device manager as instructed above, right-click your monitor. Instead of selecting Update driver, select Uninstall driver. Please keep in mind that you should only uninstall your second monitor if you have a primary monitor that's currently working fine. If you mistakenly uninstall your primary monitor, both monitor will go blank and you will have problem to troubleshoot further.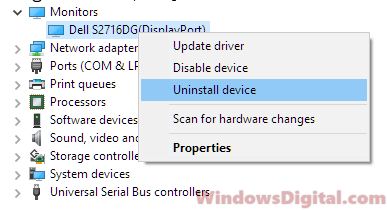 After the uninstall is done, restart your computer. Windows 10 will be able to automatically detect and install the right driver for your monitor on the next restart.
Check your HDMI, DP, DVI or VGA cable
If nothing works, the issue may be due to hardware error. Cable is one of the most common reason for a monitor failing to work.
Check your HDMI, DP (Display Port), DVI or VGA cable if you're using any of these. Try to temporary replace it with a working cable from your primary monitor or another computer to verify if it's the cable that's causing the issue.
If the cable is proven to work fine, then it may come down to your monitor itself. Test your monitor on another computer. If it fails to work as well, it could mean that the monitor is defective.