Is the sound or audio not working properly on your Windows 11 or Windows 10 computer after an update? Don't worry, we've got you covered with some simple troubleshooting steps and solutions that can fix the problem.
The solutions provided below can be applied to both laptops and desktops from popular well-known brands such as  HP, Dell, Lenovo, Asus, Acer, and Toshiba.
Check Playback Device Settings
The first step is to ensure that your playback device or speaker is properly enabled. Follow these steps to check your settings:
Right-click on the speaker icon in your taskbar and select "Sounds."
In the Sound window, go to the Playback tab.
Right-click on your primary speaker or audio device and click on "Enable."
The Playback tab in the Sound window will show a list of all connected speakers and audio devices on your computer. In some cases, the primary speaker may become disabled after a major Windows Update. Enabling it again should solve the sound not working on Windows 11/10 after update issue.
If your primary audio output device is already enabled, check the sound volume to ensure it's not muted or too low to be heard.
If you see multiple devices on the list and you're unsure which one is your primary audio device, try enabling each one until you find one that produces sound.
If you don't see any playback devices on the list, or if none of them work even after enabling them, it may indicate a problem with your audio driver. Proceed to the next solution or refer to: Playback Devices Not Showing in Windows 11/10.
Update Sound and Audio Driver
If the audio or sound driver is missing or corrupted, it won't appear in the Playback devices list as it's not installed yet. Follow these steps to update your sound driver:
Go to the start menu, search for "Device Manager," and open it.
Expand the "Sound, video, and game controllers" category.
Right-click on your primary audio output device (usually Realtek High Definition Audio or USB Audio Device), and select "Update driver."
Click on "Search automatically for updated driver software."
If the automatic search doesn't work, try uninstalling the driver by right-clicking on the audio device, selecting "Uninstall," and then restarting your PC. Windows will automatically find and install the best-matched driver for your audio device during the next restart.
When you right-click on your audio device and see the "Enable device" option, it indicates that your audio device may have been inadvertently disabled. If this is the case, click on "Enable device" to resolve the audio not working issue on Windows 11/10 after an update.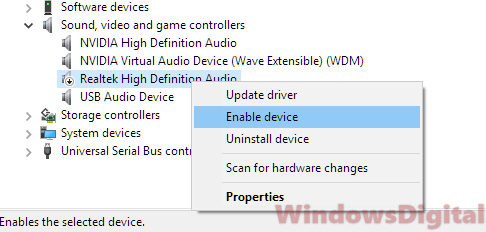 Manually Select the Audio Driver
If the automatic driver search doesn't find any driver, try manually selecting the sound driver:
Choose "Browse my computer for driver software" after the automatic search fails to find a driver.
Select "Let me pick from a list of available drivers on my computer."
Choose "Realtek High Definition Audio" from the list of available compatible hardware drivers.
If the issue persists, try choosing "High Definition Audio Device" instead.
Check Windows Audio Services
In some cases, the Windows Audio services may become disabled or stop working after a major Windows Update, which can result in sound not working on Windows 11/10 after update. Follow these steps to check the Windows Audio services:
Press Windows key + R to open the Run dialog box.
Type "services.msc" and press Enter to open the Services window.
Scroll down and locate "Windows Audio" and "Windows Audio Endpoint Builder" services.
Right-click on each service and select "Restart".
After restarting the services, check if the sound is working.
Check External Speakers and Cables
If you're using external speakers or cables, check if they're properly connected to your computer and if they're functioning correctly. Try connecting the speakers to another device to check if they're working fine. Also, try using a different cable to connect your speakers to your computer.
Use System Restore
If none of the above solutions work, you can try restoring your system to a previous state when the sound was working fine using the System Restore feature. Follow these steps:
Press Windows key + R to open the Run dialog box.
Type "rstrui" and press Enter to open the System Restore window.
Select a restore point from the list when your sound was working fine and click "Next".
Follow the on-screen instructions to complete the restoration process.
Note that restoring your system to an earlier point will delete any changes made after that point, so make sure to back up any important files before proceeding.