It was all fine to play a music, watch a video or play a game on your computer. Until suddenly Windows asks to restart your PC to apply the update it has downloaded, the sound and audio stops working right after the Windows update. Here's what you can do to fix the sound and audio not working on Windows 11 or Windows 10 after update issue.
The solutions for sound not working on Windows 11/10 after update problem listed below can also be used for laptop and desktop computer from HP, Dell, Lenovo, Asus, Acer, Toshiba, etc.
Sound not working on Windows 11/10 after update
The very first thing to do is to go to the Sound control panel in Windows to check and make sure your playback device or speaker is properly enabled. Here's how to do it.
Right-click on the speaker icon on your taskbar, then select Sounds.
In the Sound window, go to Playback tab.
Right-click your primary speaker or audio device, then click on Enable.
The Playback tab in the Sound windows will show a list of all connected speakers and audio devices on your computer. In some cases after a major Windows Update, the primary speaker tends to sometimes get disabled itself. Enabling it again should solve the sound not working on Windows 10/11 after update issue.
If your primary audio output device is already enabled, skip this step and go to the next solution. You may also want to check on the sound volume to see if it's muted or is too low to be heard.
If you see multiple devices on the list and you have no idea which one is your primary audio device, try to enable each one of them until you find one that works to produce sound again.
If you don't see any playback devices on the list or if none works even after trying to enable all of them, it may indicate a problem with your audio driver. Continue to the next fix or go to Playback Devices Not Showing in Windows 11/10.
Update sound and audio driver
If the audio or sound driver is missing or corrupted, it wouldn't appear in the Playback devices list as it's not installed yet. To update sound driver, follow the steps below.
Go to start menu, search for Device Manager and open it. Expand the Sound, video and game controllers category. Right-click on your primary audio output device. In most cases, it should be either Realtek High Definition Audio or USB Audio Device. It all depends on what sound card you are using and what speaker, headphone or headset you've connected. Then, select Update driver.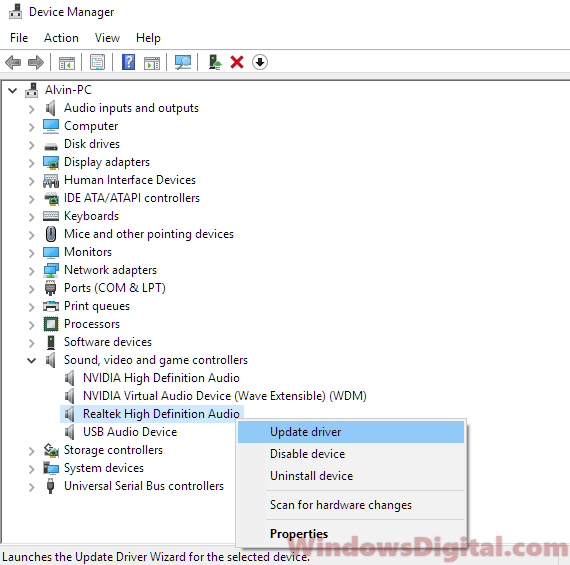 On the next window, click on Search automatically for updated driver software.
When you right-click on your audio device and you see the Enable device option, it means that your audio device was previously disabled by accident. If that's the case, click on the Enable device and the audio not working on Windows 11/10 after update issue should be resolved.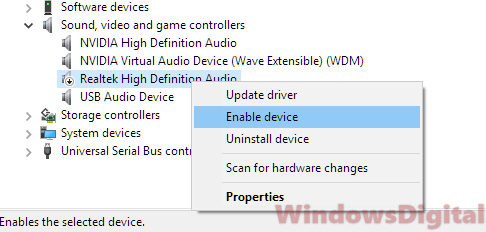 If the automatic search doesn't work, you can try to uninstall the driver by right-clicking the audio device again. Select Uninstall and then restart your PC. Uninstalling the problem driver will allow Windows to automatically find and install the best matched driver for your audio device during the next restart.
Manually select the audio driver
If the search for updated driver automatically option can't find any driver, you can try to manually select the sound driver by choosing Browse my computer for driver software.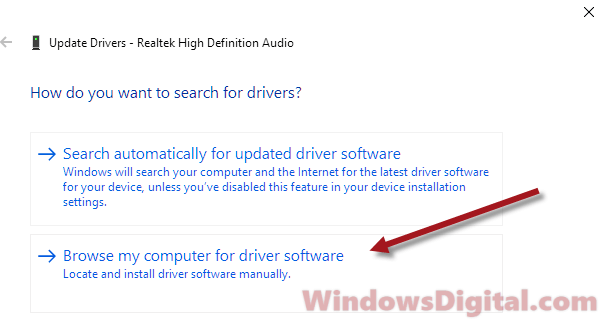 On the next screen, select Let me pick from a list of available drivers on my computer.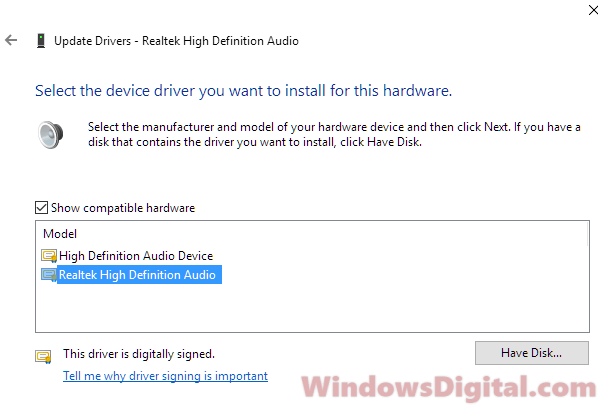 You should then be able to see a list of available compatible hardware drivers you can install. In most cases, choosing Realtek High Definition Audio should fix the issue. Otherwise, you can come back later and try choosing the High Definition Audio Device instead. The sound and audio not working after update issue should be fixed on next restart.