Headphones or Headsets issues are common in Windows especially for laptop users. There are times when you are sure you've correctly plugged your headphones jack into your computer (front or back panel), but there is no sound from the speaker (or mic) on the headphone. This guide will show you how to fix your headphones jack if it's not working on your laptop or desktop PC.
The causes of the issue can be vast. It will be a tedious process to go through all the troubleshooting but they are somewhat necessary. In this post, we've listed the several fixes to headphones jack related issues.
How to try fixing a headphones jack
First, you must make sure that the headphones jack is successfully connected to your computer, and that both the headphones connector and the jack are not broken.
If you have multiple jacks, for example front panel and back panel jack, try to switch the headphones from front to back panel or vice versa to see if it works.
Also, try to slowly turn the connector on the jack clockwise or counter-clockwise and see if the headphones can somehow work. If it doesn't, continue to the next solution below.
Make sure the headphones is selected and enabled
If you have a built-in speaker or have an external speaker concurrently connected to your computer, you will have to tell Windows which one to use. They can't be used at the same time. So, if you have not previously chosen your primary audio device yet, Windows will automatically choose the default audio device.
To enable your headphones in Windows 11 or Windows 10, right-click on the Sound icon from the taskbar, then select Sounds.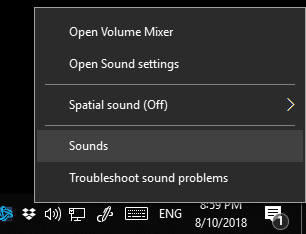 Next, go to the Playback tab. Right-click on your headphone audio device and then click on Enable. If you see multiple audio devices are being enabled at the same time, disable other external speakers until only your headphone is left enabled. Optionally, you can right-click your headphone and select Set as default device.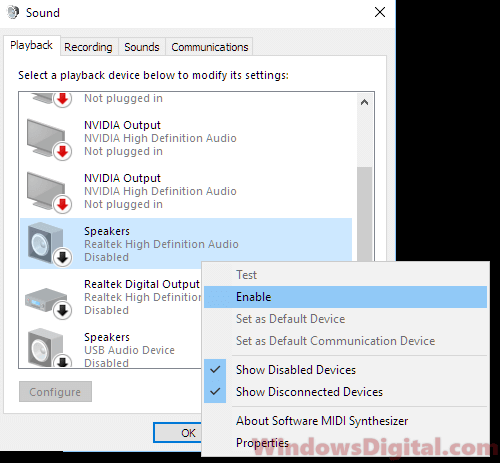 If you don't see your headphone from the list, right-click anywhere in the Playback window. Click on both Show disabled devices and Show disconnected devices. Sometimes they can be hidden by default.
The name of the audio device can be vary depending on what brand and model of your headphone. It can also appear as "Speaker" in some cases. For mine, I connected it via USB and so it appears as USB Audio Device.
After enabling your headphones in the Playback tab and set it as default device, it tells Windows to use your headphone first over other devices.
This fix is especially common for laptop users who usually have a built-in speaker that Windows would normally set as default audio device. You will most of the time have to manually enable and select your headphone as the default device from the Playback tab.
Update your headphones audio driver
If you don't see your headphone on the Playback list, it implies that Windows couldn't detect your headphone or that the sound card driver is either missing or corrupted. Here's what you can try to do.
Press Win+R keys to open Run window.
Type devmgmt.msc and then click OK.
In the Device Manager, expand Sound, video and game controllers category.
Right-click on your primary audio controller where your headphone is connected, in most cases, it should be Realtek High Definition Audio for most laptops (can be other names depending on the model of your sound adapter), then click Update driver.
If you are connecting your headphone to PC via USB instead, it should appear as USB Audio Device or a more specific name of your headphone.
Select Search automatically for updated software driver to allow Windows to automatically find and install the driver for your computer.
If you have a driver CD that comes with your headphone, use the CD instead to install the driver for your headphone. If you have a very specific sound card, you will need to download the driver from the manufacturer website and install it.
Uninstall the audio driver or other workarounds
In most cases, the method above should be able to update and fix the problem driver. Another alternative solution is to uninstall the audio driver. Follow the steps as outlined above until right-clicking your audio driver, select Uninstall instead and restart your computer. This will allow Windows to automatically search for and install the right driver for your PC during the next reboot.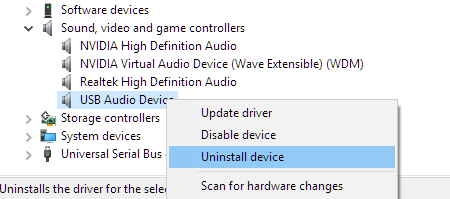 If you are connecting your headphone through USB, try to plug it to another USB port and update your USB controller driver from the Device Manager.
If all else fails to resolve your headphone issue and if the problem arise only after a recent Windows Update, it could be due to the update that causes the headphones to not work properly. You may want to try to roll back windows 11/10 update to an earlier state.