If you have just upgraded your PC to Windows 11 or Windows 10, and you find that the Playback and Recording devices options are no longer in where they usually were, here's how to open them.
Right-click the speaker icon from your taskbar. Select Sound. This will bring up the Sound setting window. From there, you can go to the Playback tab where all your playback audio devices will be listed, or the Recording tab for your mics and other recording devices.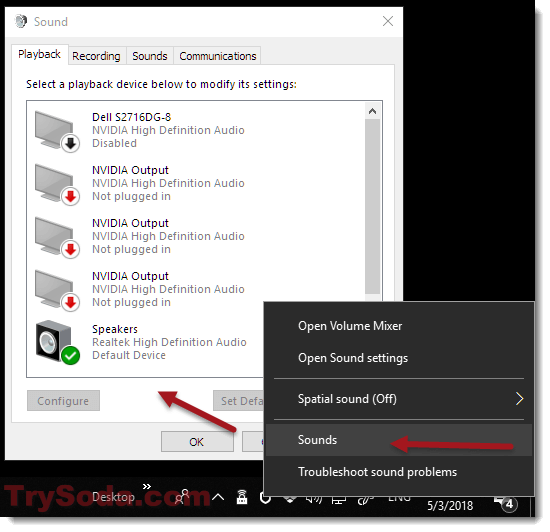 In Windows 11, after selecting Sound settings via taskbar, select More sound settings in the Settings page to open the "Sound" window.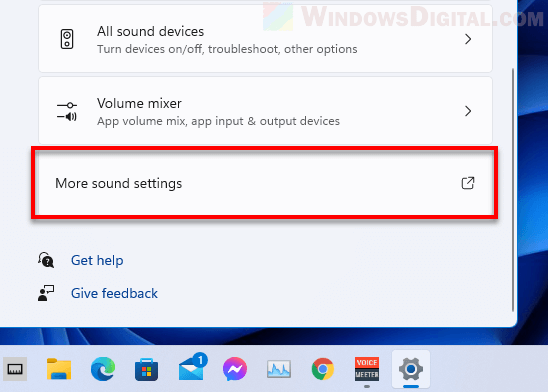 If the Playback devices won't show up or won't open when you click on it, it may be caused by a bug or a conflict during the update. Try to run Windows Update and see if it fixes the issue.
Playback devices showing "No audio output device is installed" in Windows 11/10
If there is no audio device listed in the Playback tab, it means that Windows has not detected a connected speaker, or the driver for your speaker is not installed or has corrupted. Here's how to fix it.
If you have a driver CD for your speaker, install it now and the problem should then be fixed. If you don't have the driver, follow the solution below to re-install your audio driver.
Go to Start menu. Search for device manager and then open it.
Expand Sound, video and game controllers.
Right click your audio device. In the screenshot below, I have multiple audio devices in my computer, you might see a different device on yours.
Click on Update driver.
Click Search automatically for updated driver software.
When it's done installing, restart your computer. Your audio should work now.
If you don't see any device listed under "Sound, video and game controllers", look under Other devices to see if there is any audio device with an exclamation mark.
If there is any, it means that the driver for the connected audio device is not installed. Right click it and then select Update driver. For now, click search automatically to try letting it to find the driver automatically.
Related issue: Audio Not Working on Windows 11/10 After Update
If it fails to find a suitable driver, right click it again and select Update driver. This time, select Browse my computer for driver software. In the next screen, click on Let me pick a list of available drivers on my computer.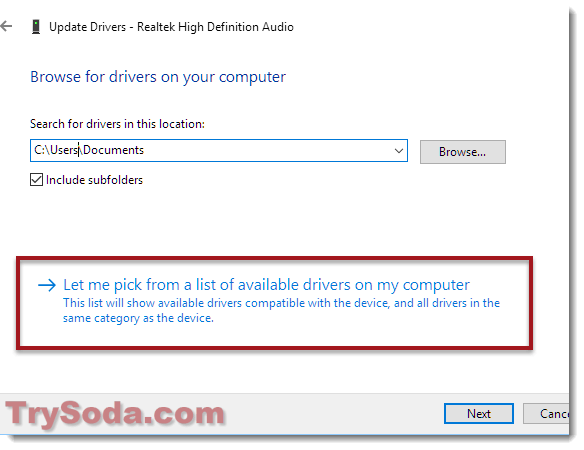 You may see different models in the list. For now, we will try with the Realtek High Definition Audio driver. Select it and then click Next. Windows will now install the driver automatically. When it's done installing the driver, restart your PC. Your audio should work in the next restart.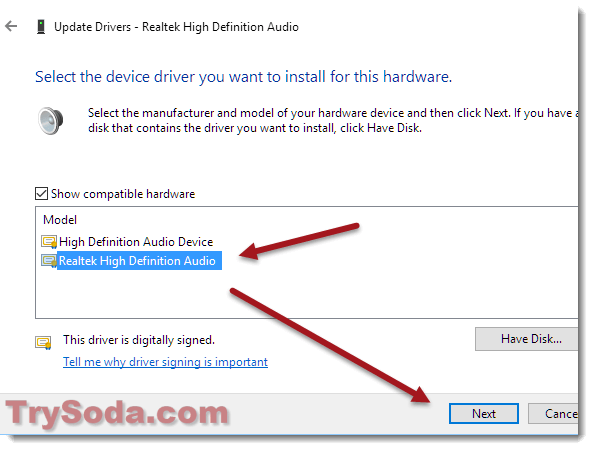 Uninstall and reinstall audio device in Windows 10/11
If nothing from the above works for you and the Playback devices tab is still not showing anything at all, another workaround you can try is to uninstall and reinstall your audio device.
Open device manager.
Expand Sound, video and game controllers.
Right-click your audio device, then select Uninstall.
Restart your computer.
On next startup, Windows will automatically attempt to download the driver that best matches your audio device from the Windows Update driver repository and install it. This should also fix the problem.