So, you have an AMD Radeon or Nvidia Geforce graphic card running on your PC, all of a sudden, things got messed up and your display doesn't work correctly after applying a recent Windows Update (particularly the Windows 10 April Update v1803). Many cases regarding this issue have been reported which includes fps fluctuation, missing preferred screen resolution and multiple monitors options, black screen whenever an app or a game is opened, etc.
Though this post is written to focus solving the display problems caused by Windows 10 April Update, the solutions provided may also be applicable to display problems that may arise from any future Windows update.
Download and install the latest video driver
I know this solution is boring, but it's always a must to check if there is any new driver released by AMD or Nvidia recently, depending on which video card you're using, especially after any major Windows Update.
If there is a new video driver release, it should include the required fixes for the bugs and conflicts caused by recent Windows Update. Install it immediately and see if it solves your display problem in Windows 10 after update. For AMD Radeon video card, find and download the latest driver from here, or here if you have a Nvidia Geforce video card.
Get the latest driver from Windows Update instead
I know you always would very much prefer the latest driver from your video card's manufacturer. But sometimes when display problem arises after installing a new driver and a recent Windows Update, you would want to temporary install the latest driver Windows 10 could offer. This is because the drivers picked by Windows Update are usually tested to be compatible with the latest Windows 10 build.
So, if you are currently having any issue that wasn't there prior to installing the latest driver from AMD or Nvidia, try to uninstall the current video driver, and then run Windows Update again to let Windows install the latest driver from its database for your PC.
To uninstall your current video driver:
Go to start menu.
Search for "Device Manager" and open it.
In device manager, expand Display adapters.
Select your current graphic driver.
Right-click it, then select Uninstall driver.
Your computer screen will go black for a few seconds during the process. Once it's done, your desktop will most likely looks bad without the transparency effects it used to have, as if there is no video card installed. Restart your computer, then run Windows Update again (Go to start menu, search for Update & Security, then click on Check for updates). It should now automatically identify and install the latest video driver that it think is best for your PC at the moment.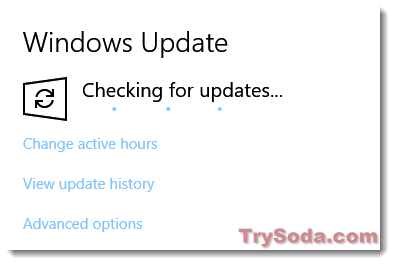 Rollback to an old driver
If none of the above fixes works, the last thing we can do is to rollback to a previous working driver prior to the update. Here's how to do it.
Search for and open Device Manager again from the start menu. Expand Display adapters. Right-click your video adapter and select Properties. Go to Driver tab, then click on the Roll Back Driver button. If it's grey-ed out, it means there isn't any old driver stored in your PC.
If that's the case, you can head to your video card's manufacturer website to search and download the old driver from them. Hope these fixes work for you to fix the display problem in Windows 10 after Windows update.