Have you tried changing your Windows screen resolution only to find that the only option you can select in the display settings is 1024×768? This can occur after a random Windows boot up, or after you tried to change to a screen resolution larger than your usual resolution, which usually followed by a black screen. After which, the Windows 11/10 resolution automatically changed to 1024×768 and all other options are grayed-out, leaving you stuck with only the 1024 option. If this has happened to you, try the following solutions.
Related issue: Screen Size Smaller or Larger Than Monitor Issue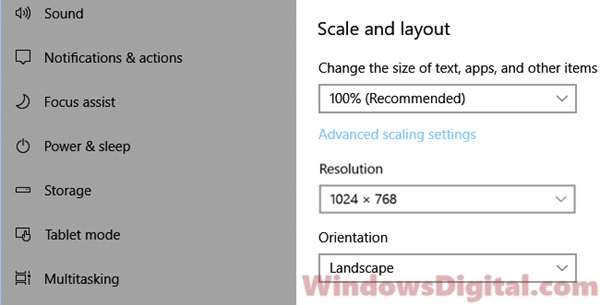 Reasons behind the issue
There are a few situations that can lead to the Windows 11/10 resolution stuck at 1024×768 only problem, including:
A corrupted, missing, or incorrectly installed graphics driver.
The cable you are using to connect your monitor with your GPU doesn't support the resolutions you want.
A defective graphic card, cable, or monitor.
How to fix screen resolution stuck at 1024×768 on Windows 11/10
Before diving into more complex solutions, it's essential to perform some basic troubleshooting steps to identify and possibly fix the issue. First, restart your computer, as this can sometimes resolve screen resolution problems. Next, check if your monitor is properly connected to your computer and ensure that the cable is plugged in securely. Additionally, try connecting a different monitor or using a different cable to rule out any hardware issues. If the problem persists, move on to the following solutions to fix the screen resolution stuck at 1024×768 issue on Windows 11/10.
Update graphics driver
If both your monitor and graphic card support screen resolution larger than 1024×768, the most likely cause of the issue is a corrupted, missing, or incorrectly installed graphic drivers. Try to update or reinstall your graphic drivers and see if it fixes the issue.
You can update your GPU driver by either manually downloading from "Nvidia.com" for Nvidia graphic card or "AMD.com" for ATI video card, or by updating via "Device Manager" in Windows 10/11. Here are the steps to update via Device Manager:
Also see: How to check what graphics card you have on Windows 11/10
Go to start menu or Cortana.
Search for and open "Device Manager".
In Device Manager, expand the "Display adapters" category.
Right-click on your primary graphic processing unit, then select "Update driver".
On the next window, select "Search automatically for updated driver software" to allow Windows to automatically search for the latest driver and install it for your PC.
Your GPU may appear as an unknown device with a yellow exclamation mark under the display adapters category in Device Manager if Windows couldn't correctly detect your GPU. In that case, right-click it and select "Update driver" to allow Windows to install the driver for you.
Similar problem: Monitor Not Working After Windows Update (Fix)
If you are using a Windows 11/10 laptop from manufacturers such as Dell, HP, Lenovo, Asus, Acer, or Toshiba, and Windows is unable to locate the appropriate GPU driver, visit your laptop manufacturer's website. From there, download the graphics driver (typically an M series) specifically tailored for your laptop model.
Uninstall and reinstall graphics driver
Alternatively, you can try to uninstall your GPU driver by right-clicking on it in the Device Manager and select "Uninstall driver" . Afterward, restart your computer and reinstall the driver by following the aforementioned method or by manually downloading it from your GPU manufacturer's website.
Typically, when Windows detects that the GPU driver is missing, it will automatically update and install the correct driver for your GPU. Thus, if you uninstall the problematic driver, Windows should automatically reinstall it for you during your next reboot.
Try changing the resolution via other software
If you have an Nvidia graphics card, consider adjusting your Windows screen resolution using the "Nvidia Control Panel" to see if it resolves the issue. For those with ATI video cards, utilize the "AMD Catalyst Software" instead.
In Windows 11/10, go to the start menu and search for "Nvidia Control Panel". In the Nvidia Control Panel window, expand "Display" and then select "Change resolution". From this menu, you can try to change the screen resolution for your monitor under "Resolution".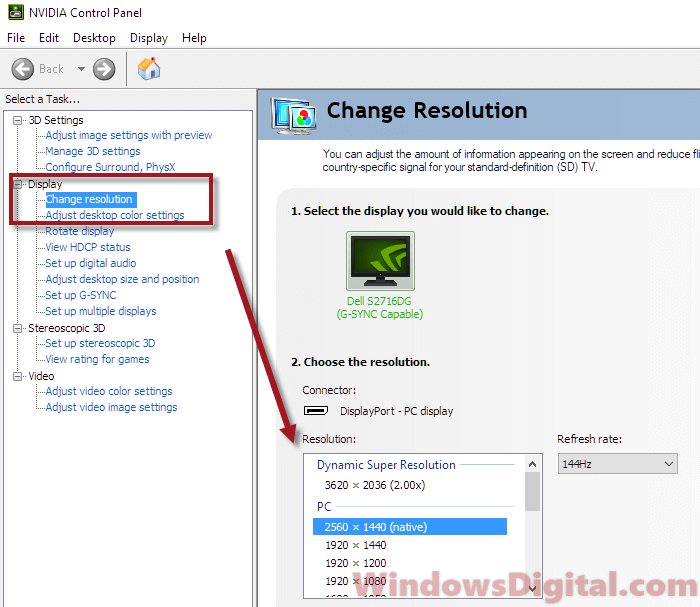 Cable you are using doesn't support 4k / 2k
A common reason for Windows 10/11 screen resolution being limited to the "1024×768" option is that the cable connecting your monitor to your GPU may not support the desired resolutions, such as 2k (2560×1440) or 4k (3840×2160).
For instance, you will require DisplayPort 1.2 or HDMI 2.0 for 4K 60Hz. Both your monitor and GPU must support the appropriate port and its version for it to function correctly. Some monitors can only handle maximum resolution through specific ports, so it's essential to verify this information.
Suggested read: Generic PnP Monitor Driver Problem in Windows 11/10
Check Monitor to GPU connection
Ensure that you have correctly connected your monitor to your GPU, rather than the built-in video adapter on your motherboard. This issue can arise if you have an older motherboard.
However, even the onboard graphics of most recent motherboards support resolutions significantly higher than "1024×768." Therefore, it is highly unlikely that the Windows 11/10 resolution being stuck at "1024×768" is due to the monitor-to-GPU connection.
Potential hardware defects: Graphics card, cable, or monitor
If all other solutions fail, it is possible that a hardware issue is causing the problem. In this case, the cause could be a failing GPU, monitor, or cable connecting the two, resulting in the Windows 10/11 resolution being stuck at "1024×768." To address this issue, consider testing and replacing the potentially defective components as needed.