You were trying to change your Windows screen resolution only to find that the 1024×768 is the only option you can select in the display settings. Here's how to fix Windows 11 or Windows 10 screen resolution stuck at 1024×768 only problem.
This can happen in a few situations. It can occur after a random Windows boot up, or after you tried to change to a screen resolution larger than your usual resolution such as 3840×2160, 2560×1440 or 1920×1080, which usually followed by a black screen. After which the Windows 11/10 resolution automatically changed to 1024×768 and all other options are gone. If that's what happened, try the following solutions.
Also see: Screen Size Smaller or Larger Than Monitor Issue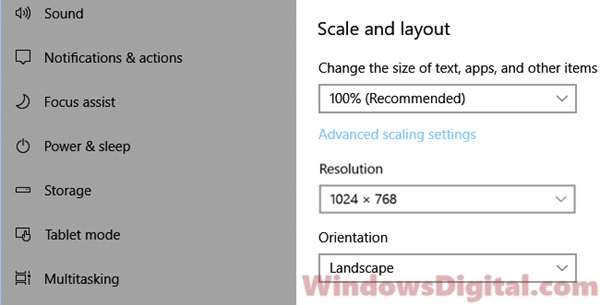 Windows 11/10 Resolution Stuck at 1024×768 only
Update graphics driver
If both your monitor and graphic card support screen resolution larger than 1024×768, the most likely cause of the issue is a corrupted, missing or incorrectly installed graphic drivers. Try to update or reinstall your graphic drivers and see if it fixes the issue.
You can update your GPU driver by either manually downloading from Nvidia.com for Nvidia graphic card or AMD.com for ATI video card, or by updating via Device Manager in Windows 10/11. Follow the steps below to do so.
Read: How to check what graphics card you have on Windows 11/10
Go to start menu or Cortana.
Search for and open Device Manager.
In Device Manager, expand the Display adapters category.
Right-click on your primary graphic processing unit, then select Update driver.
On the next window, select Search automatically for updated driver software to allow Windows to automatically search for the latest driver and install it for your PC.
Your GPU may appear as an unknown device with a yellow exclamation mark under display adapters category in Device Manager. It's normal when Windows couldn't correctly detect your GPU. Just right-click it and select Update driver to allow Windows to install the driver for you.
Related issue: Monitor Not Working After Windows Update (Fix)
If you are using a Windows 11/10 laptop by Dell, HP, Lenovo, Asus, Acer or Toshiba, and Windows failed to find the suitable driver for your GPU, try Nvidia.com or Amd.com. If even these sites don't have the driver for your M series card, you will need to go to your laptop's manufacturer website and download the graphic driver for your laptop's model from there.
After updating your graphic driver, try to head back to the display settings and see if the Windows 11/10 resolution stuck at 1024×768 only problem is resolved.
Uninstall and reinstall graphics driver
Alternatively, you can try to uninstall your GPU driver by right-clicking it and then select Uninstall driver in Device Manager. Next, restart your computer, then reinstall the driver by following the method above or manually downloading from your GPU's manufacturer website.
In most cases, Windows will automatically update and install the right driver for your GPU when it detects the GPU driver is missing. So, if you try to uninstall the problem driver, Windows should automatically install it for you during your next reboot.
Try changing the resolution via other software
If you have a Nvidia graphics card, try to change your Windows screen resolution via Nvidia Control Panel and see if it works. For ATI video card users, use AMD Catalyst Software.
In Windows 11/10, go to start menu and search for Nvidia Control Panel. In the Nvidia Control Panel window, expand Display and then select Change resolution. From there, you can try to change the screen resolution for your monitor under "Resolution".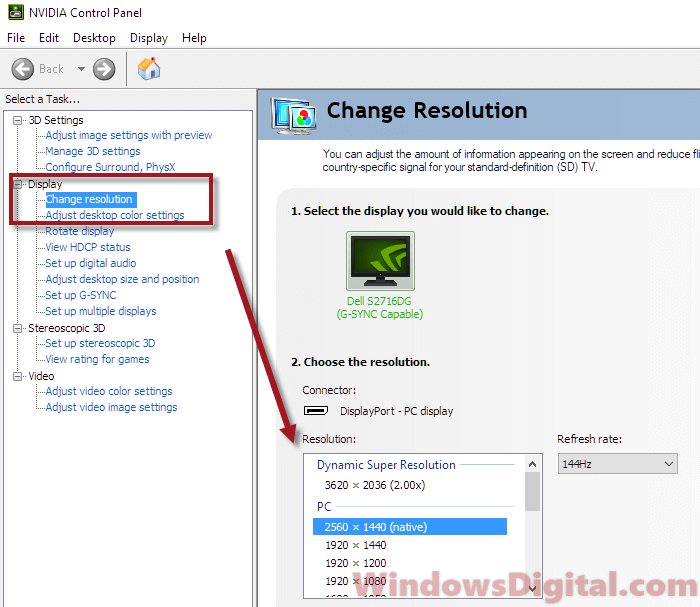 Cable you are using doesn't support 4k / 2k
Another major reason for Windows 10/11 screen resolution to only have 1024×768 option is that the cable you are using to connect your monitor with your GPU doesn't support the resolutions you want such as 2k (2560×1440) or 4k (3840×2160).
For example, you will need DisplayPort 1.2 or HDMI 2.0 for 4K 60Hz. Your monitor and GPU will also need to support that port and its version for it to work. Some monitor screen can only handle max resolution through certain ports. You will have to check on that.
Suggested read: Generic PnP Monitor Driver Problem in Windows 11/10
Check Monitor to GPU connection
Check if you have correctly connected your monitor to your GPU, but not the built-in video adapter on your motherboard. This can happen if you have a fairly old motherboard.
However, even the onboard graphics of all recent motherboards would support resolution much higher than 1024×768. Thus, it's very unlikely that the Windows 11/10 resolution stuck at 1024×768 only issue is caused by the monitor to GPU connection.
Defective graphic card, cable or monitor
If all else fails, it may signal a possibility that this could be due to hardware issue. In this case, it could be either your GPU, monitor or the cable used to connect them is starting to fail (especially cable), thus, causing the Windows 10/11 resolution stuck at 1024×768 only problem.