If you are experiencing an issue with Windows 11 where, after logging in, your screen keeps flickering and flashing and your taskbar appears and disappears as if explorer.exe is stuck in a continuous crash-and-restart cycle, especially following a Windows Update, you're not alone. This issue persists even if you attempt to terminate explorer.exe and manually restart the process via the Task Manager. This guide will explain why this issue occurs and provide a range of solutions and workarounds that can help you overcome it.
Linked issue: Windows 11 White or Black Screen with Cursor (Fix)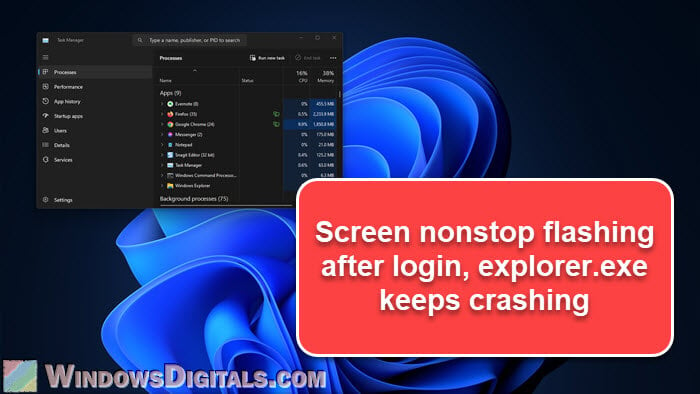 Causes of the screen flashing issue after login
The primary cause of this problem typically lies within a software conflict that arises after a Windows update. This conflict is often with third-party tools that modify the Windows interface, including the taskbar, context menu, explorer.exe and File Explorer. The update might make changes that these third-party tools aren't compatible with, resulting in an unstable interface that flashes or flickers, or causes repeated crashes of explorer.exe. In other instances, malware interference or corrupted system files can be the culprits.
Also see: Can't Click Anything on Desktop in Windows 11/10 (Fix)
Solution 1: Disable Explorer Patcher
If you use a third-party application called Explorer Patcher, this solution will be relevant to you. Explorer Patcher is designed to modify the Windows interface, particularly the taskbar and the context menu, altering the appearance of these elements from Windows 11 to Windows 10. However, due to its deep interaction with explorer.exe, it can occasionally conflict with recent updates and result in screen flickering.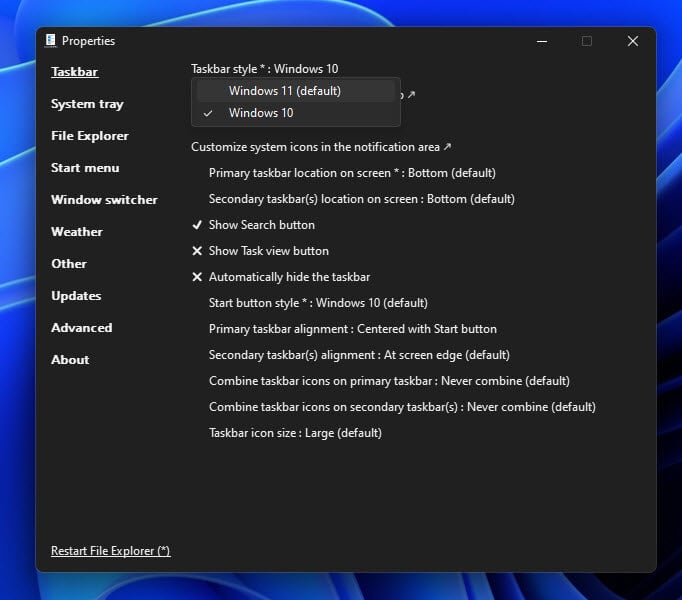 Here is how you can disable Explorer Patcher using Command Prompt (CMD):
Open the Task Manager (Ctrl + Shift + Esc).
Click on "File" > "Run new task".
In the new task window, type "cmd" and check the box saying "Create this task with administrative privileges".
Once CMD opens, type the following command: move c:\windows\dxgi.dll c:\windows\dxgi.dll.backup and hit Enter.
By executing this command, you rename the .dll file that Explorer Patcher uses to function, effectively disabling the application. After restarting your computer, check if the flickering stops. This will indicate that Explorer Patcher was conflicting with the updated version of Windows 11.
Related resources:
Solution 2: Check for other interface modification tools
In addition to Explorer Patcher, there are various other tools or hacks available that modify components related to Explorer, including File Explorer. If you have used any of these, they could potentially cause explorer.exe to crash repeatedly, resulting in a screen flickering issue.
You should disable or uninstall these tools to see if they resolve the issue. In most cases, you'd need to use CMD or PowerShell to force delete or move the associated files. However, the exact process will vary with each tool, making it challenging to provide a universal set of instructions.
You can try performing a quick Google search. For example, if you use a tool named "XYZ", you could search "how to uninstall XYZ using cmd" or "how to disable XYZ using PowerShell". This will likely lead you to a set of instructions specifically tailored for your tool. Remember, the objective is to find a way to disable the software in question without relying on Windows Explorer.
Other problem: Task Manager Not Responding in Windows 11 or 10
Solution 3: Disable Malwarebytes
Reports from several users on platforms like Reddit indicate that Malwarebytes, a popular anti-malware software, could be the cause of the flashing issue. This might occur if the software interferes with some system processes, causing instability.
To check if Malwarebytes is causing the problem:
Reboot your computer and hold down the Shift key while clicking "Restart" to enter Safe Mode.
Once in Safe Mode, go to "Control Panel" > "Uninstall a program", find Malwarebytes, and click "Uninstall".
Restart your computer in normal mode and check if the flickering stops. If it does, you might want to consider switching to a different anti-malware program or check for an updated version of Malwarebytes that doesn't cause this issue.
Solution 4: Boot in safe mode
If the issue is due to a temporary software glitch, simply booting into Safe Mode and then restarting back to Normal Mode can resolve the problem. Safe Mode loads a minimum set of drivers and software, and restarting again allows your system to load everything fresh, potentially eliminating minor glitches.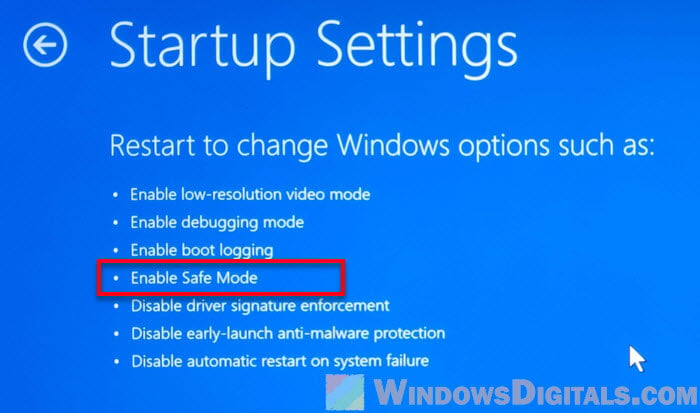 Solution 5: Run System File Checker and DISM
Corrupted system files can cause a wide array of problems, including screen flickering. Windows comes with two built-in utilities, System File Checker (SFC) and Deployment Image Servicing and Management (DISM), to find and fix such issues.
To use them, open CMD as an admin through the Task Manager and run these commands:
To start SFC, type sfc /scannow and hit Enter. SFC will now scan and fix any corrupted system files.
To use DISM, type DISM /Online /Cleanup-Image /RestoreHealth and hit Enter. DISM will fix any issues with the system image.
Running these tools can potentially fix the issue if it was due to corrupted system files.
Solution 6: Uninstall recent updates
While Windows updates are designed to bring improvements, they can occasionally lead to problems due to compatibility issues. If your screen started flickering after a recent update, uninstalling it might resolve the issue:
Press Ctrl + Alt + Del.
At the bottom right corner of the screen, click on the "Power" button.
Hold down the Shift key while clicking "Restart".
Once your PC restarts to the Choose an option screen, select "Troubleshoot" > "Advanced options" > "Uninstall Updates".
Choose the most recent update and uninstall it.
Solution 7: Reset or reinstall Windows
If none of the above solutions works, you might need to reset or reinstall Windows. This is a last resort, as it will restore your system to its factory state. Remember to back up all important data before proceeding.
At the Windows login screen, hold the Shift key on your keyboard while clicking the "Power" button at the bottom right of the screen, and then "Restart". Your computer will restart into the Windows Recovery Environment (WinRE).
In the WinRE screen, choose "Troubleshoot" > "Reset this PC".
Next, you'll see two options: "Keep my files" and "Remove everything". If you want to keep your personal files, choose "Keep my files". If you want to remove everything, including your personal files, choose "Remove everything".
Follow the on-screen instructions to complete the process.
Conclusion
In most cases, the continuous flashing and flickering of the Windows 11 explorer screen is mainly caused by conflicts between explorer.exe and third-party software or tools. This usually happens after a significant Windows update that brings changes to explorer.exe or other interface components. These modifications aim to enhance user experience or system performance, but they can sometimes lead to unexpected interactions, resulting in disruptive screen behavior.
Therefore, the most practical initial approach to troubleshoot this issue is self-reflection. Try to recall any tools or software you may have installed that directly affect or modify the operation of Windows Explorer. Once you have identified them, try disabling them using CMD or by booting in Safe Mode. This should often be enough to resolve the issue and restore system stability.
While it is important to keep your system updated for optimal performance and security, it is equally crucial to ensure that any customization tools you use are compatible with these updates.