The symptom of this issue is that you will see the error message that reads Sihost.exe unknown hard error upon login to Windows 10, particularly after a Windows Update. It could also be Ctfmon.exe unknown hard error or Explorer.exe unknown hard error in Windows 10 depending on the situation of your PC. They could also just appear randomly while running an app or a game.
Another recently popular occurrence of the error is when you were in the Windows rollback loop in the Choose your language layout blue screen, after you go past the loop by creating an admin account username and password to login to your Windows 10, it shows sihost.exe unknown hard error message. After clicking OK or close the error window, Windows 10 boot into black screen with only a working mouse cursor. This happens to a big portion of users who updated to the latest Windows April 2018 update version 1803.
As for Ctfmon.exe unknown hard error or Explorer.exe unknown hard error, they could indicate that there are corrupted or missing system files in the OS, or conflicts between third party software and windows system.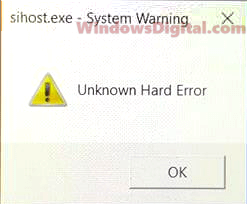 Fix: Ctfmon.exe, Explorer.exe, Sihost.exe unknown hard error in Windows 10
Clean boot Windows 10
Firstly we will have to make sure it's not other third party software that is causing the problem. To verify this, we will perform a clean boot on the Windows 10 PC so that no other services or programs will be loaded during startup. If you are seeing Sihost.exe unknown hard error, you should definitely try this clean boot method first. Here's how to clean boot your Windows 10.
Whether or not you are in black screen, you can still use Win + R to open Run.
Type msconfig into the run field and then press Enter.
Go to General tab.
Select Selective Startup radio button.
Uncheck the Load startup items option.
Go to Services tab.
At the bottom, uncheck Hide all Microsoft services.
Then, click on the Disable all button. Make sure to click this only after you hide all Microsoft services.
Click Apply, then OK.
Select Restart now.
Verify if the problem is fixed now. If your Windows 10 works fine now, you can then re-enable the services one by one from MSconfig to identify the software that causes the error.
Run System File Check
The error especially for sihost.exe and explorer.exe unknown hard error are both system files related, we will do a system file check to automatically find and repair any corrupted or missing system file in Windows 10. Here's how to do it.
Press Win + X to access the power user menu.
Select Command Promp (Admin). Make sure it's with Admin as we need the administrator privilege to execute the command.
In the command prompt, enter the following command and press Enter.
sfc /scannow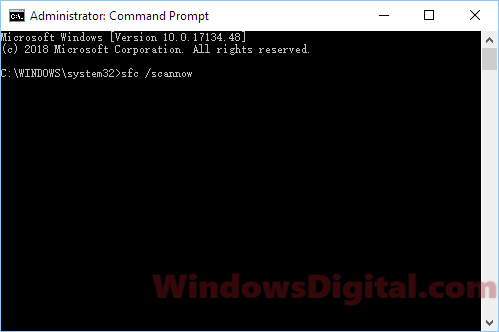 The scan and repair will begin when the command is entered. The process may take some time. Once it's completed, restart your PC and see if the problem persists.
Run ChkDsk to check for disk error
To make sure it's not due to hard disk error, we will have to run the chkdsk command. This is especially common for sihost.exe and ctfmon.exe unknown hard error. To run chkdsk, follow the steps below.
Press Win + X to access the power user menu.
Select Command Promp (Admin).
In the command prompt, type the command below. Then, press Enter.
chkdsk /f /r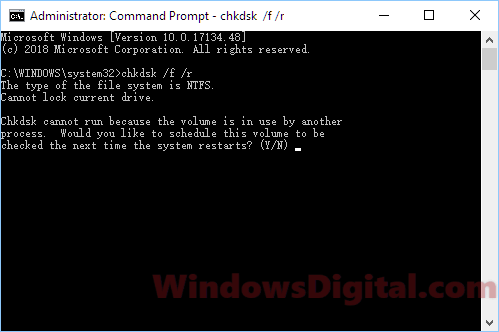 When the command returns a respond that tells you chkdsk cannot run because the volume is in use by another process. Type Y key to schedule this volume to be checked on the next reboot. Restart your computer to let the chkdsk run.
Rollback to an earlier build, Restore or Reset Windows 10
If none of the fixes above works for you, you can then go ahead to roll back your Windows 10 update to an earlier build, do a system restore, or reset your Windows 10. We have all the guides for all these actions in our website. If you need any help, do a search for your problem in our website using the search bar provided in the top menu.