Chromecast has taken the world by storm, allowing users to stream content from their devices to larger screens with ease. However, a common issue many encounter is the problem of subtitles not showing when streaming content from VLC player to Chromecast, even when the subtitle setup appears to be configured correctly, such as having the same file names. This article will explain why subtitles may not work when streaming from VLC to Chromecast and provide solutions and workarounds for streaming videos with subtitles to TVs via Chromecast.
Also see: How to Auto Add Subtitles to a Video in PotPlayer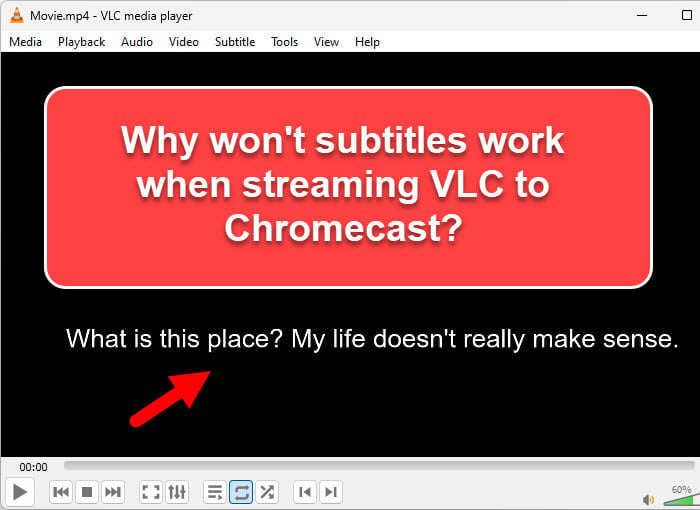 Why won't subtitles work when streaming VLC to Chromecast?
The main reason for subtitles not displaying when streaming from VLC to Chromecast is pretty straightforward: VLC simply doesn't support subtitles when casting to Chromecast. When you stream content from VLC to Chromecast, the video is often sent in a raw format, and separate subtitle files (like SRT files) are not recognized or synced properly by Chromecast.
While VLC is a versatile player with a wide range of features, its current build lacks the capability to send subtitle data seamlessly to Chromecast. This means that even if a video has associated subtitle files or embedded subtitles, they might not be rendered on the screen when cast via VLC.
Related resource: How to Add Custom Subtitles to Netflix
Burning (hardcoding) subtitles into the video
One of the most effective ways to ensure subtitles display when streaming to Chromecast is to embed them directly into the video. This process, often referred to as "burning" or "hardcoding," merges the subtitle text onto the video frames, ensuring that they're displayed as a part of the video itself. Here's a breakdown of why this solution is beneficial and how it operates:
Compatibility: Once subtitles are hardcoded into a video, they become an intrinsic part of the video data. This means no matter where you play the video, the subtitles will always show.
Synchronization: Hardcoded subtitles eliminate the potential syncing issues that can arise when separate subtitle files are used.
Simplified streaming: With the subtitles integrated, you don't have to worry about selecting or syncing a separate subtitle file each time you want to watch the video.
Whether you're streaming the video via Chromecast from Windows 11/10, an Android device, iPhone, macOS, or any other operating system, the hardcoded subtitles will work perfectly. This is because the subtitles are literally part of the video itself, so they'll show up no matter where or how you play it.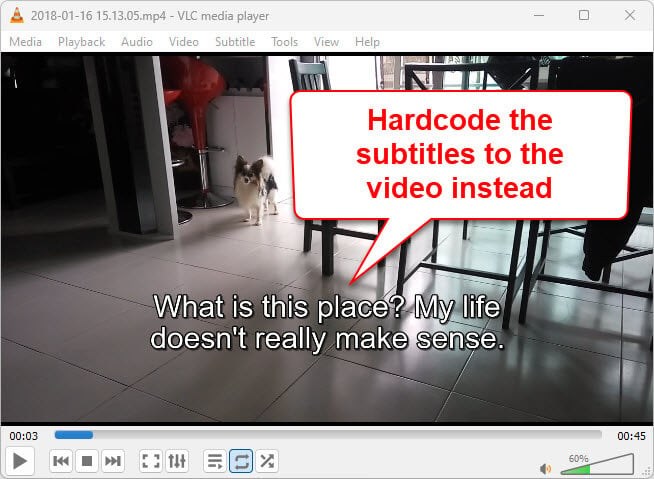 How it works:
When you hardcode subtitles, you're essentially overlaying the text of the subtitles onto the video frames themselves. This integration makes them a permanent fixture in the video. When you play the video, the subtitles appear as though they're a part of the original recording. This ensures that devices, like Chromecast, which might not recognize or sync with separate subtitle files, display the subtitles without any issues.
For those who are familiar with VLC, a well-known and versatile media player, there's a comprehensive guide on how to achieve this. Check out "How to Merge Subtitles With Video Permanently Using VLC" for detailed instructions.
However, if your video format is MKV and you're looking for a specialized solution, MKVToolNix is a great choice. For a step-by-step guide on using this tool, visit "How to Merge SRT Subtitles with MKV using MKVToolNix".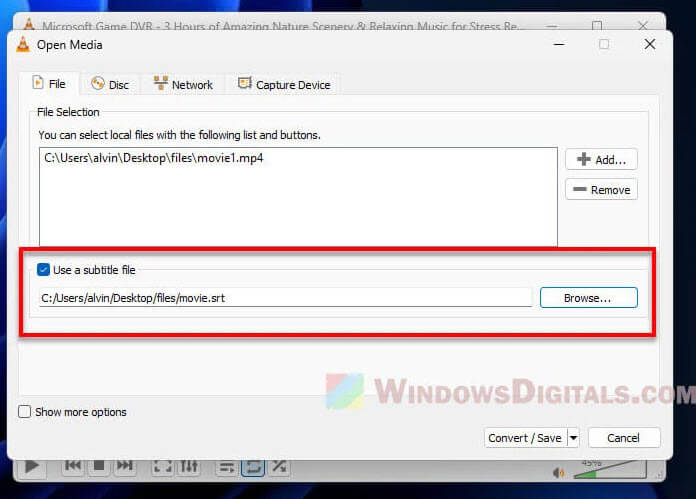 Using Plex Media Server to stream subtitles
Plex has made a name for itself as a powerful media server software, renowned for its ability to streamline the media experience for users. For those grappling with VLC's subtitle issue on Chromecast, Plex offers a practical workaround.

What is Plex?
Plex functions as a media hub, organizing and transcoding your media files to ensure they're playable on a variety of devices. Its real advantage comes into play with its ability to transcode files on-the-fly, adapting them to suit the specifications of the device they're being played on.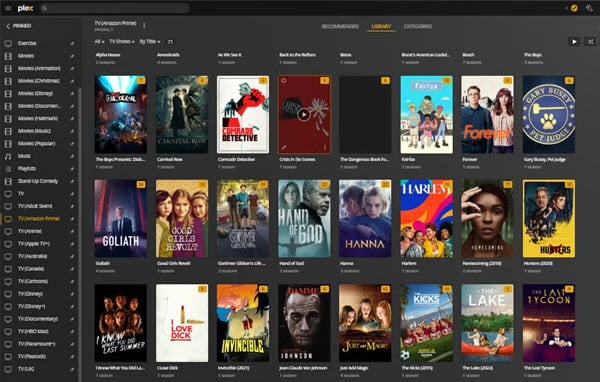 Why use Plex for VLC to Chromecast subtitle issues?
Automatic subtitle rendering: When you stream to Chromecast using Plex, it can recognize when a device (like Chromecast) doesn't natively support subtitles. In such cases, Plex will automatically "burn in" or embed the subtitles into the video stream, ensuring they appear correctly during playback.
Versatile subtitle support: Plex isn't picky about subtitle formats. It accommodates a vast array, making it a handy tool irrespective of your video-subtitle combination.
How it works:
Setting up Plex involves a few primary steps. Firstly, you'll install the Plex Media Server software on your computer, which will host and organize your media collection. Once this server is set up, Plex scans and categorizes your media, pulling in relevant metadata for a richer viewing experience.
When you decide to stream a video to Chromecast (or any other device), Plex assesses the format, bitrate, and other aspects of the video, as well as the capabilities of the device it's streaming to. If Chromecast won't natively support the subtitle format you have, Plex automatically burns the subtitles into the video stream during playback. This on-the-fly transcoding ensures that the video, along with its subtitles, plays flawlessly on Chromecast.
To leverage Plex's capabilities, you need to:
Install the Plex Media Server on your computer and set up your media library.
Use the Plex app on your device (Android or iPhone, tablet, TV) to browse your library and start streaming. When casting to Chromecast, ensure subtitles are enabled in the playback options.
Useful guide: Convert SRT to 3D Subtitles and Add them to 3D Movies
Video conversion with HandBrake
Another viable solution to the subtitle challenge is to convert your video files while embedding the subtitles. HandBrake, a renowned open-source video transcoder, offers a straightforward way to do this.
Advantages:
Versatility: HandBrake supports a wide array of video formats, ensuring compatibility for most users.
Advanced settings: For those wanting a bit more control, HandBrake provides an array of settings to fine-tune the video conversion process.
Batch processing: If you have a plethora of videos, HandBrake's batch processing capability is a boon, allowing you to convert multiple videos simultaneously.
How it works:
The core idea behind using HandBrake is to generate a new video file where subtitles are permanently embedded. This eliminates the need for separate subtitle files, ensuring that when you play the video, the subtitles appear as if they were part of the original recording.
To make this happen with HandBrake:
Load your desired video file into the HandBrake application.
Navigate to the "Subtitles" tab within the software.
Use the option to import your subtitle file into the video.
Ensure you mark the "Burn In" option. This choice ensures that the subtitles are hardcoded into the video, making them an intrinsic part of it.
Once all settings are in place, initiate the encoding process. The resultant video file will now have the subtitles embedded, ready for any playback scenario, including streaming to Chromecast.
By integrating the subtitles directly, HandBrake ensures you have a video file that's universally compatible, regardless of the device or streaming method in use.
Pro tip: How to Watch Netflix with Dual Subtitles
VLC app for Android TV or Smart TV
For those who have an Android TV or smart TV, there's another avenue you can explore. Rather than streaming from a separate device, why not install the VLC app directly on your TV? Once installed, navigate to the app and select "Local Stream". Then, create a File Sharing setup on your computer, ensuring that you allow "Guest Users" to access the shared folder. This way, you can play the video with subtitles directly from your TV, eliminating any intermediary device or software that might hinder subtitle display.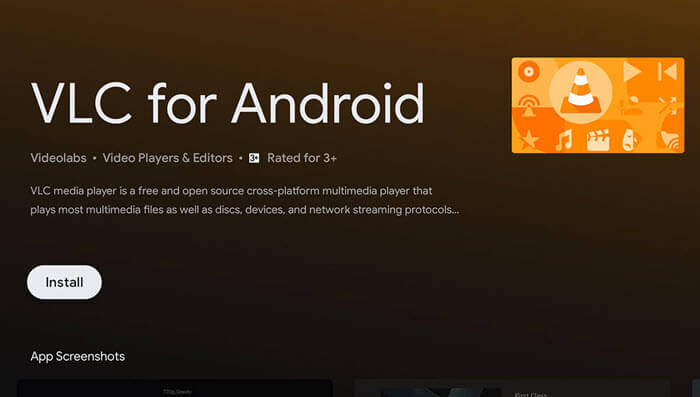 Update: VLC now supports casting to Chromecast through its MacOS application and the VLC app using a "render" option on MacOS. However, there's an issue when playing .mkv files: only the audio is transmitted, leaving a black screen for the video.
Conclusion
Many of the solutions discussed here have been tried, tested, and suggested by users across online communities like Reddit. If you're seeking a straightforward fix without diving too deep into configurations, switching to Plex Media Server when streaming to Chromecast is a quick solution. However, for the loyal VLC enthusiasts, investing some time in learning how to hardcode subtitles into your videos might just be the game-changer you need. Either way, the options are plenty, and with a little experimentation, you'll have your subtitles working perfectly for your Chromecast streaming.