In today's era of foreign films, global accessibility, and a vast array of languages, it's often necessary to add subtitles to your videos. SubRip Text (SRT) files contain plain-text subtitle information, including the start and end times for when each line of text should be displayed. If you have an MKV video file and a corresponding SRT subtitle file, you might want to merge the two. One of the most efficient and reliable tools to accomplish this is MKVToolNix.
MKVToolNix is a free and open-source software that provides a comprehensive set of tools that include "mkvmerge," "mkvinfo," "mkvextract," "mkvpropedit," and "mmg," allowing you to manipulate Matroska (MKV) files in various ways. By utilizing MKVToolNix, you can easily merge your MKV video and SRT subtitle files, ensuring a smooth integration of subtitles into your videos.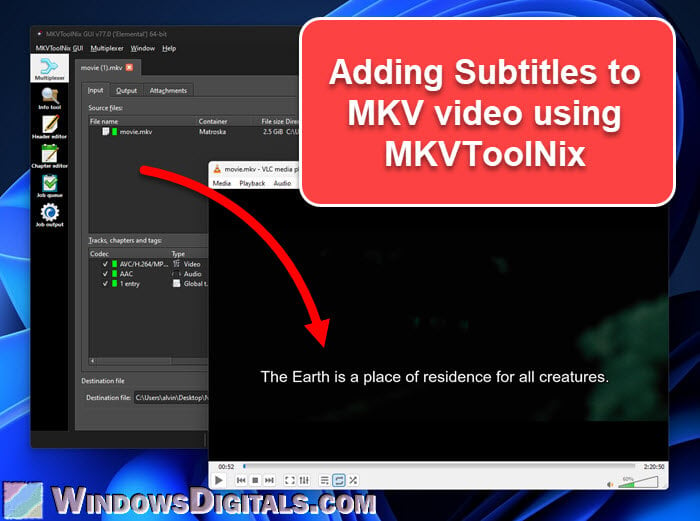 Understanding the basics: MKV files and SRT subtitles
MKV, an abbreviation of 'Matroska Video', is a standard file format that can hold an unlimited number of video, audio, picture, or subtitle tracks inside a single file. It is a common format for storing movies or TV shows.
SRT, which stands for 'SubRip Subtitle' files, are plain-text files that contain subtitle information. They are easy to create and edit, which makes them popular for user-generated subtitles.
Also see: How to Extract SRT Subtitles From MKV using MKVToolNix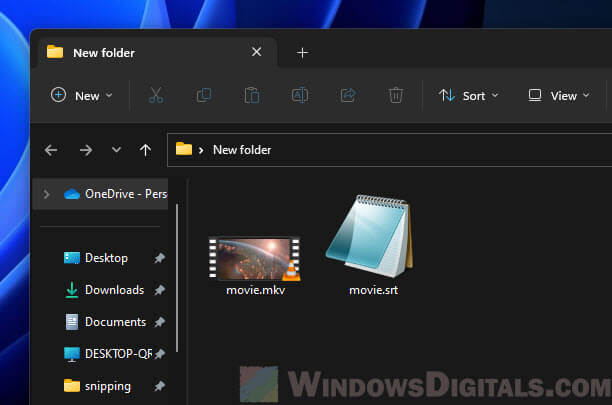 Why add SRT subtitles to an MKV video file?
In a more technical sense, having your subtitles embedded into the video file ensures they're always available, regardless of the platform or media player, as they are part of the video itself, not a separate file.
Moreover, MKV, as a flexible, open standard format, supports multiple audio tracks and subtitles. This makes it an excellent choice for videos that might require various language options, offering viewers the convenience to switch between available languages seamlessly.
Alternative method: How to Merge Subtitles With Video Permanently Using VLC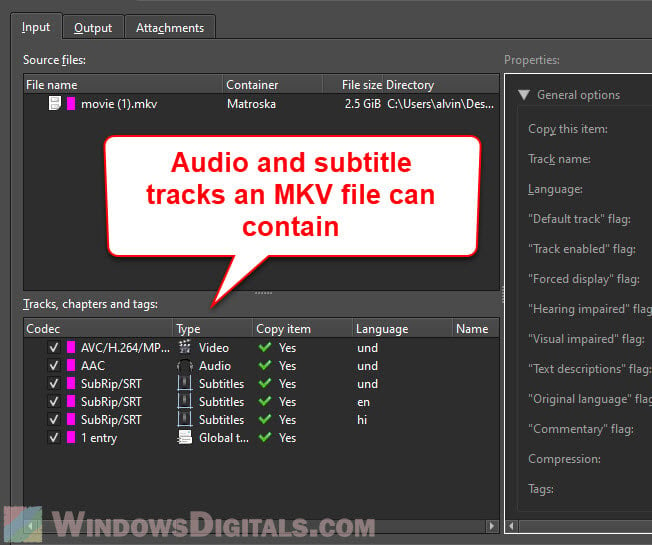 Getting started: Installation of MKVToolNix
First and foremost, you need to download and install MKVToolNix. The software is available for various platforms including Windows, MacOS, and Linux.
Navigate to the official MKVToolNix website: https://mkvtoolnix.download/.
Click on the "Downloads" section and choose the version compatible with your operating system.
Follow the on-screen instructions to install the software.
Useful tip: How to Download Subtitles in VLC on Windows 11
Merging SRT subtitles with MKV video file
Now, let's get into the process of merging the SRT subtitles with the MKV video file.
Launch the "MKVToolNix GUI" from the start menu or the location where you installed the program. Alternatively, you can run the "mkvtoolnix-gui.exe" file from the directory where the application has been installed.
You will see a two-panel interface. On the right side, there is a section named "Source files". Drag and drop the MKV video file and the SRT file that you wish to merge into this panel.
After adding the files, they will be displayed in the list. By default, all tracks, chapters, tags, and attachments are selected to be merged into the final file. You can uncheck any components you do not want included.
At the bottom, you'll see an option named "Output file". Click on the folder icon next to it and select where you want to save the final MKV file with the merged subtitles.
Once you've confirmed your settings, hit the "Start multiplexing" button at the bottom right. The process will commence and you can see the progress in the "Job Output" panel.
Upon completion, you will receive a notification, and you can now view your MKV video with the newly integrated SRT subtitles.
With that, you've successfully merged an SRT subtitle file with an MKV video file using MKVToolNix. This method allows you to enjoy or share your favorite movies and TV shows with appropriate subtitles, thus ensuring a better, more inclusive viewing experience.
Related resource: How to move subtitles to the top or bottom in VLC Player
Concluding thoughts
While MKVToolNix is a powerful tool, its full potential lies in its wider suite of features. You can utilize it to inspect MKV files, extract specific tracks, or even adjust existing metadata. The more you familiarize yourself with these features, the more you can optimize your video files for your specific needs. While this tutorial focuses on merging SRT subtitles with MKV files, we encourage you to explore other features and capabilities that MKVToolNix offers.