Netflix has become a staple in many households around the world, serving up endless hours of entertainment. For language learners, cinephiles, and global viewers, the ability to view films and series with subtitles is essential. But what if you could supercharge your viewing experience and learning by displaying two sets of subtitles simultaneously? Whether you're mastering a new language or just want to compare translations, this feature can be invaluable. In this guide, we will walk you through two Chrome extensions that allow you to display dual subtitles at the same time on Netflix.
Also see: Can I Change or Delete the Main Profile on Netflix?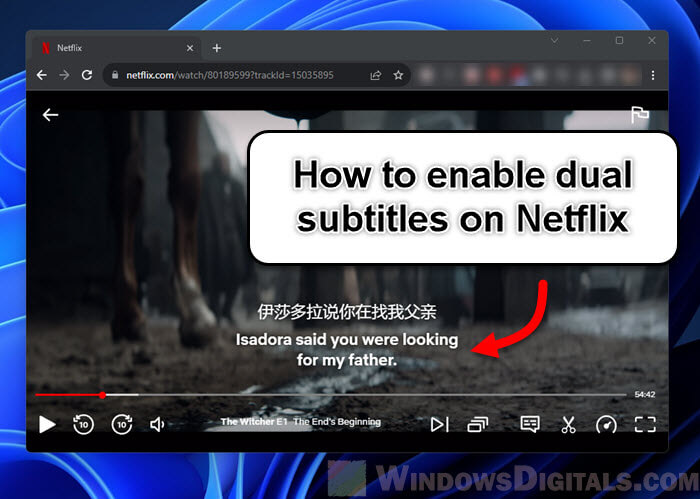 Setting up Netflix with dual subtitles using Netflix Bilingual Subtitles
Netflix Bilingual Subtitles is a powerful Chrome extension designed specifically for those who wish to view content with two subtitles simultaneously. Follow these steps to get started:
Pre-requisite: To begin with, ensure you're using Google Chrome as your browser. If you don't have it installed, download and install it from the official website.
Installation: Visit the Chrome Web Store and search for Netflix Bilingual Subtitles. Click on the "Add to Chrome" button and confirm any prompts to install the extension.
Enable the extension: Once installed, make sure the extension is enabled. You can do this by clicking on the puzzle icon on the top-right corner of Chrome, finding the Netflix Bilingual Subtitles extension, and ensuring the toggle next to it is turned on.
Selecting dual subtitles: Now, head over to Netflix and play your desired movie or series. Click on the "Audio & Subtitles" button (usually represented with a speech bubble icon). Along with the regular subtitle options, you'll notice an additional row labeled "Secondary Subtitles". From here, choose your primary and secondary subtitle languages.
Customizing subtitles: For a more tailored viewing experience, click on the Netflix Bilingual Subtitles extension icon on the Chrome toolbar (usually near the address bar). This will open a menu where you can adjust the subtitles' font sizes, positions, spacings, and other preferences.
Quick access with shortcut keys: This extension also provides handy keyboard shortcuts to enhance your viewing experience. You can use them to slow down or speed up the playback, switch between subtitles, or toggle the primary and secondary subtitles on or off.
Related resource: DNS Servers to Unblock Websites and Possibly Everything
Enabling dual subtitles with NflxMultiSubs extension
Alternatively, you can use another extension called NflxMultiSubs to enable dual subtitles on Netflix. The process is very similar to the first method, but let's ensure you're set up perfectly:
Pre-requisite: As with the previous method, you'll need Google Chrome as your browser. If it's not your current browser, consider downloading and installing it first.
Installation: Navigate to the Chrome Web Store and search for NflxMultiSubs. Once found, click the "Add to Chrome" button and go through any confirmation steps to add the extension to your browser.
Enabling the extension: After installation, ensure that the extension is active. Click the puzzle piece icon located on the top-right of your Chrome interface, find the NflxMultiSubs extension in the list, and make sure it's toggled on.
Utilizing dual subtitles: Launch Netflix and select a film or series of your preference. Hit the "Audio & Subtitles" button, which is often symbolized by a speech bubble icon. You'll now spot an extra "Secondary Subtitles" row, letting you pick a supplementary subtitle language.
Personalizing your subtitles: Want a specific look for your subtitles? Click on the NflxMultiSubs extension icon, typically found adjacent to the Chrome address bar. This grants you access to settings that adjust subtitle layout, font size, positioning, and more, tailoring the experience to your liking.
Useful tip: How to Add Subtitles to Video in Windows 11
Netflix dual or multi subtitles not working
As innovative and convenient as browser extensions are, they are not exempt from the ever-evolving world of technology. Netflix, being a dynamic platform, is constantly updating and refining its user interface and underlying systems. When such changes occur, it might disrupt how extensions like Netflix Bilingual Subtitles and NflxMultiSubs interact with the platform.
Why might they stop working?: Every time Netflix releases an update or modifies its user interface, there's a chance that the changes could interfere with how these extensions function. It's a cat and mouse game; as one platform updates, extensions need to be adjusted accordingly to remain compatible.
Updating the extension: Often, the developers behind these extensions will roll out updates to ensure they remain compatible with the latest version of Netflix. Regularly check the Chrome Web Store to ensure you're using the latest version of your chosen extension, which might come with critical bug fixes and compatibility patches.
Inactive developers: It's essential to understand that many of these tools are developed by independent contributors or small teams, often as passion projects. As such, they might not always receive regular updates. If an extension stops working and isn't updated for a long time, it might be time to explore alternatives.
Check out alternatives and communities like Reddit: If both the extensions mentioned here aren't functioning correctly, consider checking the Chrome Web Store for similar tools. The extension ecosystem is vast, and new tools are developed regularly. Additionally, community forums such as Reddit can be invaluable. Users can search for recent topics related to double subtitles for Netflix or even initiate a question thread to gather insights.
Try finding similar extensions on other browsers: If you can't find a working solution on Chrome, it might be time to explore other browsers like Firefox and Edge. Both these browsers have their own set of extensions and add-ons that might include tools similar to the ones we discussed. A quick search in their respective extension marketplaces might yield a solution that fits your needs.
Linked issue: How to Fix Netflix HTTP Error 503, 502 and 403
Final thoughts
Watching Netflix with dual subtitles can be a game-changer, especially for those looking to learn languages. While the extensions mentioned can make displaying two subtitles at the same time on Netflix possible, remember to keep them updated. If you ever run into issues, don't hesitate to explore other options.