Streaming a video directly from a URL is a convenient way of enjoying video content without downloading it, thereby saving both time and storage space. There are multiple methods available to stream video from a URL; however, for the sake of simplicity and effectiveness, this article will focus on streaming a video from link online using a web browser and locally using VLC Media Player.
Also see: How to Add Subtitles to Video in Windows 11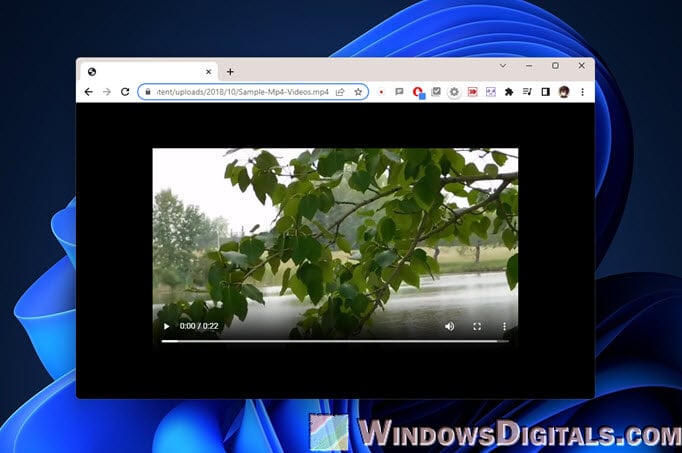 Stream videos from link online
Streaming a video online directly from a URL is relatively simple and doesn't require specialized software. Any contemporary web browser, like Google Chrome, Mozilla Firefox, or Safari, can accomplish this task efficiently. The following steps will guide you through the process:
Open your web browser: The first step is to open your preferred web browser. This could be anything from Google Chrome, Mozilla Firefox, Safari, Microsoft Edge, or any other browser that you find convenient and easy to use.
Access the video URL: After opening your web browser, navigate to the video's URL. If your URL directly links to a video (often indicated by the URL ending in a video format, such as .mp4 or .avi), you can either paste the URL directly into the address bar of the browser or click on the URL if it's embedded within a webpage. After that, press the Enter key to load the webpage.
Play the video: In most cases, once the webpage loads, the video should start playing automatically. However, if it doesn't, you can manually start the video by clicking on the "Play" button, usually symbolized by a right-pointing triangle.
Adjust playback settings: If necessary, you can adjust the video's playback settings according to your preference. This might include changing the video quality, adjusting the volume, downloading the video, changing the playback speed, enabling picture in picture, or toggling on or off the captions, if available.
Ensure your Internet connection is stable: To avoid stuttering and buffering while streaming videos, a sufficient and reliable internet connection is a must. The quality of the video you're trying to stream will determine the internet speed requirement. For example, standard definition (SD) videos require an internet speed of at least 5 Mbps, high definition (HD) videos require around 10 Mbps, and for ultra-high-definition (UHD) or 4K content, 25 Mbps is recommended.
Choose the right web browser: Your choice of web browser can significantly impact your streaming performance. It's advisable to use the most recent versions of widely-used web browsers like Google Chrome, Mozilla Firefox, Safari, or Microsoft Edge as they often provide the best compatibility and performance with multimedia content.
Related resource: Convert SRT to 3D Subtitles and Add them to 3D Movies
Stream videos from URL using VLC
VLC Media Player, a free and open-source media player, offers support for a wide variety of audio and video formats. One of its outstanding yet lesser-known features is the capability to stream video directly from a URL, a feature that proves handy when you want to watch a video locally. The following is a step-by-step guide on how to do this:
Download and install VLC Media Player: If you haven't installed VLC Media Player on your device, the first step is to download it. You can download VLC Media Player from the official Videolan website https://www.videolan.org. After downloading, install the software following the prompts provided.
Open VLC Media Player and select "Open Network Stream": Once the software is installed, open VLC Media Player. Navigate to the top of the window and click on the "Media" option. A dropdown list will appear. From the list, select the "Open Network Stream" option.
Enter the video URL: A dialog box titled "Open Media" will appear after you select the "Open Network Stream" option. Here, you will see a field labeled "Please enter a network URL". Paste the URL of the video you wish to stream in this field.
Stream the video: After pasting the URL, click on the "Play" button situated at the bottom of the dialog box. VLC Media Player will then start streaming the video.
Save video for offline viewing: To save the video for offline viewing, click on the arrow next to the "Play" button before clicking it, and then select "Convert".
In the subsequent window that appears, choose the format you prefer and the destination for the output file, then click "Start". VLC Media Player will start downloading the video to the location you specified. This makes it possible for you to watch the video offline whenever you please.
Please note: It's crucial to respect copyright laws and other legal rights when downloading and streaming online content.
Linked issue: VLC Resume Playback Not Working? Try These Fixes
Troubleshooting video streaming issues
Despite our best efforts, we sometimes encounter issues when streaming videos. Here are some common problems and solutions:
Buffering Issues: If your video is buffering excessively, check your internet speed to ensure it meets the requirements of the video quality you're streaming.
Browser Issues: Sometimes, issues arise due to the browser. Refreshing the webpage or clearing the browser's cache can often resolve these.
Player Issues: If a downloaded video won't play, ensure your video player is up-to-date and supports the video's format. If not, consider downloading a more versatile player or converting the video to a supported format.
File Compatibility: If your player still won't play the video, it might be due to an incompatible video format. Tools like HandBrake or VLC Media Player can convert the video to a more widely supported format.
Useful tip: How to Compress a Video in Windows 11
Final thoughts
Streaming a video directly from a URL is generally faster than downloading it, especially for those with high-speed internet connections. This way, you can start watching your desired content almost immediately without waiting for the entire video file to download.
When it comes to choosing a method for streaming video directly from a URL, VLC Media Player stands out as the most versatile and practical tool. VLC is not only free and open-source, but it also supports a wide range of video and audio formats, making it an excellent choice for diverse multimedia consumption. Furthermore, VLC can stream content from URLs that do not necessarily end with a specific video format, making it adaptable to various content sources.