If you encounter the problem where Facebook or YouTube video won't play on any browser (Edge, Chrome, Firefox) after applying Windows update, see below for why it's happening and what you can do to solve it.
Windows Update, especially the major ones, sometimes break things. I believe we have all been there before, feeling that these updates sometimes do more harm than good. Well, if it's just some minor problems like the video won't play problem, instead of immediately rolling back your Windows, try updating your software. It's usually just compatibility issues among the software.
How to fix YouTube/Facebook video won't play after Windows 10 update
Update Flash Player
Update: This method no longer works and you no longer need to update flash player because Adobe has officially retired Flash. You no longer need Flash to play YouTube videos (YouTube is using other technology for its default video player).
The most common problem after running Windows Update is things suddenly become incompatible with system components installed by the latest update. This includes Adobe Flash Player.
The Flash player plugin is needed to play all kinds of videos on your browser. If videos won't play or show a blank space on where they should be in the webpage, it most likely indicates that your flash player is either not working or outdated.
To update Adobe Flash Player in Windows 10, if you are using Microsoft Edge or Mozilla Firefox, go to this page. Under Optional offers, you may want to uncheck the items Adobe suggests you to install. When you are ready, click Install now. This will download the Flash Player installer, which you will then have to open and install it.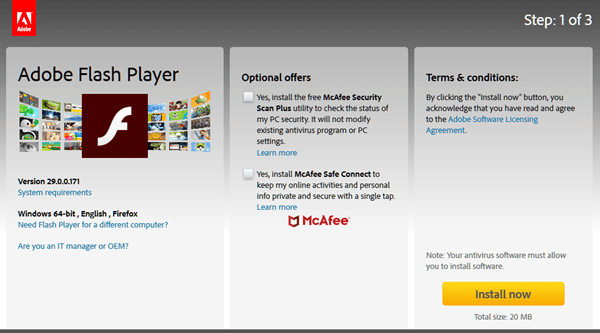 As for Google Chrome users, since Chrome is using its own flash player plugin, you will have to download and install the latest version of Chrome. As you install Chrome, you will also get the latest version of flash player.
After you have done installing the latest version of Flash Player, restart your computer. Open your browser and try to play any video on YouTube or Facebook, and see if the problem persists.
Update Video Driver
Graphic driver is required to allow communication between Windows 10 and the application in order to display graphical images on your monitor. In short, it's required to correctly play video on your PC. If a driver is outdated and is no longer compatible with the latest system components installed by Windows Update, it could be the cause of why video won't play on Chrome, Firefox or Edge after Windows 10 update.
Depending on what graphic cards you have, you will need to go to their respective manufacturer's website to download their latest drivers. For example, if you have a Nvidia Geforce video card, go to here, whereas if you have a ATI Radeon video card, go to here. Download and install the latest driver for your video card, and see if it solves the problem.
Optionally, you can go to Windows Search, search for Device Manager and open it. Expand Display adapters. Right-click on your graphic card, then select Update driver.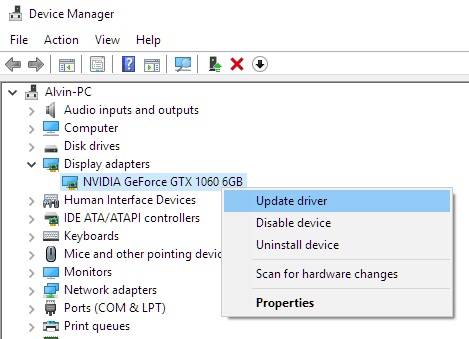 What else can you do?
Usually, updating the Flash player and video driver should fix the problems. If the above fixes don't work for you, try the solutions listed below.
Update your internet browser, be it Google Chrome, Mozilla Firefox or Microsoft Edge. Make sure they are of the latest version.
Try to clear your browser's cache and cookies. If only certain website's videos are not playing, check your browser's plugin and add-on. Some websites require specific video player plugin to play their videos. If these plugins or add-on were mistakenly removed or is no longer compatible with the latest Windows Update, you will have to either update or reinstall them.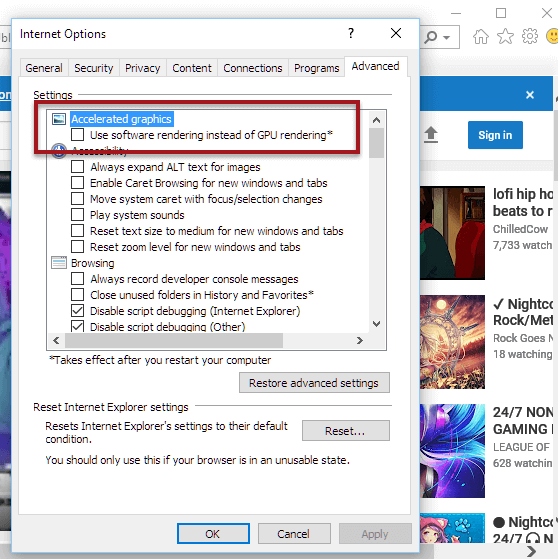 If you are using Edge or Internet Explorer, try to disable (or enable) the graphic accelerator in the Internet Option. To do this, open Internet Explorer. Click on the Settings (gear icon) and select Internet Option. Go to Advanced tab. Under Accelerated graphics, enable/disable Use software rendering instead of GPU rendering. Try to play a video in Edge or IE again and see if it works.