When you visit YouTube.com using Microsoft Edge in Windows 11 or Windows 10 and if Edge won't play any video, sound fails to play, videos not loading, or you see a blank or black screen on where the video player supposed to be on the YouTube page, this guide will show you what you can do to fix the issue.
This issue can be caused by several different reasons. This post will show you several solutions you can try to solve the issue. You can work your way down the list until you find one that works to resolve the problem.
The issue isn't uncommon among the Microsoft Edge community. If you're using Edge as your default browser, you may sometimes find that things would sometimes change without your knowledge, especially after a recent Windows Update. These changes made by update could be the cause of the issue. A change in the settings or other reasons may also be the trigger that causes Edge to fail playing YouTube videos.
Enable Flash in Microsoft Edge
Update: This fix no longer applicable because Adobe has officially retired Flash. You no longer need Flash to play YouTube videos. YouTube is using other technology for its default video player. Please try the other fixes in this post.
The first thing to do is to check whether your Microsoft Edge has Flash enabled. YouTube relies Flash to play their videos. If it's disabled, you would see a blank space on where the video player supposed to be on YouTube.com.
To enable Flash in Microsoft Edge, on your Edge browser, click on the triple dotted option icon at the upper right corner of the window. Click on Settings usually at the bottom-most part of the list.
Then, scroll down and click on Advanced Settings. Make sure the Use Adobe Flash Player option is checked and enabled. Restart your Microsoft Edge browser and verify if the issue still persists.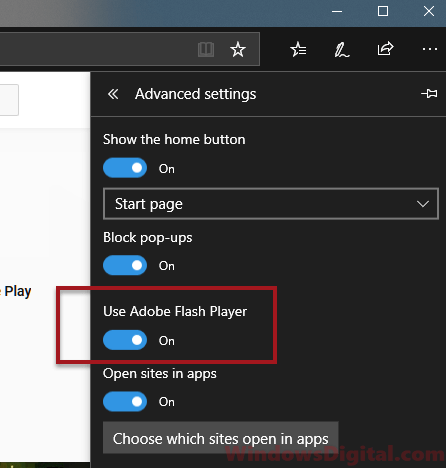 Try to use software rendering
If you can see the video player on YouTube but there is no Play button or any graphic in the player, you may want to try switching to software rendering and see if it can fix the issue.
This can sometimes happen when you have a faulty graphic card, incorrectly installed video driver or misconfigured graphic settings. Thus, resulting in Microsoft Edge not playing YouTube videos. Changing the accelerated graphics to use software rendering instead of GPU (graphic processing unit) rendering may help resolve the error.
To change the said settings, go to start menu. Search for Internet Options and open it. Go to Advanced tab. Under Accelerated graphics, check and enable the option that reads "Use software rendering instead of GPU rendering". Restart Edge and retry playing videos on YouTube.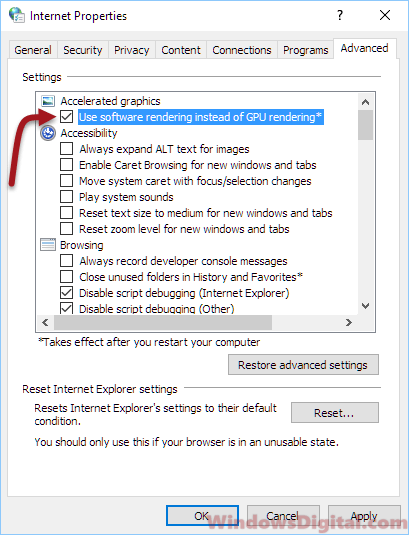 Update your graphic driver
Flash video players and other elements on websites usually rely on graphic processing unit to run. When your graphic driver is not working correctly or outdated, it can cause unusual problems such as Edge not playing videos correctly.
Try to update your graphic driver by running Windows Update, or manually download the latest driver from your graphic card's manufacturer website. Alternatively, you can go to start menu, search for and open Device Manager. Expand Display adapters. Then, right-click your video card and select Update driver. Restart your PC and try to play some videos on YouTube to see if it works.
Clear Microsoft Edge's Caches
Cached data and files may cause conflicts when there is new contents on the website but your browser is still loading local cached files. As a result, it may cause site rendering issues such as Microsoft Edge not playing YouTube videos problem.
Clearing your Microsoft Edge's cached data and files may help to fix the problem. In Microsoft Edge, click on the triple dotted setting icon. Then, select Settings. Under Clear browsing data, click on the Choose what to clear button. Select cached data and files and then click on Clear to clear your selected browsing data (optionally, you may also want to clear other browsing data).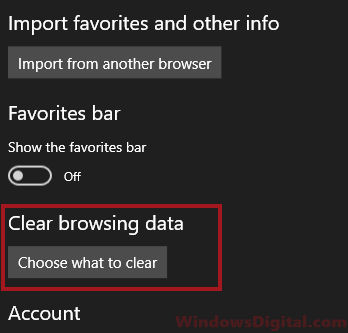 Close Microsoft Edge entirely and reopen it. Visit YouTube.com again and see if it can play the videos properly this time.
Reset all flags to default in Microsoft Edge
It's been widely reported that resetting the flags to default in Microsoft Edge may also help fixing certain Edge errors. Some errors may be due to certain unexpected changes in the advanced developer settings in Edge.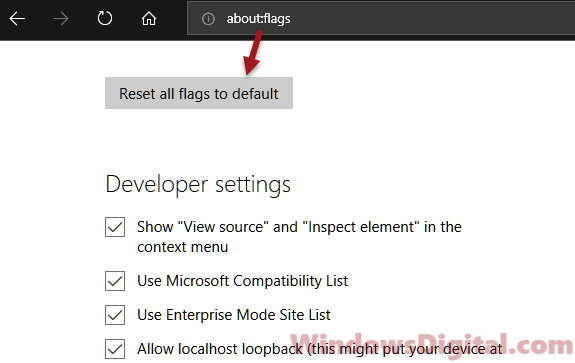 To reset the flags, in Microsoft Edge, enter about:flags onto the address bar and hit Enter key. Then, click on the Reset all flags to default button. Restart Edge and retry playing YouTube videos and see if the problem is resolved.