VLC Media Player is more than just a tool for watching standard videos. Over the years, it has evolved to support a multitude of file formats and technologies, including the fascinating world of Virtual Reality (VR) and 360° videos. This article will explore how to use VLC Media Player to watch and interact with VR and 360° videos.
Also see: Convert SRT to 3D Subtitles and Add them to 3D Movies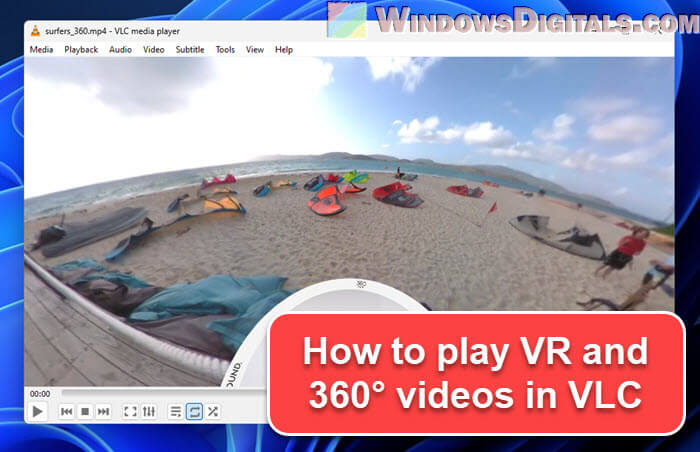 Understanding VR and 360° videos
VR and 360° videos redefine traditional viewing by enveloping users within an interactive environment.
Virtual Reality (VR): This is a simulated experience that can mimic reality or present a completely fictional universe. VR is usually immersive, requiring dedicated hardware like VR headsets to fully realize its potential.
360° Videos: These videos capture every direction of a scene simultaneously. They can be watched on conventional screens but are best viewed using VR gear where viewers can physically turn around to view the content from different angles.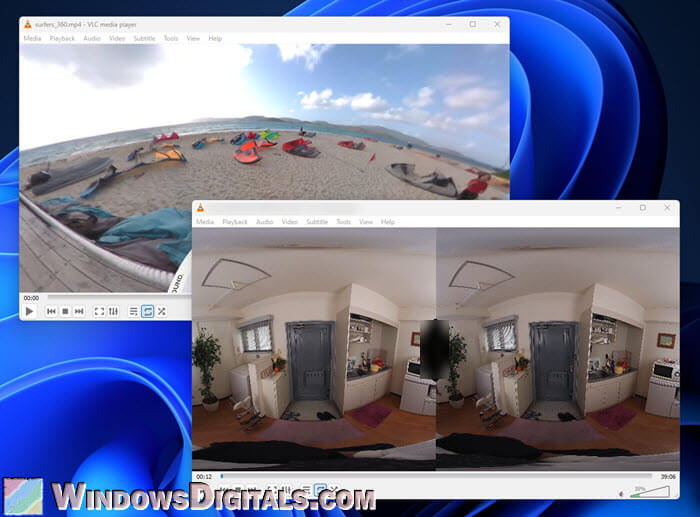 What VR video format does VLC support?
VLC Media Player supports various VR and 360° video formats, including:
3D-180° and 3D-360° videos in side-by-side or top-bottom format.
360° monoscopic and stereoscopic videos.
VR video formats like SBS (Side-by-Side), OU (Over-Under), and 360° videos in equirectangular projection.
Ensure your video files are in compatible formats for smooth playback on VLC.
Useful tip: How to Merge Subtitles With Video Using VLC
How to play VR or 360° videos in VLC
Playing VR or 360° videos in VLC is a relatively simple process, thanks to VLC's intuitive interface and extensive file support. By catering to these newer video formats, VLC ensures its users can stay up-to-date with the latest video technologies without needing to download additional software. Below, we will walk through the steps on how to get your VR or 360° videos playing in VLC.
Before you begin, ensure that you have the latest version of VLC Media Player installed. This is because VR and 360° video support was added in VLC 3.0 and later. You can download the latest version from the official VLC website.
Launch VLC Media Player.
Click on the Media menu, then select Open File.
Navigate to the location of your VR or 360° video and click Open.
VLC will automatically recognize and play the 360° video, allowing you to interact with it and explore different perspectives.
Related resource: How to Play Two Videos Side by Side in VLC Media Player
Navigating VR and 360° content in VLC
When playing 360° videos using VLC on your computer, you can use your mouse to explore the content. Click and drag on the video to pan around the scene. Additionally, you can use the arrow keys to move the viewpoint.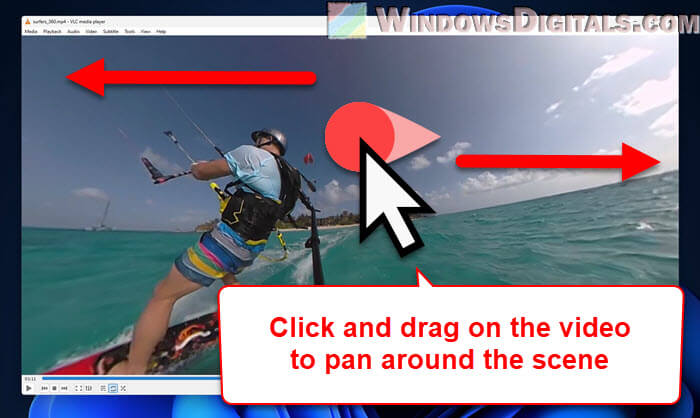 In addition to that, VLC Media Player also offers support for 360 photos and panoramas. You have the flexibility to rotate the photo or video either by using your mouse or the arrow keys on your keyboard. Furthermore, VLC provides various display modes, including Zoom, Little planet, and Reverse little planet, which might be familiar to those who have been capturing 360 photos on Android devices.
Additional reading: How to Picture in Picture in VLC (Windows, Mac, iOS or Android)
Can VLC play VR videos on a VR headset?
While VLC Media Player is renowned for its versatility in playing various multimedia formats, it currently doesn't natively support VR headset playback. VLC's support for VR headsets specifically might be limited, and this functionality could vary depending on your headset. Some users utilize third-party applications to bridge the gap between VLC and their VR hardware. Popular methods include using SteamVR or Virtual Desktop in conjunction with VLC to view content in a VR environment.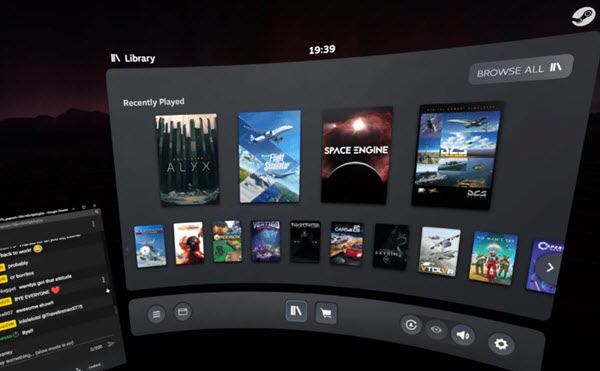 For those looking for a real VR experience, there are plenty of specialized VR video players designed for VR headsets, such as DeoVR, Skybox VR video player, 5KPlayer, etc., providing a more authentic and immersive viewing experience.
Relevant guide: How to Take a Screenshot on Oculus Quest 2 or Rift S
Using older versions of VLC for 360° Videos
If you're running a VLC version older than 3.0 (specifically the 2.x versions), it doesn't natively support 360° video playback. However, you're not entirely out of luck. VLC developers have provided a solution for those not yet ready to upgrade to the latest version:
Head over to http://people.videolan.org/~jb/Builds/360/.
Look for the file named vlc-3.0.0-git-win32.exe and download it. This version is tailored for 360° video playback.
Once downloaded, install it like you would with any other software. After installation, you can use this VLC version to play your 360° videos.
Note: While this offers a temporary solution, it's a good idea to consider upgrading to the latest VLC version in the future to benefit from other enhanced features and improvements.
Final thoughts
VLC Media Player has continually evolved and adapted to emerging multimedia technologies, ensuring users always have the best experience. Its ability to seamlessly play 360° videos is a testament to its versatility and dedication to user needs. With simple mouse clicks or arrow key movements, viewers can immerse themselves in the world of 360° videos and pan around to explore different perspectives.
However, when it comes to VR headset support, VLC falls a bit short. Users seeking a genuine VR experience should consider opting for dedicated VR players to ensure the most immersive and authentic viewing experience. As technology continues to evolve, VLC might broaden its VR capabilities, but until then, dedicated VR players remain the best option for VR headset users.