VLC Media Player is a highly versatile media player that offers a myriad of features, many of which remain unexplored by the average user. One such feature allows you to open multiple instances of VLC window, enabling you to play two videos side by side. This might seem like a complex task, but by adjusting the "Allow only one instance" option in VLC, it's quite straightforward. Whether you're comparing two clips, watching tutorials and their outcomes simultaneously, or simply enjoying two videos at once, this guide will help you achieve this.
Also see: How to Picture in Picture in VLC (Windows, iOS or Android)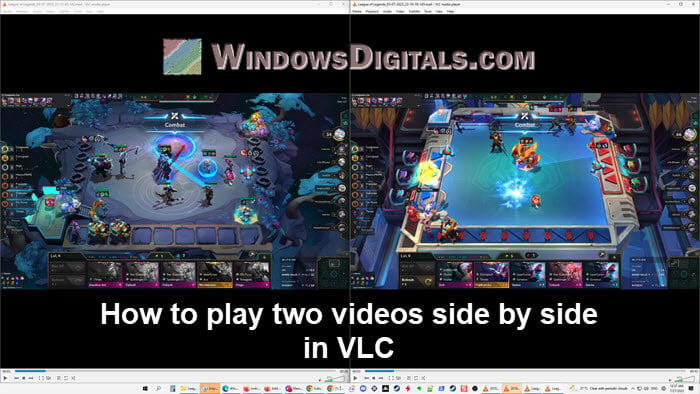 Playing two videos side by side in VLC
In the following sections, we will guide you through the process of setting up VLC Media Player to play two videos side by side. This can be achieved by adjusting a few settings, opening the videos you want to view, and arranging them side by side.
Step 1: Adjust the "Allow only one instance" option
Before proceeding, let's ensure the "Allow only one instance" option is disabled in VLC. By default, this option is turned on, but we need to turn it off to play two videos side by side.
Open VLC Media Player: Locate the VLC icon on your desktop or in your applications folder and double-click on it to launch the VLC application.
Access Preferences: In the top menu bar of VLC, you'll find the "Tools" option. Click on "Tools" and then select "Preferences" from the dropdown menu. Alternatively, you can use the keyboard shortcut Ctrl + P.
Show simple settings: The Preferences window will open. In the bottom left corner of this window, you'll see a small section labeled "Show settings." Select the "Simple" radio button to display only the simple VLC options.
Disable "Allow only one instance": Scroll down to the "Playlist and Instances" subsection and locate the "Allow only one instance" option. By default, the "Allow only one instance" option is checked (enabled). Uncheck it to turn off this option. This change will allow VLC to open multiple instances of the application, enabling side-by-side video playback.
Save changes: After disabling the option, click on the "Save" button at the bottom of the Preferences window to apply the changes. The Preferences window will close automatically.
Useful tip: How to Merge Subtitles With Video Permanently Using VLC
Step 2: Open two videos in VLC
Now that the "Allow only one instance" option is disabled, VLC will allow you to open multiple videos in separate instances of the application.
Open the first video: Double-click on the first video file you want to play in VLC. As a result of disabling the "Allow only one instance" option, the video will open in a new VLC window, separate from the main VLC window.
Open the second video: To open the second video, you can either double-click on the video file or drag and drop it into the VLC window. Similar to the first video, the second video will also open in a separate VLC window.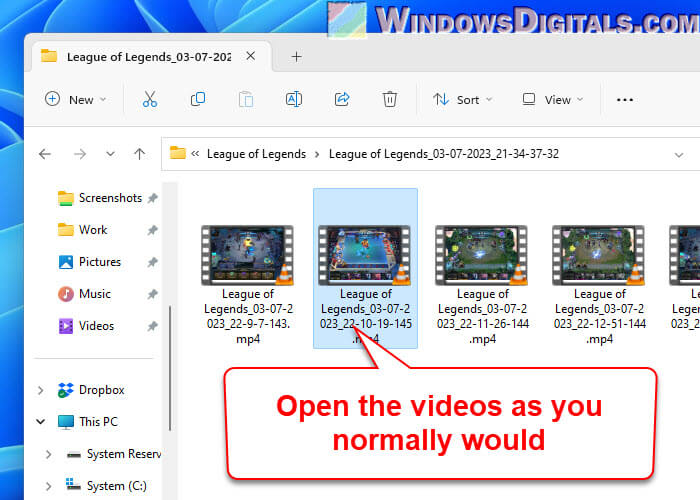 Step 3: Put the two videos side by side
With both videos open in separate VLC instances, you can now arrange them side by side on your screen for a simultaneous playback experience.
Resize and re-position: Click and drag the edges of each VLC window to resize them as needed. Adjust the size of each window so that both videos are visible on your screen side by side. You can also click and drag the VLC windows to position them at your desired location.
Windows Snap feature (For Windows 10 and Windows 11 users): If you are using Windows 10 or Windows 11, there's a more automated method available. By dragging a VLC window to the far left or right edge of your screen, you can take advantage of the built-in Windows snap feature. When you release the window, it will automatically resize to occupy half of your screen. Repeat this with the second VLC window on the opposite side to have them perfectly positioned side by side.
Adjust playback controls: Each VLC window will have its own playback controls, allowing you to control each video independently. Use the playback controls to start, pause, or seek each video as desired.
Handy guide: How to Download Subtitles in VLC on Windows 11
Additional customizations
VLC not only allows multiple video instances but also offers features to manage multiple media files and synchronize their playback.
Opening multiple videos in VLC
Start by opening VLC, then click on "Media" in the top menu and select "Open Multiple Files…" from the dropdown.
In the new window, you can add several files using the "Add" button. These files can be videos, audios, or a combination of both.
Once you've added all desired files, they will be queued to play in sequence. Click on the "Play" button to begin playback.
This method is great when you have a sequence of clips or audio tracks that you'd like to play without interruptions.
Synchronous playback of additional media
This is especially useful if you have an external audio track (like a commentary or a dubbed language) that you want to play alongside your main video.
Start by opening your main video in VLC. Click "Media" on the top menu and select "Open Multiple Files…".
If your main media file isn't already loaded, click "Add" to select it.
Below the first media section, you'll find a checkbox titled "Play another media synchronously (extra audio file, …)". Check this box. This activates an additional "Browse" button. Click it to select your secondary audio or video file.
Once both files are added, click "Play". VLC will now play your video, and the secondary audio or video will be played synchronously with it.
This feature can be a game-changer when dealing with movies that come with external audio tracks or when trying to synchronize a video with a separate commentary track.
Linked issue: VLC Resume Playback Not Working? Try These Fixes
Conclusion
Despite the default behavior of VLC restricting multiple instances through the "Allow only one instance" option, you can still achieve side-by-side video playback in VLC using this workaround. By disabling the option and opening each video in separate VLC windows, you can easily compare, contrast, or enjoy two videos simultaneously.
If you wish to play multiple videos or listen to several audio files within the same VLC window, you can utilize the "Open Multiple Files" and "Play another media synchronously" options. With these flexible tools and features at your disposal, VLC remains an excellent choice for all your multimedia playback needs.