When you try to take a screenshot of your screen in Windows 11, but the screenshot comes out black or completely blank as if nothing was captured, see the suggestions and solutions below to fix the problem.
Print screen black image in Windows 11
If you try to print screen or record the screen of your desktop but the screenshot or video appears as a black image, or the desktop just turns black, it could be caused by one of the following reasons.
Also see: How to Screenshot Only One Monitor on Windows 11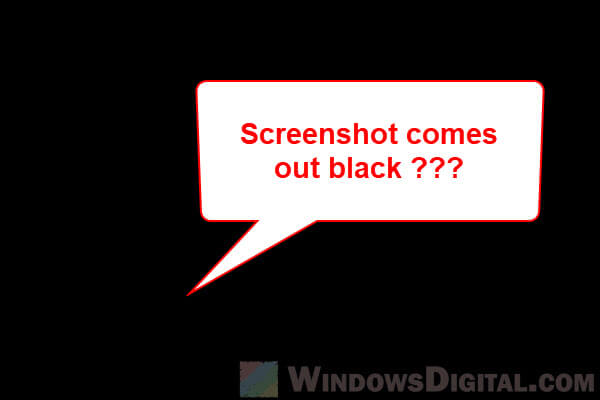 Something is blocking the print screen or screen capture
In most cases, print screen or screen recording that results in completely black image is caused by something that is blocking the recorder or screenshot taker from properly reading the screen. This can caused by apps such as overlays, games, anti-virus or firewall software, streaming apps, etc. that have the permission to overwrite or putting elements on the screen.
Check if you have any of such apps you may or may not aware of running in the background on your Windows. Try to close any app, overlay, game or other programs that may be blocking and preventing you from taking a screenshot of your desktop screen, and see if the black screenshot problem can be resolved.
Suggested read: How to Screenshot Games on Windows 11
Black screenshot due to Windows not being activated
If your Windows isn't activated, screenshots you take on the desktop screen will come out blank or totally black. Make sure your Windows is properly activated to remove the restrictions such as screenshot taking.
Turn off Xbox Game DVR screen recording
In Windows 11 and 10, there is a built-in app called Xbox Game Bar which has a feature called Game DVR that records video in the background while you game so that you don't miss any precious moment of your gameplay.
Since it is a screen recorder that may run its own, it could interfere with the screen capture app you are using, which causes you to get a black image when you print screen.
Read: How to Remove Xbox Game Bar From Windows 11
If you are not using the Game DVR to take screenshot or capturing the screen, you may want to try disabling it and see if it fixes the print screen black image issue. To disable Game DVR in Windows 11, follow the steps below.
Press Win + i keys to open Settings.
In the Settings window, select Gaming on the left pane.
On the right, select Captures.
Under Recording preferences, turn off the "Record what happened" option.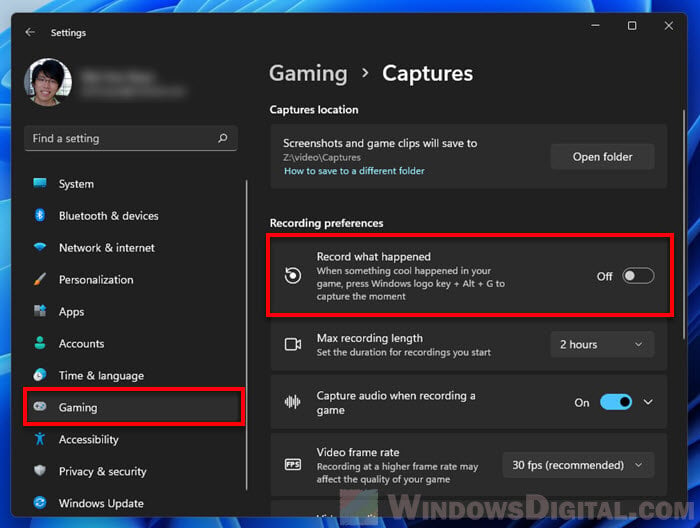 Retry taking a screenshot again and see if you are still getting black image.
Try using a different screenshot method
There are plenty of ways to take a screenshot on Windows 11. If one doesn't work, try the other.
The old-school print screen method: Press PrtScn and then Ctrl + V to paste it in Paint app.
Press Windows + PrtScn keys to instantly take a screenshot of your desktop. The taken screenshot can usually be found in the This PC > Pictures > Screenshots folder.
Use Snipping Tool – a preinstalled screenshot taking tool in Windows. You can search for Snipping Tool via Start menu.
If you have Nvidia GeForce Experience (if you are using an Nvidia graphics card) installed, press Alt + Z to bring up the Nvidia Shadowplay feature, and use the screen capture tool from there.
Use a third-party screen capture tool such as IrfanView, Lightshot, Greenshot or Snagit app.
Learn more: 3 Free Photo Viewer Apps for Windows 11
Restart your firewall and antivirus
There are some cases where firewall or antivirus program may unintentionally blocking the screenshot capture or screen recording.
Try turning off your firewall and antivirus, then turn them back on right away. After that, retry taking a screenshot or record your screen again and see if the screenshot still come out black.
Related: How to Crop Screenshot on Windows 11
Protected content is preventing screen capture
Some content is protected by DRM to prevent people from capturing or recording the on-screen content to prevent piracy. Content such as Netflix videos are an example of DRM protected content.
When you try to take a screenshot of record the screen while the content is playing on the screen, the screenshot or video will come out partly black or completely blank.