Photos are an essential part of our lives, and we capture them on our cameras, smartphones, and other devices. Viewing photos is equally important, and Windows 11 or Windows 10 come with a default Photos app that allows you to view your photos. However, some users may not find it sufficient for their needs, and they may want to try other photo viewer software.
In this guide, we explore three popular free-to-use photo viewers for Windows 11/10 that can serve as alternatives to the default Photos app.
Also see: How to Reduce Photo File Size in Windows 11
IrfanView Photo Viewer
IrfanView is a lightweight, fast, and powerful photo viewer that supports almost all types of image files. It is a popular choice among photo collectors and enthusiasts and has been around for more than two decades. The software is free to download and use for non-commercial purposes, and you can donate to the developer to support their work.
IrfanView has many features that make it an excellent alternative to the default Photos app, such as:
Fast and compact: The software is just 3MB in size and loads images quickly.
Multi-language support: It supports many languages, making it accessible to users around the world.
Batch conversion: You can convert multiple images at once, saving you time and effort.
Slideshow creation: You can create beautiful slideshows with transition effects and music.
Editing tools: You can perform basic editing tasks such as cropping, resizing, rotating, and adjusting colors.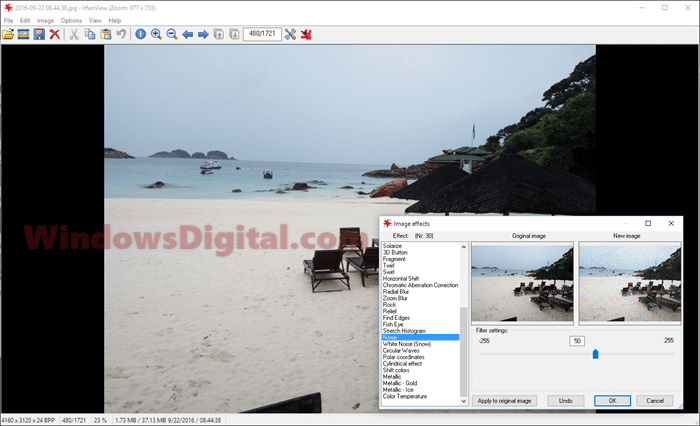 You can download IrfanView for Windows 11/10 (64-bit or 32-bit) from irfanview.com. The software is free, but you can support the developer by donating on their website.
FastStone Image Viewer
FastStone Image Viewer is another prominent photo viewer, converter, and editor for Windows 10 known by users from all around the world. It has a simple interface, a powerful photo manager, supports all major graphic formats, including JPEG, JPEG 2000, GIF, Animated GIF, PNG, WMF, ICO, TGA, BMP, PCX, TIFF, EPS, PSD, and some camera raw format files like CRW, CR2, NEF, PEF, RAF, MRW, ORF, SRF, ARW, SR2, RW2, and DNG.
It also allows basic editing such as image conversion, resizing, cropping, color adjustments, red-eye removal, musical slideshow with 150+ transitional effects, lossless JPEG transitions, emailing, and much more.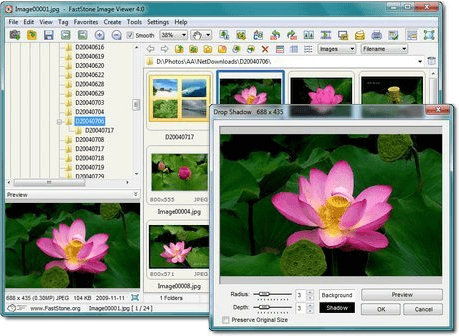 FastStone offers two free products for personal and educational use: FastStone Image Viewer and FastStone Photo Resizer. FastStone Capture and FastStone MaxView are shareware products that require purchase after the free trial expires. Commercial users must purchase a license for any FastStone software.
You can FastStone Image Viewer or other FastStone products from faststone.org.
Related: Windows 11/10 Photos App Not Working or Crashing (Fix)
123 Photo Viewer for Windows 11/10
If you are looking for only a simple photo viewer with a simple interface and not too many complicated functions, try 123 Photo Viewer. Although we would recommend IrfanView or FastStone for comprehensive photo viewing on Windows 11/10, if you need a straightforward photo viewer, 123 Photo Viewer could be a good option.
It is a free-to-use software with some in-app purchases. It is by far the highest-rated photo viewer in the Microsoft Store with mostly positive reviews from users who have tried it.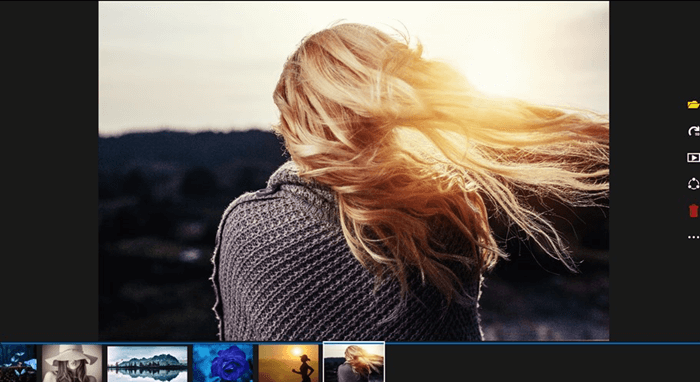 You can download 123 Photo Viewer directly from the Microsoft Store. Search for 123 Photo Viewer, and then click Get to download and install the app.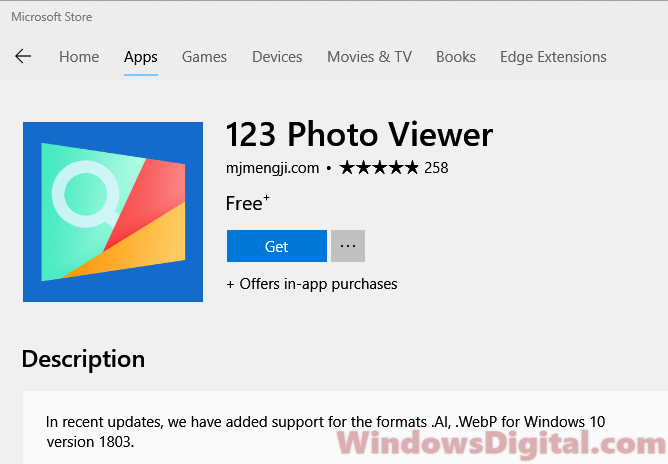 Final thoughts
In today's digital age, we capture more photos than ever before, and having a reliable photo viewer software is essential. While the default Photos app in Windows 11 or Windows 10 is suitable for simple usage, it may not provide the advanced features and functionalities that some users require. That's why we have listed three popular free-to-use photo viewer alternatives to the default Photos app in this guide.
IrfanView, FastStone Image Viewer, and 123 Photo Viewer are all excellent options, each with its own strengths and weaknesses. IrfanView is a versatile and powerful photo viewer that supports almost all types of image files. FastStone Image Viewer is a simple and intuitive photo viewer that offers advanced features such as batch processing and image comparison. 123 Photo Viewer is a lightweight and straightforward photo viewer with basic editing tools.
In addition to these three alternatives, there are many other photo viewer software options available for Windows 11 or Windows 10. Some are free, while others require a license or subscription. When choosing a photo viewer software, consider factors such as the features, user interface, compatibility, and cost.
In conclusion, finding the right photo viewer software can enhance your photo viewing experience on Windows 11 or Windows 10. Whether you are a professional photographer or a casual user, there is a photo viewer software out there that can meet your needs.