Want to quickly record screen on Windows 11 or Windows 10 without any software? You can do just that with the help of a Windows built-in tool called Xbox Game Bar. This tutorial will show you a simple step-by-step guide on how to quickly record your screen and sound on Windows 11/10 using Xbox Game Bar.
Similar topic: How to Record Screen on Windows 11/10 Without Xbox Game Bar
How to record screen on Windows 11/10 with Xbox Game Bar
Xbox Game Bar is capable of many awesome things including the ability to capture and record the screen of an app, game, browser or whatever appears on your screen (with audio), and save it as a MP4 video file. Without further ado, here's how to do it.
While opening the app you want to record, press Windows key + G on your keyboard to bring up the Xbox Game Bar overlay.

If you are in a game, you should see a pop up that says "Do you want to open game bar?". Click on the "Yes, this is a game" checkbox to open game bar. This is a normal procedure to determine if you are running Xbox game bar in a game or an app.

In the "Capture" window usually appear on the top left corner of your screen, click on the "start recording" button (the circle button) to start recording your screen.
A recording timer window should then appear, indicating that the recording has been started and is on-going.
To continue doing your stuffs while it's recording your screen, press the Win+G keys to temporary hide the game bar overlay. Note: The recording will not capture the game bar overlay in the video. Thus, you don't have to worry about the overlay blocking whatever you are recording.
To stop recording, press Win+G keys to bring up the game bar again and then click on the "stop recording" button (the square button).
The recorded video will be saved as a MP4 file into "This PC > Videos > Captures" folder automatically.
That's it! It isn't as difficult as you think, isn't it? Well, below are some bonus tips on how you can tweak more settings about it.
How to change the default folder where Xbox Game Bar save your recorded videos, game clips and screenshots?
To change the location of the default save folder, go to This PC > Videos. Then, move (or Cut and Paste) the "Captures" folder to wherever you want. Game bar will continue to save future videos and screenshots on that particular folder, no matter where you move it to.
How to change the "audio to record" settings to include or exclude Microphone or other sources of audio?
To change audio settings of your recordings, press Win+G keys to open up game bar overlay. At the top of the overlay, click on the settings icon (the gear icon). In the left sidebar, click on Capturing. From there, you can select whether you want to include audio from the game, microphone, apps or system, or if you want to disable them all during screen recording.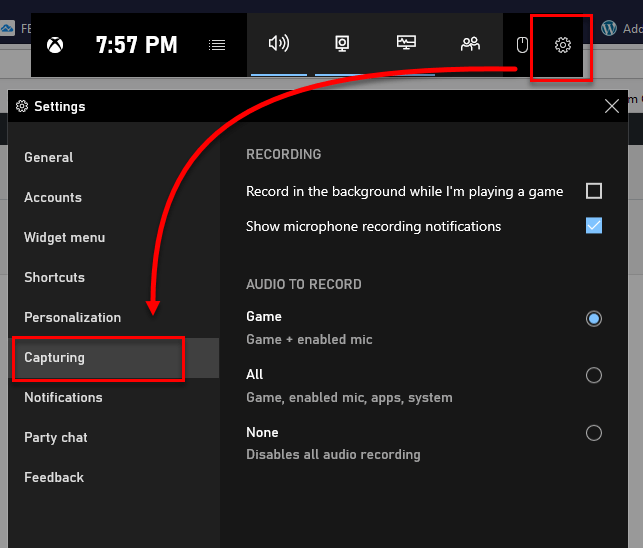 You can also quickly take a screenshot with Xbox Game Bar.

Beside being able to record video of your screen, Xbox game bar also allows you to easily take a screenshot of your screen by pressing "Win + ALT + PrtScn" buttons. You can also quickly capture a screenshot by clicking the "take screenshot" button (button with a camera) in the Win+G Xbox game bar overlay. All screenshots taken will be saved onto the same said "Captures" folder.