Capturing screenshots has become an integral part of our computing experience. Whether you're creating a tutorial, capturing a snapshot of an error, or simply sharing a funny moment from a video, knowing how to take a screenshot is essential. For users of Samsung laptops running Windows 11 or 10, the process might seem a tad different from other devices. In this guide, we'll take an in-depth look at multiple methods of capturing that perfect screenshot on your Samsung laptop. Regardless of your tech-savviness, by the end of this article, you'll be able to take screenshots with confidence and ease, ensuring you never miss a moment worth preserving on your Samsung laptop.
Also see: How to Screenshot Games on Windows 11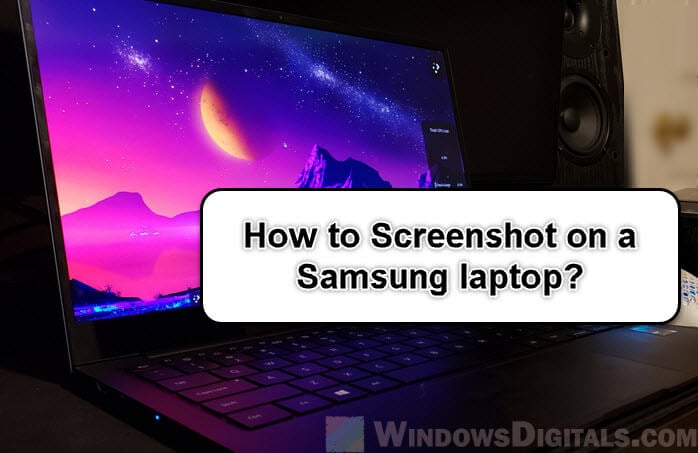 Taking screenshots on Samsung laptop using the PrtScn key
The PrtScn button, available on most keyboards, provides a quick and direct way to take screenshots. Here's how you can utilize this key on a Samsung laptop running Windows 11/10.
Method 1: Keyboard shortcuts – Quick and efficient
If you're looking for a speedy way to capture your screen without navigating through applications, keyboard shortcuts are the way to go.
Full screen: Press PrtScn (Print Screen) key. This will capture the entire screen. However, it doesn't save the screenshot as a file, but copies it to the clipboard. You'll need to paste it into an application (like Paint or Word) to view and save it.
Active window: Press Alt + PrtScn. This captures only the currently active window and, like the full-screen method, copies the screenshot to the clipboard.
Region capture: Press Shift + Windows + S. Your screen will dim, and you can drag to select a specific region for capture. The screenshot will then be copied to your clipboard.
Useful tip: How to Screenshot Only One Monitor on Windows 11
Method 2: Windows + Print Screen – Capture and save instantly
For those who want a combination of convenience and immediacy, this method is perfect. This method will capture the entire screen of your Samsung laptop and immediately save it to your "Pictures" folder.
Simply press Windows + PrtScn.
Your screen will dim momentarily, indicating that a screenshot of the entire screen has been taken.
The screenshot is automatically saved in the "Screenshots" folder inside the "Pictures" library.
Handy guide: How to Crop Screenshot on Windows 11
Method 3: Screenshots with OneDrive – For cloud integration
For those who use Microsoft OneDrive and love the idea of having screenshots immediately backed up to the cloud, this method is a must-know:
Ensure OneDrive is running on your Samsung laptop.
Right-click on the OneDrive icon in your system tray and select Settings.
Under the Backup tab, find the Screenshots section and check the box that says "Automatically save screenshots I capture to OneDrive."
Now, whenever you use the PrtScn or Windows + PrtScn methods, your screenshots will be automatically saved to your OneDrive folder.
Linked issue: Screenshots are always blurry in Windows 11 (Fix)
Taking screenshots on Samsung laptop without the PrintScreen button
For those who don't want to rely on the PrtScn button, either because the key is malfunctioning or they're seeking additional functionalities, several alternative and more recommended methods are available.
Method 1: Snipping Tool – The classic choice
The Snipping Tool has been a trusted companion for Windows users for many years. Even though it's slightly overshadowed by newer tools in Windows 11/10, it still provides a straightforward way to take screenshots.
Click on the Start button located on the bottom left of your screen.
Type "Snipping Tool" into the search bar.
From the search results, click on the Snipping Tool application to open it.
Once opened, click on the New button to take a screenshot.
Your screen will appear dimmed. Click and drag to select the area you wish to capture.
Once captured, the screenshot will open in the Snipping Tool window. Here, you can use the File menu to save, copy, or share your screenshot.
Related resource: How to Find Snipping Tool History in Windows 11 or 10
Method 2: Using the Xbox Game Bar – For gamers and creators
Microsoft's Xbox Game Bar is primarily designed for gamers, but its screenshot capabilities can be used by anyone on a Windows machine.
Press Windows + G to launch the Game Bar.
A toolbar will pop up at the top of your screen. Click on the Screenshot icon, which looks like a camera.
The screenshot will be taken and automatically saved in the "Videos" folder, inside a sub-folder named "Captures."
Note: If you're playing a game or using a full-screen application, the Game Bar can sometimes be the most efficient way to grab a screenshot.
Pro tip: How to Take a Screenshot Showing Cursor on Windows 11
Method 3: Using third-party tools – For advanced features
While Windows provides a range of tools for screenshots, some users might be looking for more advanced features, like delayed captures, scrolling window captures, or enhanced editing capabilities. Tools like LightShot, SnagIt, and Greenshot are popular choices.
LightShot:
Download and install LightShot from its official website.
Once installed, press PrtScn.
Drag to select the area of the screen you want to capture.
A toolbar will appear, allowing you to edit, save, or upload the screenshot.
SnagIt:
After downloading and installing SnagIt, launch the application.
Use its intuitive interface to choose your screenshot method (full screen, window, region, etc.).
After capturing, SnagIt will open the screenshot in its editor where you can annotate, crop, and apply various effects.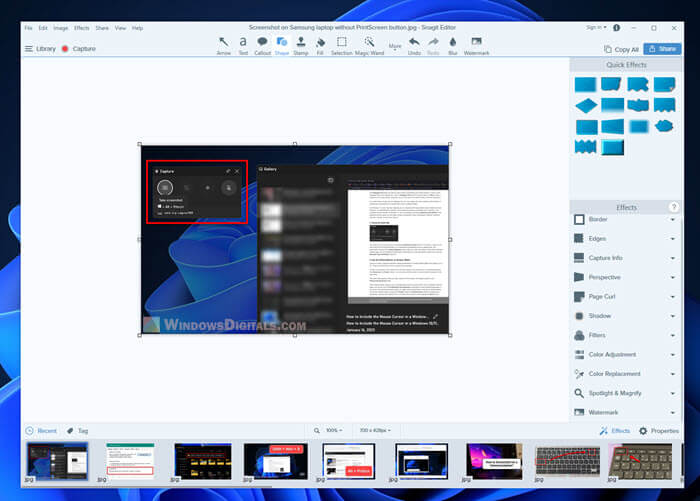 Wrapping up
Each method for capturing screenshots on your Samsung laptop running Windows 11/10 has its unique advantages. Whether you're a casual user, a content creator, a gamer, or a professional often dealing with screenshots, there's a method or tool out there that's perfect for your needs. Experiment with these various techniques and find the one that aligns best with your workflow and preferences.