It's annoying to see your file explorer suddenly stop responding and your cursor turn into a loading icon forever. Nothing you click responds and you have no idea how long you should wait for the problem to go away.
If you see the error message "Windows Explorer has stopped working" in Windows 10, it means that something has caused a crash to the file explorer and it isn't responding. Below are some fixes you may want to try out.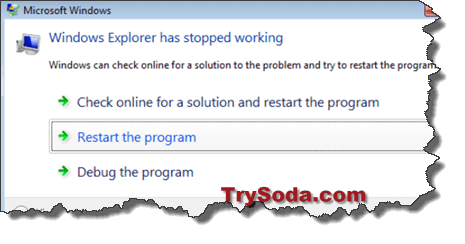 Temporary and immediate fix – Restart Explorer.exe
If you want to skip all the hassle of trying every solution, you can just restart explorer.exe whenever it hangs.
However, this solution won't fix the root of the problem. It's just terminating the crashed session and opening up a new one so that you can continue your work immediately. The Windows explorer may hang again.
Here's how to terminate the hang Windows explorer and start a new one.
Hold and press Ctrl + Alt + Del. Click on Task Manager.
Click on More Details if it's in summary view.
Go to Details tab.
Look for explorer.exe. Right click it and click End task.
Now, in Task Manager, go to File, then Run New Task.
Type explorer.exe and hit OK.
Your Windows 10 will make a fresh start. You can then reopen your work.
Identify the cause of the problem
Windows Explorer hangs or crashes can be due to anything that may have suddenly gone wrong and clashed with Windows 10. You will have to find it out yourself.
For example, try to identify software or programs which you have newly installed or used prior to the hangs and crashes. One of these applications or services may be the source of the problem. Try to remove them one by one until the problem is resolved.
If there is anything that you can't remove due to "file is being used by another application", boot your Windows 10 in safe mode and remove it.
To boot your computer in safe mode, open msconfig in Run.
Go to Boot tab.
Check the checkbox for safe boot and restart your computer.
Other than that, below are a few common causes of the explorer crashing problem.
Corrupted or mismatched Windows 10 system file
If your Windows 10 has missing or corrupted system files, things will go wrong and cause file explorer to hang. Below are short instructions on how to automatically scan and repair corrupted system files in Windows 10.
Go to Start Menu. Type cmd and right click it then Run as administrator.
In the command prompt, type Sfc /scannow and press Enter.
The scan and repair will run automatically and may take some time.
Once the scan is completed, restart your computer.
Outdated or corrupted graphic driver
This is a rare issue, but it can still cause Windows Explorer to hang. If you have not been updating your video driver, it's highly recommended that you do so promptly. An outdated video driver could cause many other problems, such as games crashing, graphic editing software hanging, etc.
You can update your video driver by simply running Windows Update. Windows Update will automatically find and install the latest best-matched driver for your Windows 10 computer.
Alternatively, you can go to amd.com if you have an ATI graphic card, or to nvidia.com if you have a Geforce video card.
Virus or Malware Infection
Assuming you already have an antivirus software running in your Windows 10 system, run a full scan to see if there is any malicious file running in the background that causes all the hangs and crashes in Windows Explorer.
If you do not have an antivirus program installed, it is important to download and install one immediately to help protect your computer from viruses and malware. If you are unsure of which program to choose, Avast Free Antivirus is a good option.