Windows 11 and Windows 10 come with an incredibly useful feature called Phone Link, designed to bridge the gap between your smartphone and PC. This feature lets you send text messages, manage notifications, and access files directly from your computer, thereby enhancing your overall productivity. However, there is a common issue where the Phone Link feature fails to complete the linking process with an Android phone or iPhone, and instead gets stuck at the "Connecting," "Link Account and Device," or "Pair Devices" (QR code) stage. In this article, we'll explore a variety of troubleshooting methods to help you resolve this issue.
Also see: Why isn't my phone detecting WiFi while other devices can?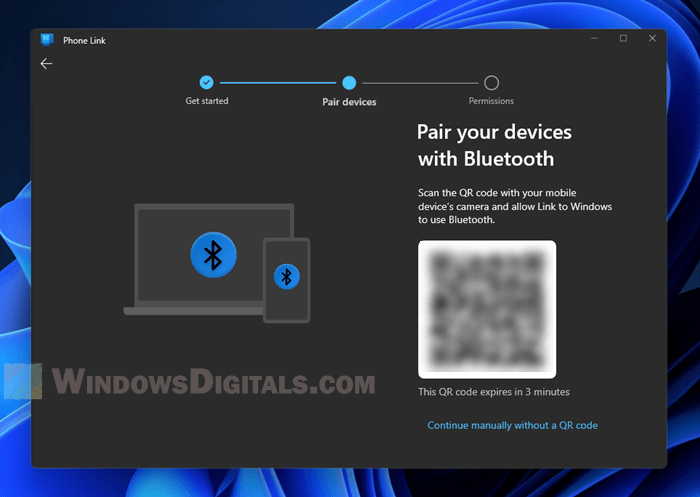 What is Phone Link and how does it work?
Phone Link is a feature that essentially enables communication between your mobile device and your Windows computer. This feature allows users to send text messages, manage phone notifications, and even access certain files on their phone directly from their PC. The idea is to create a unified experience where you can perform some basic phone functions without having to switch back and forth between your computer and your phone.
Download the app: You'll need to download the corresponding app on your smartphone. For Android, it's usually "Your Phone Companion" available on the Google Play Store. For iPhone, the "Continue on PC" feature serves a similar function.
Link your Microsoft Account: Make sure you're signed in with the same Microsoft account on both your PC and the app on your phone.
Pair devices: You will need to pair the devices either through a QR code or a manual setup which involves entering a code.
Permissions: The app will request the necessary permissions on your phone to access messages, photos, and notifications.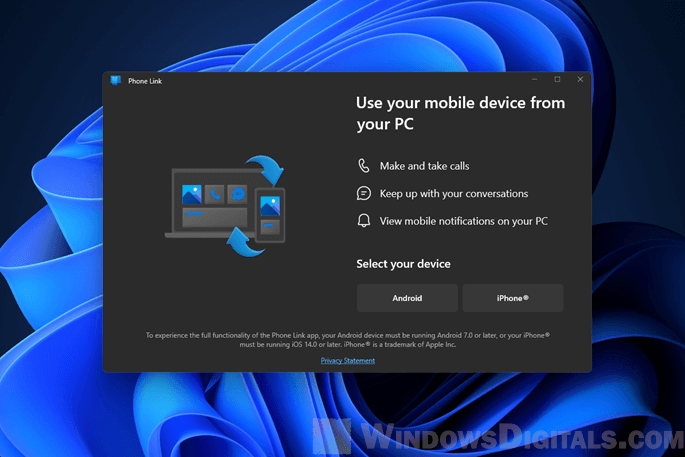 Fixing Phone Link stuck on connecting or pairing devices
Restart devices
Sometimes, the simplest solutions are the most effective. Restarting both your smartphone and your Windows PC can clear temporary glitches or cache issues that might be causing the Phone Link process to stall.
Restart your smartphone
Android: Press and hold the power button until the power menu appears, then select "Restart."
iPhone: For most models, press and hold both the side button and either volume button until you see the slider, then slide to power off. To turn it back on, hold the side button until you see the Apple logo.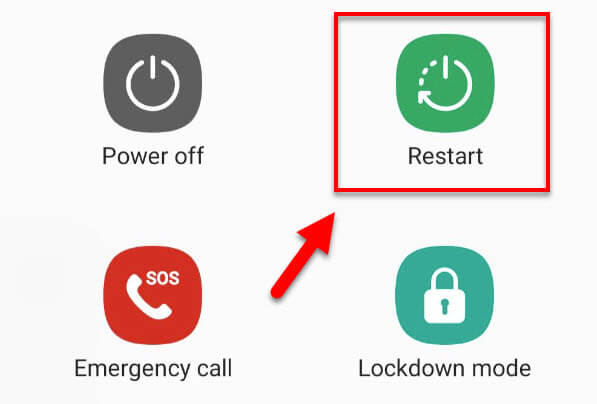 Restart your PC
Windows 11/10: Click the Start Menu > Power Button > Restart.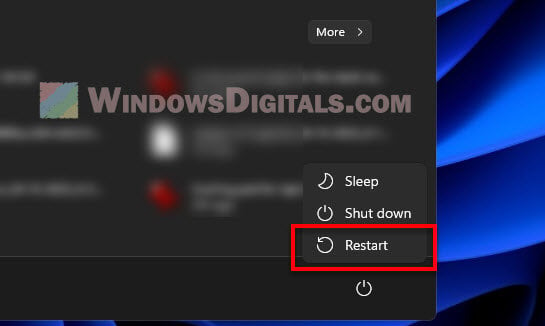 After both devices have restarted, try the pairing process again and see if the issue has been resolved. If the phone link process is still stuck, it's time to look at more technical solutions.
Reset the "Your Phone" or "Phone Link" app on Windows 11
If you've restarted your devices and still can't get past the "Linking" or "Pair Devices" stage, you might consider resetting the "Your Phone", currently known as the "Phone Link" app on your Windows PC. This will restore the app to its original settings and could resolve any lingering issues. To reset the "Phone Link" app, follow these steps
Windows 11/10: Go to Settings > Apps > Apps & features / Installed apps.
Scroll down the list to find the "Your Phone" or "Phone Link" app. Click on it, then select Advanced options.
In the new window, scroll down to find the Reset button and click on it.
Re-setup the "Phone Link" app
After the app has been reset, you'll need to set it up again from scratch, which includes pairing it with your smartphone. Once you've reset the app and set it up anew, try connecting once more to see if the problem is finally resolved.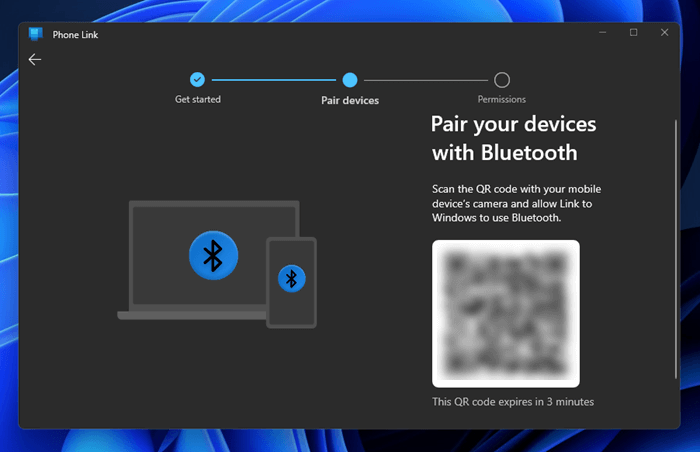 Update Windows and the companion app
Outdated software on either your smartphone or your PC could lead to compatibility issues that prevent the Phone Link from connecting successfully. Making sure that both devices are up-to-date can often solve these kinds of problems.
Update Windows operating system
Windows 11/10: Go to Settings > Update & Security > Windows Update, and then click on Check for updates. Install any pending updates and restart your PC if required.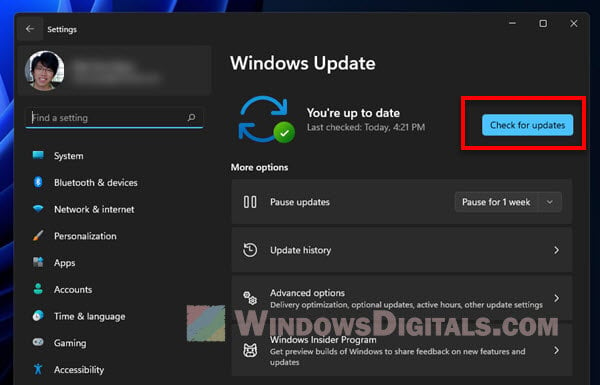 Update the companion app on your phone
Android: Open the Google Play Store, go to My apps & games, and see if "Your Phone Companion", currently called "Link to Windows" needs an update.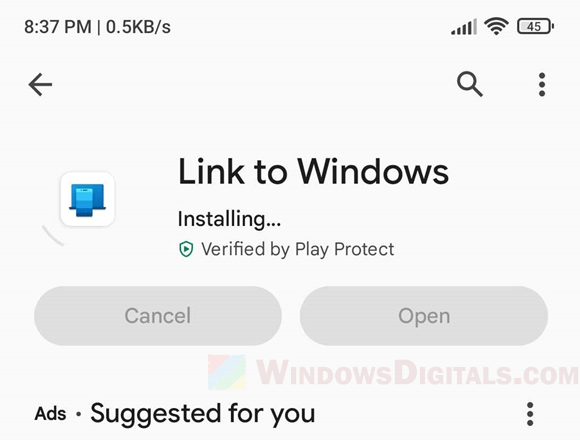 Once you've updated the necessary software, attempt the Phone Link setup once more. If you're still facing issues, proceed to the next section for more troubleshooting steps.
Reinstall the Companion app
Sometimes, the issue could stem from a corrupted installation of the companion app on your smartphone. Uninstalling and then reinstalling the app can reset its settings and potentially fix any issues that were preventing it from connecting.
Uninstall the app
Android: Long-press the "Your Phone Companion" app icon and choose "Uninstall," or go to Settings > Apps > "Your Phone Companion" or "Link to Windows" > Uninstall.
iPhone: Long-press the "Continue on PC" app or the app you're using for this feature, and select "Remove App" or "Delete App." (Update: Microsoft has discontinued "Continue on PC," so you don't need this app to pair your iPhone with your Windows PC.)
Reinstall the app
Android: Open Google Play Store, search for "Your Phone Companion," and then tap "Install."
iPhone: Open the App Store, search for the app you were using ("Continue on PC" or equivalent), and then tap the download icon to reinstall it. (Update: The Continue on PC app for iOS was removed from the App Store. You don't need the app to link your iPhone with your Windows PC.)
After reinstalling the app, go through the initial setup process again to link it with your Windows PC.
Firewall or security software interference
Security software or a firewall on your Windows PC can sometimes block certain services and applications from accessing the network, which could interfere with the Phone Link feature.
Temporarily disable security software
If you are using third-party security software, try temporarily disabling it to see if that resolves the issue.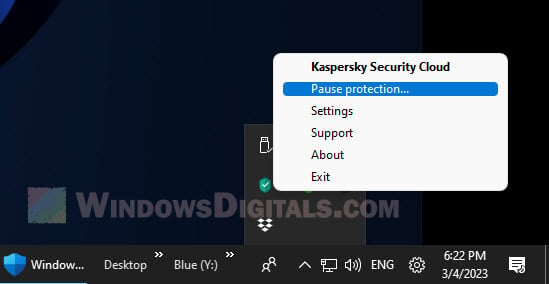 Note: Please remember that disabling your firewall or security software can make your system vulnerable. Make sure to enable it again after testing.
Phone Link stuck on scanning QR code
Sometimes, the linking process may stall at the QR code scanning step. This can be due to camera issues on your smartphone, app malfunctions, or even temporary glitches.
Check camera functionality
Smartphone: Open your camera or QR code scanner app and try scanning another QR code to ensure that your camera is functioning correctly.
Re-generate QR code
Windows PC: On the Phone Link setup screen, there might be an option to generate a new QR code. Click it to refresh the QR code and then attempt scanning it again with your phone.
Check for physical obstructions
Camera Lens: Ensure that there's nothing obstructing your phone's camera lens. Clean the lens if necessary.
After trying these steps, attempt to scan the QR code once more. If you are still encountering issues, you may need to consider further troubleshooting or contacting official support.
Conclusion
While the process of linking your phone with your Windows PC is generally straightforward, it's not uncommon to run into issues. Surprisingly, many users on Reddit have reported that a simple smartphone restart can resolve the problem. It's a quick step that often eliminates minor glitches and can save you the trouble of more complex troubleshooting.
Another common solution is to ensure that both your phone and computer are connected to the same Wi-Fi network. However, if you've tried all available solutions and still encounter issues, consider seeking advice on communities such as Reddit or Microsoft's forums.