Physical CDs and DVDs are becoming less common in the modern digital era, replaced by faster, more reliable, and more convenient forms of data storage and transfer. But there are still cases where you might need to use a CD or DVD, such as for installing older software or games that are only available in disc format. For these situations, having a virtual CD drive can be an invaluable tool. This guide will walk you through the steps to create and use a virtual CD or DVD drive in Windows 11 and even creating a virtual CD or DVD from your files.
Also see: How to Burn Windows 11 ISO to USB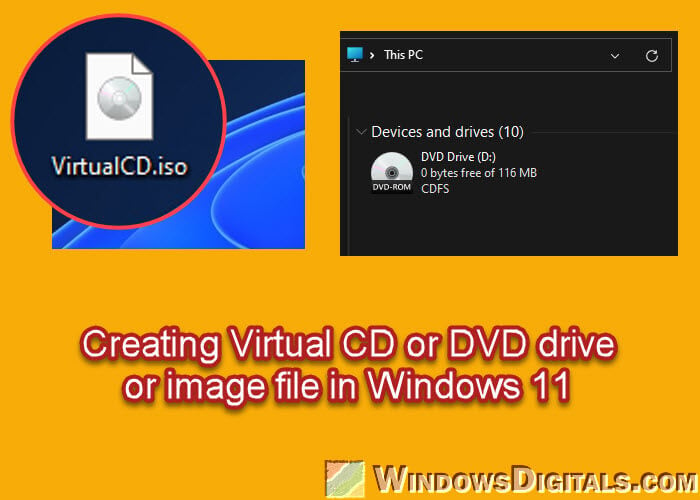 What is a virtual CD drive?
A virtual CD drive, also known as a disc image file or virtual disc, is a digital representation of a physical optical disc that exists solely on your computer's storage. Instead of using a physical CD or DVD, a virtual CD drive mounts and runs disk image files, like ISO, BIN, or CCD files. These images act just like a physical CD or DVD, but they run directly on your computer, eliminating the need for physical media.
The utility of a virtual CD drive extends beyond just convenience. It also has advantages in speed, as running a disc image from a hard drive or SSD is typically faster than reading from a physical CD or DVD. Plus, with a virtual drive, you don't have to worry about physical discs getting damaged or lost.
Related resource: How to Open or Delete VHDX/VHD File in Windows 11
Creating a virtual CD drive in Windows 11
Creating a virtual CD drive in Windows 11 is quite straightforward and requires no additional software as the operating system has built-in support for mounting disc image files. Here is the simple step-by-step guide:
Step 1: Find the disk image file
The first step is to find the disc image file that you want to mount as a virtual drive. This could be an ISO file that you've downloaded, or a BIN, CCD, or another type of disc image file.
Make sure to note the location of the image file, whether it's in your downloads folder, on your desktop, or somewhere else.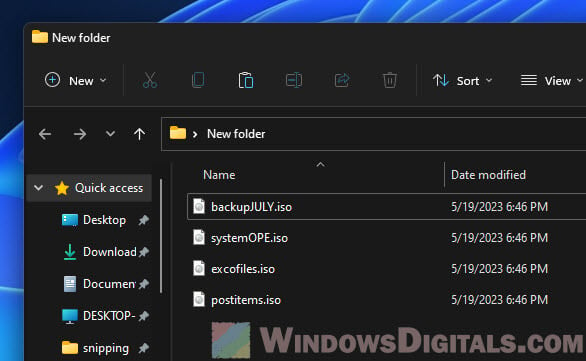 Step 2: Mount the image file
Windows 11 includes a built-in feature for mounting disc image files, making the process simple:
Navigate to the location of the image file on your computer.
Right-click on the image file to open the context menu.
In the context menu, select the "Mount" option. This will create a new virtual CD drive on your computer, and the image file will be mounted onto this drive.
Useful tip: How to Play VOB Files on Windows 11
Step 3: Access the virtual CD drive
Once the image file is mounted, Windows 11 will treat it just like a physical disc that has been inserted into a CD or DVD drive. This means you can access the virtual CD drive just like you would access a physical one:
Open the File Explorer by pressing the Win + E keys on your keyboard. This will open a window that shows all the drives and folders on your computer.
In the File Explorer, navigate to "This PC" in the left-side panel.
In the "This PC" view, the virtual CD drive will appear under the "Devices and drives" section. It will have its own drive letter, just like a physical drive.
From here, you can explore the contents of the virtual drive, install software, play games, or do whatever else you would normally do with a physical CD or DVD.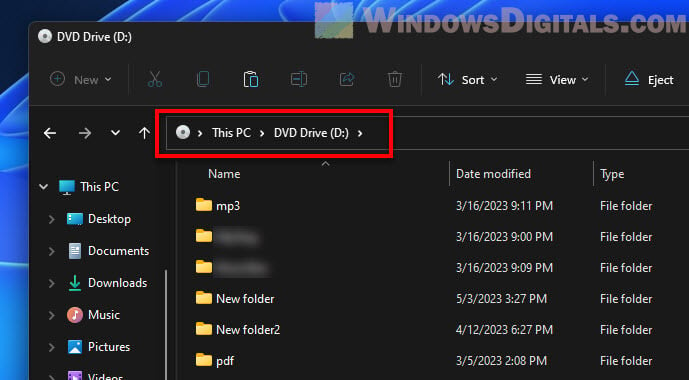 Remember to "eject" the virtual drive when you're done using it by right-clicking on the drive in File Explorer and selecting 'Eject'.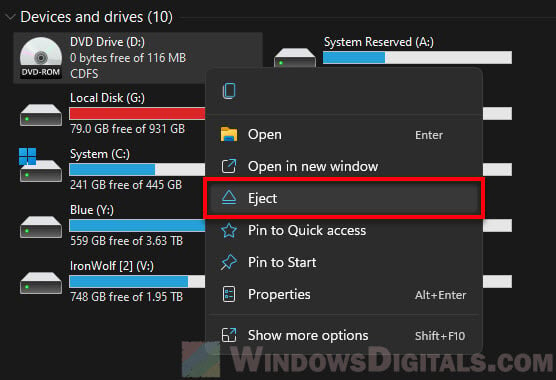 Relevant guide: How to Open VMDK File in Windows 11
Creating a virtual CD or DVD in Windows 11 from files
If what you want is to create a virtual CD or DVD, such as an ISO file, from files on your computer or a physical media you own, you can do so in Windows 11 with the use of some additional software. This allows you to compile a collection of files or software into a single disk image that can be shared, stored, or mounted as a virtual drive. Unfortunately, Windows 11 does not provide this feature out of the box, so you will need to utilize third-party software.
Two popular free options are ImgBurn and Free ISO Creator. Both of these programs are easy to use and reliable. For the purpose of this guide, we'll use ImgBurn.
Here's a step-by-step guide on how to create a virtual CD or DVD in Windows 11 using ImgBurn.
Step 1: Download and install ImgBurn
To start, you'll need to download ImgBurn from its official website or a trusted software repository. After downloading, run the installer and follow the prompts to install the software on your computer.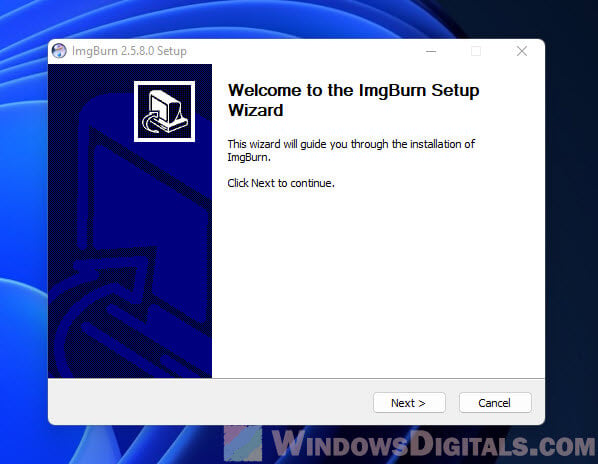 Step 2: Select the "Create image file from files/folders" option
Launch ImgBurn and in the main menu, select the option to "Create image file from files/folders".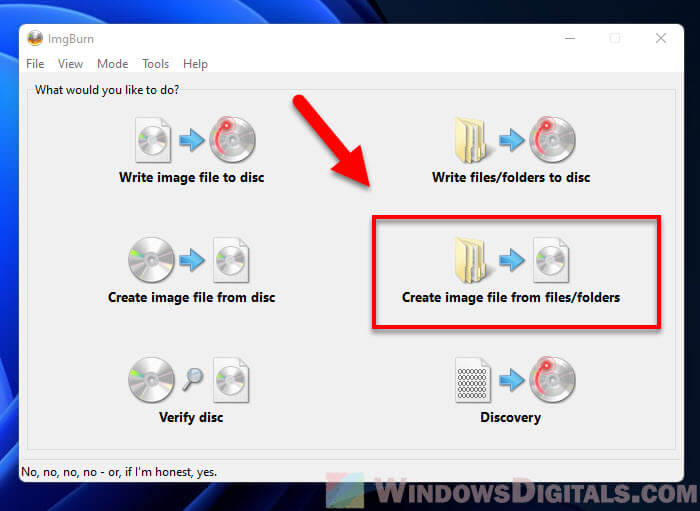 Step 3: Add files and folders
In the source section, click the "Browse for a file" or "Browse for a folder" button to add individual files or entire folders to your virtual CD or DVD. You can add as many files or folders as you like, as long as they do not exceed the storage capacity of a typical CD or DVD.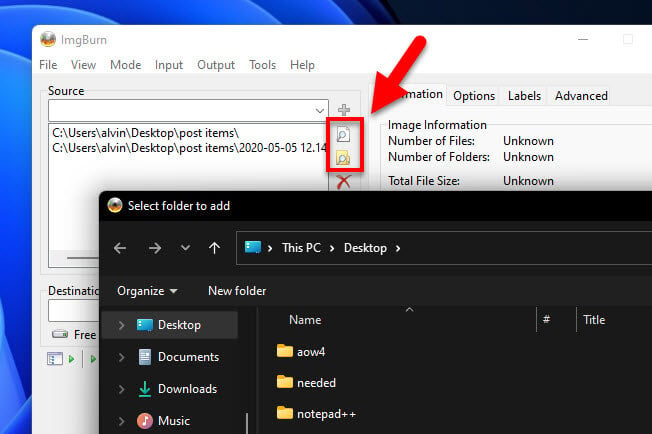 Step 4: Choose output destination
Under the "Destination" section, click the "Browse for a file" button to select the location where you want to save your virtual CD or DVD and name your ISO file.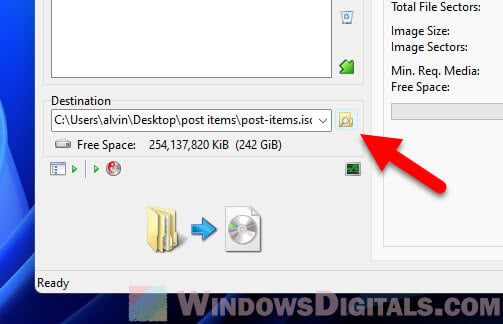 Step 5: Configure settings
There are various settings you can configure, but the defaults should work for most purposes. One thing you might want to check is the "File System" settings. Make sure it's set to "ISO9660 + UDF", which is the most compatible option for both Windows and other operating systems.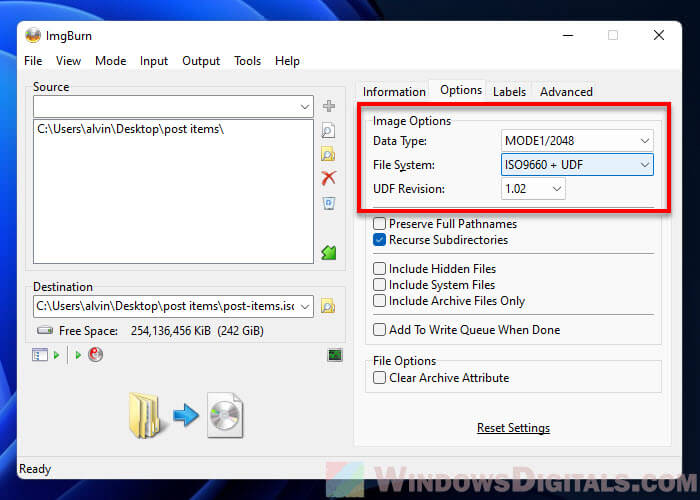 Step 6: Create the disk image
Once you're happy with your settings, click the big '"Build" button at the bottom, typically represented by a folder with an arrow going into a disc. ImgBurn will then create an ISO file from your selected files and folders.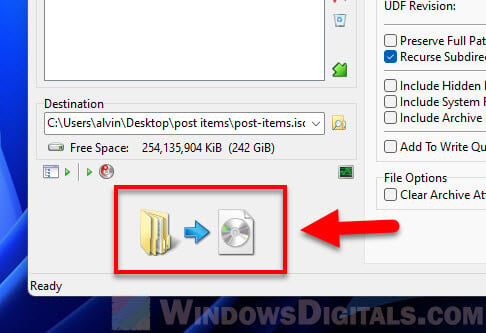 Congratulations! You've just created a virtual CD or DVD using ImgBurn. You can now mount this ISO file as a virtual drive in Windows 11 as described in the previous sections.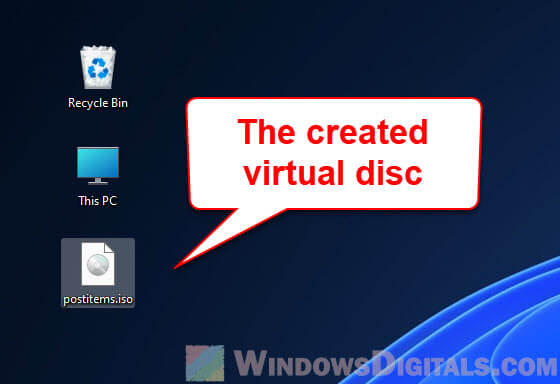 Final thoughts
Virtual CD or DVD drives and the creation of custom virtual CDs or DVDs (ISO) provide an innovative solution to an increasingly prevalent issue of our digital era. The physical media we once used are fast becoming obsolete due to digital alternatives (e.g. USB drives) offering increased flexibility, convenience, and resilience.
Having these skills at your disposal will allow you to effectively manage and preserve older software or games that are only available in disc format, or to compile a collection of files into a single, easily sharable disc image. Furthermore, virtual drives reduce the risk of damage or loss associated with physical media and provide faster, more efficient access to your data.
Looking ahead, the evolution of cloud technology and digital storage continues to gain momentum, further marginalizing physical storage media. However, there will always be a need for offline, locally stored data solutions, making virtual drives an enduringly relevant tool.