When it comes to gaming on the PC, Xbox controllers have always been a popular choice. They offer a familiar design for console gamers and provide ergonomic comfort for long gaming sessions. While newer Xbox controllers offer Bluetooth connectivity for easy pairing with PCs, not every PC has built-in Bluetooth support. Fortunately, there are alternative methods to connect your Xbox 360, Xbox One, Xbox Series X or S controller to your PC. In this article, we will guide you through the process of connecting your Xbox controller to your PC without Bluetooth.
Also see: How to use PS5 Controller on Xbox Game Pass PC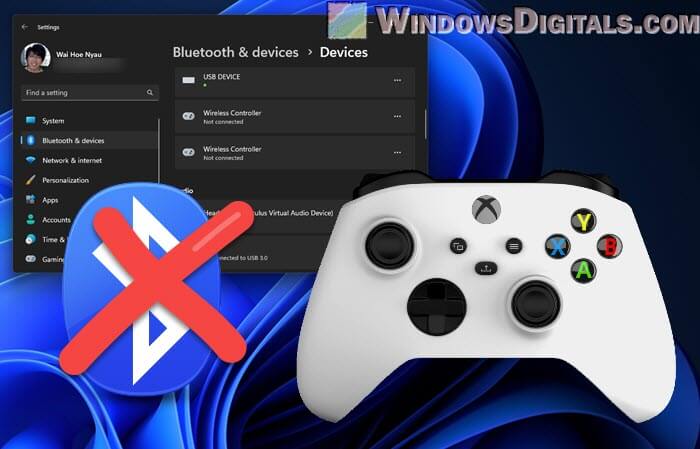 Why connect an Xbox controller to PC without Bluetooth?
While Bluetooth is a convenient and wireless way to connect peripherals, there are certain scenarios where using alternative methods can be beneficial.
No Built-in Bluetooth Support: Not every PC or laptop comes with built-in Bluetooth capability. Especially older machines might require external adapters for Bluetooth functionality.
Better Latency and Stability: Bluetooth connections, while generally reliable, can occasionally suffer from latency issues, leading to slight delays between button presses and on-screen actions. Using a wired connection or the Xbox Wireless Adapter can offer a more stable and responsive gaming experience.
Battery Conservation: Using a wired connection eliminates the need for batteries in your controller, which not only saves money over time but also ensures you won't be left scrambling for replacements in the middle of a gaming session.
Multiple Controllers: If you want to connect multiple Xbox controllers to your PC for local multiplayer gaming, using the Xbox Wireless Adapter can be more convenient, as it allows you to connect up to eight controllers simultaneously.
Ease of Use: Some users find it more straightforward to plug in a USB cable or use a dedicated Xbox Wireless Adapter than to go through the Bluetooth pairing process, especially if they regularly switch between devices.
Compatibility Concerns: Not all games or applications may support Bluetooth connectivity seamlessly. In such cases, a direct connection or using a dedicated adapter may offer better compatibility.
Useful tip: Use Wireless Controller as Mouse/Keyboard in Windows 11
Using a USB cable
The easiest and most straightforward way to connect your Xbox controller to your PC without Bluetooth is by using a USB cable. Most Xbox controllers come with a detachable USB cable (usually micro USB) that you can use to connect them to your PC. This method works for both Xbox One and Xbox Series X or S controllers. Here's a step-by-step guide:
Check for compatibility: Before connecting the controller, ensure that it is compatible with your PC. Xbox One controllers and Xbox Series X/S controllers are generally compatible with Windows 11 and Windows 10.
Plug in the USB cable: You'll need a USB-A to micro USB cable for Xbox One controllers or a USB-A to USB-C cable for Xbox Series X|S controllers.
Connect the controller: Attach one end of the USB cable to your Xbox controller and the other end to your PC.
Wait for drivers to install: If it's your first time connecting the controller, Windows should automatically recognize and install necessary drivers. Look out for a notification indicating that the "device is ready" to use.
Test the connection: To verify the controller is working, Click "Settings" > "Bluetooth & Devices" > "Devices". Here, you should see your Xbox controller listed under devices.
Learn more: Play PC Game with PS5, PS4 or Xbox Controller in Windows 11
Using the Xbox wireless adapter (non-Bluetooth)
If you don't have a USB cable or prefer a non-Bluetooth wireless connection, you can use an Xbox Wireless Adapter/Dongle. The Xbox Wireless Adapter allows you to connect your Xbox controller to your PC wirelessly, even if your PC lacks Bluetooth. Follow these steps:
Purchase the Xbox Wireless Adapter: First, you'll need to buy the Xbox Wireless Adapter, which is a small USB dongle designed specifically for connecting Xbox controllers to a PC.
Connect the adapter: Plug the Xbox Wireless Adapter into an available USB port on your PC. Allow your PC a few moments to recognize the new device.
Prepare the controller: Turn on your Xbox controller by pressing and holding the Xbox button located at the center of the controller until it powers on.
Pair the Controller: On the Xbox Wireless Adapter, press the pairing button. The light on the adapter will start flashing, indicating that it's in pairing mode.
Pair the Controller with the Adapter: Press and hold the pairing button located on top of your Xbox controller. The Xbox button will start blinking, indicating it's searching for the adapter. Once the blinking light on the controller and adapter becomes steady, the pairing is successful.
Check the connection: To confirm that your controller is connected, go to "Settings" > "Devices" > "Devices and Printers" to ensure your Xbox controller is recognized.
Related resource: How to Connect Wireless Keyboard Without USB Receiver
Using third-party software
Sometimes, native support for Xbox controllers may not work seamlessly, especially on older Windows versions or certain games. In such cases, third-party software can bridge the gap.
Download the software: Steam and DS4Windows are popular choices, though the latter is primarily for PlayStation controllers. Always download from reputable sources to avoid malware.
Install and setup: Once downloaded, run the software and follow the on-screen instructions. You'll generally be guided to map controller buttons to keyboard/mouse inputs.
Connect your Xbox controller: Using one of the methods mentioned above (USB or wireless adapter), connect the controller.
Test the Connection: Within the third-party software, you should see a representation of your Xbox controller. Press buttons on the controller to see if they respond on-screen.
Linked issue: Controller Not Working with Dolphin Emulator (Fix)
Conclusion
Connecting your Xbox controller to your PC without Bluetooth is simple and achievable through various methods. While Bluetooth is undoubtedly convenient for linking devices to a PC, it's not the only option. Whether you choose a USB cable or the Xbox Wireless Adapter, you should be able to connect your controller seamlessly and start enjoying your games.
Remember, always keep your drivers updated and consult the game's documentation to ensure compatibility with Xbox controllers.