Your computer's performance can be significantly impacted by the clutter accumulated over time. One such source of clutter is the AppData folder in Windows 11. This folder is a storage area for applications to store their configuration settings, temporary files, and cache. As you install and uninstall software or update your system, some unnecessary files may be left behind in the AppData folder, consuming precious storage space. In this article, we will guide you through the steps to clean up the AppData folder in Windows 11 without compromising your system's stability.
Also see: How to Clean C: Drive in Windows 11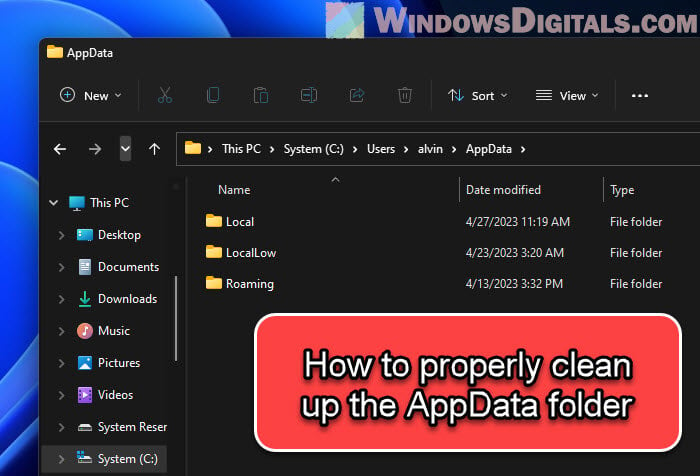 Understanding the AppData folder structure
Before we dive into the cleanup process, it's essential to understand the AppData folder's structure. There are three main subfolders within the AppData folder:
Local: Stores application data that is unique to the user and the device. This folder often contains cache and temporary files.
LocalLow: Similar to the Local folder but used by applications with lower security permissions.
Roaming: Stores application data that can be synced across different devices. This folder typically contains configuration settings and user preferences.
Recommended tip: How to Delete Windows Update Files in Windows 11
Accessing the AppData folder
To access the AppData folder in Windows 11, follow these steps:
Press Win + E to open File Explorer.
In the address bar, type %UserProfile%\AppData and press Enter.
You should now see the three main subfolders (Local, LocalLow, and Roaming) within the AppData folder.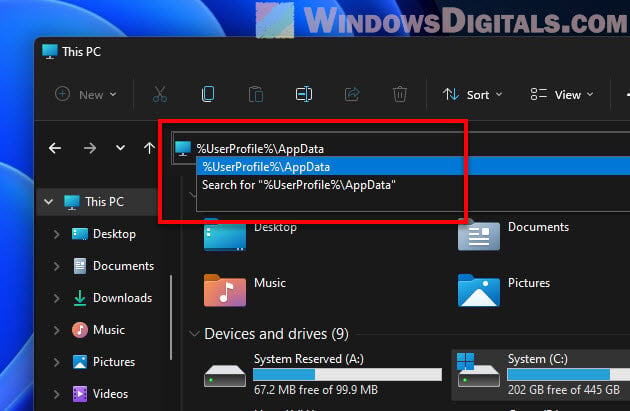 Is it safe to delete files in the AppData folder?
Deleting files from the AppData folder can be risky, as some applications store important configuration settings and data in this folder. Removing essential files can lead to application instability or data loss.
However, some subfolders within the AppData folder, such as the Temp folder (located in AppData\Local\Temp), generally contain temporary files that can be safely deleted. These files are created by applications during installation, updates, or normal operation and are often left behind even after the application has finished using them. Regularly cleaning the Temp folder can help improve your computer's performance and free up storage space.
Handy hint: Delete Windows.Old Folder in Windows 11/10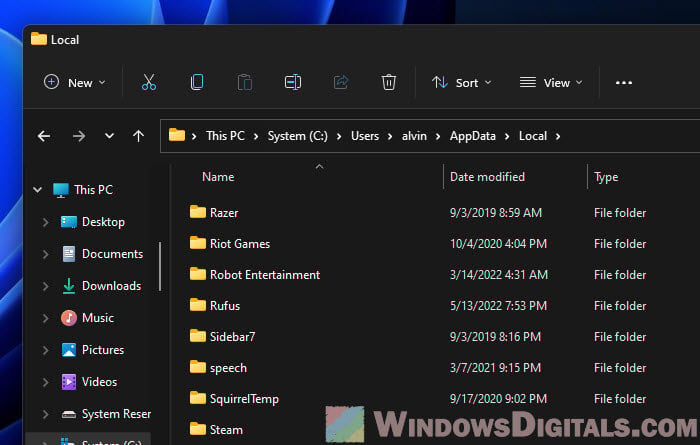 Manually cleaning up the AppData folder
Before you start deleting files from the AppData folder, make sure you understand the risks associated with removing important application data. Deleting critical files can lead to application instability or data loss. Proceed with caution and, if possible, create a backup before you begin.
Here's how to manually clean up the AppData folder:
Access the AppData folder as described in the previous section.
Open the Local subfolder and look for folders with recognizable application names.
Delete folders related to uninstalled software or applications you no longer need. Be cautious not to remove any critical system folders.
Specifically, navigate to the AppData\Local\Temp directory, where temporary files are stored. Deleting files from this folder is generally safe, as they are created during various application processes and often not needed after their initial use. Select all files within the Temp folder (use Ctrl + A to select all) and press Delete. Some files might still be in use by the system, so you may not be able to delete them all.
Repeat steps 2 and 3 for the LocalLow and Roaming subfolders.
Empty the Recycle Bin to permanently delete the removed files.
Using Storage Settings
Windows 11 offers a built-in feature that helps you manage your storage and clean up temporary files. To use this feature, follow these steps:
Press Win + I to open Settings.
Click on System and then select Storage.
Under the your System drive, select "Temporary files".
On the next screen, make sure the "Temporary files" is selected.
Click "Remove files" to remove temporary files automatically. Windows will analyze your system and remove unneeded files, including those in the AppData folder.
Read next: Clear Cache (Memory, Browsers, Temp Files) in Windows 11/10
Using Disk Cleanup Utility
Windows 11 comes with a built-in utility called Disk Cleanup that can help you remove temporary files, including those in the AppData folder. To use Disk Cleanup, follow these steps:
Press Win + S to open the Search menu.
Type "Disk Cleanup" and select the Disk Cleanup app from the search results.
In the "Select the drive you want to clean up" window, choose the drive containing your AppData folder (usually the C: drive) and click "OK."
Disk Cleanup will analyze your drive and display a list of file types that can be safely removed. Check the boxes next to "Temporary files" and any other file types you wish to delete.
Click "OK," then "Delete Files" to confirm and start the cleanup process.
Using third-party tools
There are numerous third-party tools available that can help you clean up the temporary files more efficiently. Some popular options include CCleaner and BleachBit. These tools offer a user-friendly interface and advanced features that can help you safely remove unnecessary files from your system.
To use a third-party tool, follow these general steps:
Download and install the software from the official website.
Launch the application and navigate to the section dedicated to cleaning temporary files.
Run the cleaning process. Most third-party tools will automatically clean temporary files, including those in the AppData folder.
If you want to specifically target the AppData\Local\Temp folder, use the "Include" option in CCleaner to instruct the software to delete files from that folder during every cleanup. Go to "Options" > "Include" and add the path %UserProfile%\AppData\Local\Temp to the list.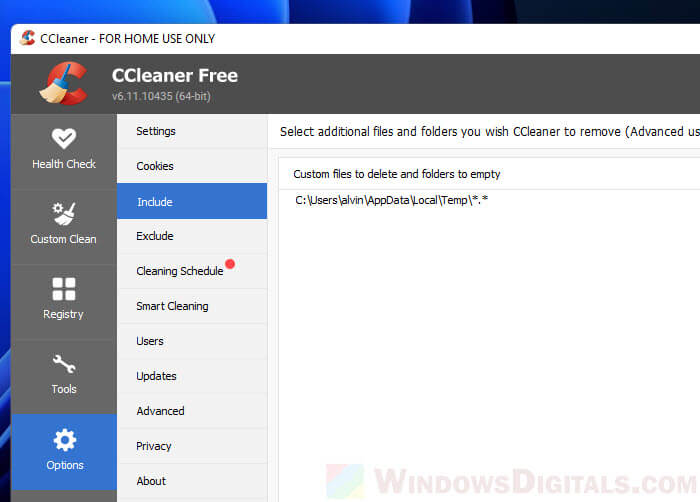 Wrap-up
Although users may not typically want to touch the AppData folder in Windows, there could be situations where a thorough cleaning is necessary, such as removing files and folders left behind by already uninstalled apps, or manually cleaning up temporary files within the AppData folder. In such cases, you can do so carefully, ensuring that you understand the risks and follow the best practices outlined in this article.
Regularly cleaning up the AppData folder not only frees up valuable storage space but also reduces the chances of conflicts between applications and the accumulation of redundant files. Always remember to create a backup of your critical data and exercise caution when deleting files to avoid data loss or application instability.