If you are having trouble restarting or shutting down your Windows 11 or Windows 10 computer and getting stuck on a loading screen that says "Working on Updates 100% Complete – Don't turn off your computer", there are a few things you need to know about this loading screen and how to resolve the issue.
This loading screen usually appears after a Windows update has been applied during a shutdown or restart. In most cases, the screen should only display for a few seconds or a few minutes at most after it reaches 100% complete. However, it is not uncommon for users to encounter an issue where the screen becomes stuck on the "Working on Updates" screen even though it shows 100% complete after waiting for a long while. Here's why and how to fix the issue.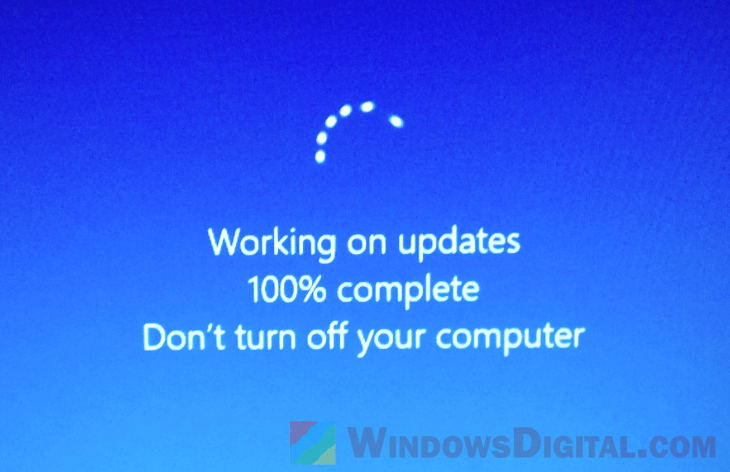 Why is Windows 10 or 11 Stuck on "Working on updates – 100% complete"?
There are several reasons why your Windows 10 or 11 computer may get stuck on the "Working on Updates 100% Complete" screen, including:
Slow disk reading and writing speed – Slow disk speed can be caused by an old and overflowing hard drive, or due to bad sectors. These factors may also interfere with the update process, leading to the "Working on Updates" screen getting stuck.
Corrupted Windows system files – If the Windows system files become corrupted, they may interfere with the update process, leading to the "Working on Updates" screen getting stuck at 100% or a certain percentage. This can happen due to malware infections, unexpected shutdowns, or incomplete updates.
Windows Update Service Failure – If the Windows Update service fails to start or operate properly, Windows may not be able to complete the update process, leading to the issue.
Incompatible drivers or hardware – Sometimes, an outdated or incompatible driver can cause conflicts with Windows updates, resulting in the updates getting stuck.
Insufficient space on the hard drive – If your hard drive does not have enough space to install the updates, the update process may fail.
Solution 1: Wait it out
Believe it or not, most of the time, waiting it out solves the issue without having to do anything to your system. If you've only waited 30 minutes or so, give it another two hours. If even after two hours, it still cannot go past the screen, move on to the next solution.
Solution 2: Run CHKDSK
In most cases, encountering the "Working on Updates 100% Complete" screen and getting stuck there can be attributed to slow disk read and write speeds. This issue primarily arises from old or overburdened hard drives that have been in use for an extended period without proper maintenance, and it is especially common with traditional hard drives that are not SSDs. Factors such as bad sectors, disk errors, and viruses can also contribute to reduced disk performance.
Running CHKDSK for your system drive may help fix the issue. If the update has been stuck for too long, you can force restart your PC and then execute the CHKDSK command to check your system drive for errors or bad sectors. For a detailed guide on how to do this, refer to: How to Run CHKDSK in Windows 11/10.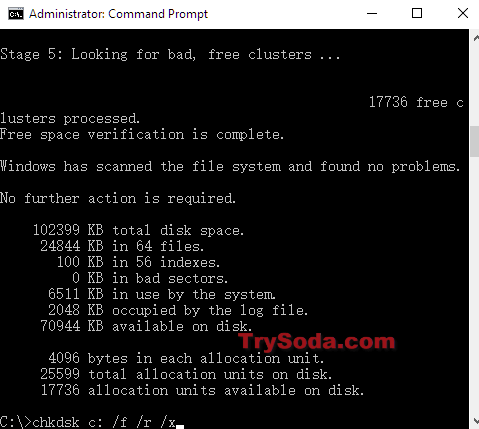 Solution 3: Delete the SoftwareDistribution folder
While it is generally advised not to tamper with the SoftwareDistribution folder under normal circumstances, you may consider deleting files within the folder if you encounter issues with Windows Update. This folder houses the installation files that Windows Update downloads prior to installation. If Windows Update malfunctions (for instance, getting stuck on the "Working on Updates 100% Complete" screen), removing files from the SoftwareDistribution folder will prompt Windows Update to re-download and reinstall any failed update components.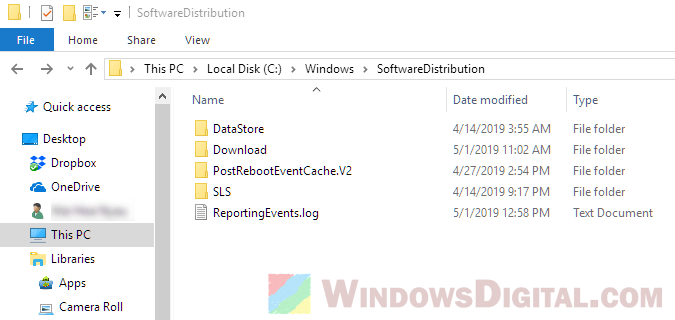 To locate the folder, navigate to C:\Windows\SoftwareDistribution. Select all the files in the folder and press the DEL key to delete them. Following this, restart your computer and run Windows Update once more. Windows Update should automatically re-download and reinstall the components you previously removed.