Are you getting stuck on the screen where Windows 10 display a loading message that read "Working on Updates 100% Complete" upon restart or shut down? Here's a few important things you need to know about the message and what you can do to get around it.
This particular loading screen would usually show up during a shutdown or restart of a PC right after Windows Update applied any update. In most cases, it would go past the screen in mere seconds or few minutes after it shows 100% complete. However, it's not uncommon that people would sometimes encounter an issue where the screen gets stuck on the "Working on Updates" screen even though it shows 100% completed after waiting for a long while. Here's why and how to possibly get around the problem.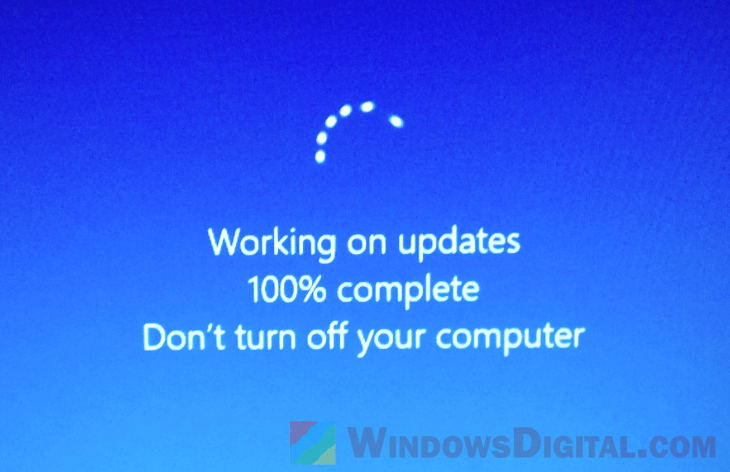 Fix: Working on Updates 100% Complete Stuck on Windows 10
Solution 1: Wait it out
It might sound silly but most of the time giving it more time and waiting it out solves the issue without having to mess with your system. If you have waited for only 30 minutes or so, give it another 2 hours. If even after 2 hours, it still cannot go past the screen, you can then start trying other solutions.
Solution 2: Run CHKDSK
In most cases, the cause of getting stuck on the "working on updates 100% complete" screen is because of slow disk reading and writing speed. Slow disk speed is mostly due to old and overflowing hard drive that has been used for a long time without maintenance, usually happen on regular hard drive that is not an SSD. Things such as bad sectors, disk errors and viruses may also slow down your disk speed.
If waiting is not an option, the best thing you can do is to force restart your PC and run CHKDSK for your system drive. Running CHKDSK will check and fix your disk errors and bad sectors if any is found. Then, try to restart your PC again and see if it will still stuck on the working on updates screen for a significantly long time.
Guide on how to run CHKDSK: How to Run CHKDSK in Windows 10.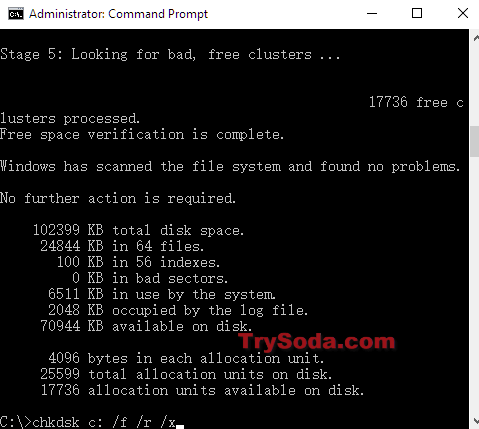 Solution 3: Delete SoftwareDistribution folder
While you do not want to touch the SoftwareDistribution folder under normal situation, you may want to try removing files in the folder should you encounter Windows Update problems. This particular folder stores installation files Windows Update download before installation. If Windows Update does not work properly (in our case now, getting stuck on the "working on updates 100% complete" screen), deleting the files in the Software Distribution folder will force Windows Update to re-download and reinstall the parts of updates that have failed.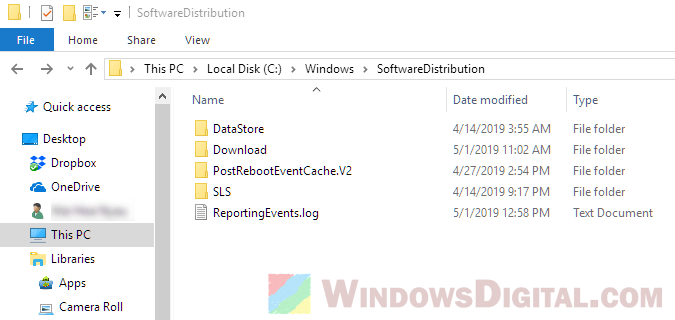 You can locate the folder at C:\Windows\SoftwareDistribution. Select all the files in the folder and press DEL key to delete them. Then, restart your PC and run Windows Update again. Windows Update should automatically re-download the components you've removed earlier and reinstall them.