Did Windows suddenly tells you that you need to reset your Windows due to boot error? Or were you in a situation where nothing works to fix your problem and you had to reset your Windows but ended up facing Windows 10 factory reset stuck at 1%, 99% percent or at the please wait screen? Here's what you can do to fix the issue.
When you run the Windows 10 factory reset, it stuck at 1%, 99%, 64%, 34%, 35%, 42%, 43%, 12% or at any percent and won't move at all no matter how long you waited. If this is what you are experiencing right now, try the solutions below to fix the problem. Sometimes the Windows 10 reset would also show There was a problem resetting your PC error.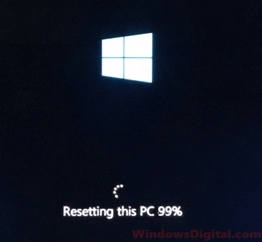 Windows 10 Factory Reset Stuck at 1%, 99% or 64%
The Windows 10 reset stuck issue can be caused by corrupted system files. The reset is especially common to be stuck at 1% and 99%, sometimes in the middle of the process such as 64%. Similar cases have been widely reported by Windows 10 users from around the world. Listed below are solutions that have worked to solve the problem for many users who experienced the same issue.
To be honest, your options are very much limited in this situation. If you are lucky, the first two methods should solve the issue. Otherwise, the worst scenario would be to clean install your Windows 10 again. Make sure to backup your important files first by reading your disk from another computer.
Fix 1: System Restore your Windows 10
If you have a system restore point or image saved previously, you may revert to the restore point. This is assuming you have a previously saved restore point of which your computer is still working on that time when the system image was created. If you create the system image now, it won't work to solve anything.
Anyway, you can still try to use the system restore tool to see if you have any system image saved previously (automatically by Windows) and is ready to be restored.
To do this, first we will have to boot into Windows Recovery Environment since you can't even boot into Windows now. To boot into Windows RE, hold and press the power button of your computer to force it to shut down. Switch it on again. As soon as it gets past the BIOS screen, force another shut down. Repeat this for 3 times. When Windows detect unusual startup, it will boot into Windows Recovery automatically.
In the Windows Recovery, navigate to Troubleshoot > Advanced Options > System Restore. Follow the on-screen instruction to restore your PC to an earlier date.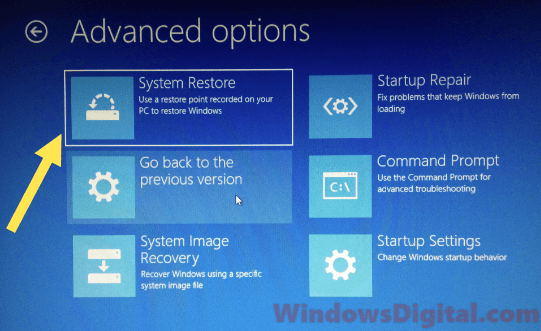 For a more comprehensive guide on how to do a system restore for Windows 10, read – How to system restore Windows 10 to a previous date.
While you are at the Windows RE screen, you may want to try re-running the Windows 10 reset from there. For more info, read – How to reset Windows 10 to factory settings.
Fix 2: Run Startup Repair
If you don't have any restore point you can revert to, try to run startup repair for your Windows 10. This has solved the Windows 10 factory reset stuck at 1% or 99% issue for many users.
If you have a bootable Windows 10 installation disk, be it DVD or USB drive, insert it to your computer and set your BIOS to boot the disk first. When it's booted up, choose Repair your computer from the Windows installation interface. Next, navigate to Troubleshoot > Advanced Options > Startup Repair.
If you do not have a Windows 10 installation disc, you can run the startup repair from Windows RE. Boot into Windows Recovery Environment by following the method outlined in the first solution above. Then, navigate to Troubleshoot > Advanced Options > Startup Repair. Follow the on-screen instruction to complete the startup repair.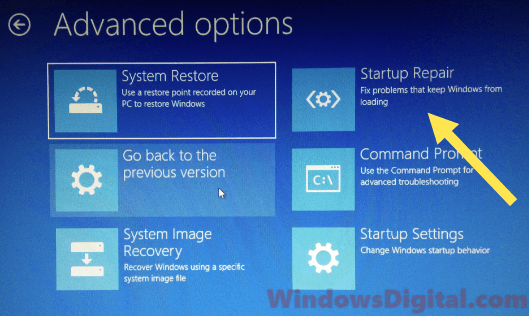 Restart your PC and it should then be able to boot into Windows 10 again.
You may also want to try running repair tools such as SFC, DISM or CHKDSK before boot. For detailed guide on how to do this, read – How to startup repair Windows 10 using Command Prompt.
Fix 3: Clean install Windows 10
When nothing works to fix the Windows 10 factory reset stuck at 1% – 99% issue, the only choice left is to reinstall your Windows 10. By reinstalling it means you may lose all your files in previous Windows 10. So, be sure to backup your important files first before formatting your PC.
At this point of time, you may want to consider sending your PC to a computer repair shop to see if they can help to fix the issue without formatting your computer.
There are several methods and tools to backup your files when you can't boot into Windows. The easiest and cost-free method would be to remove the hard disk drives from the problem computer and put them into another working computer. This will allow another Windows PC to read and copy the files in the HDD.
When you are ready, insert your Windows 10 installation disc to your computer. Set BIOS to boot it first. Select Install Windows 10 and follow the on-screen instructions to complete the clean install. This may include formatting your existing hard disk drives.