VLC is a popular, versatile media player beloved by users around the world for its ability to play almost any media file format you can throw at it. Among its many features is a plugin called VLSub, which offers users the convenient option to search and download subtitles directly within the player. However, some users have reported encountering an error message that reads "Error: code '401 Unauthorized' (200)" when trying to search for subtitles through the VLSub plugin. If you're facing this issue, this article is here to help you understand and resolve it.
Also see: How to Download Subtitles in VLC on Windows 11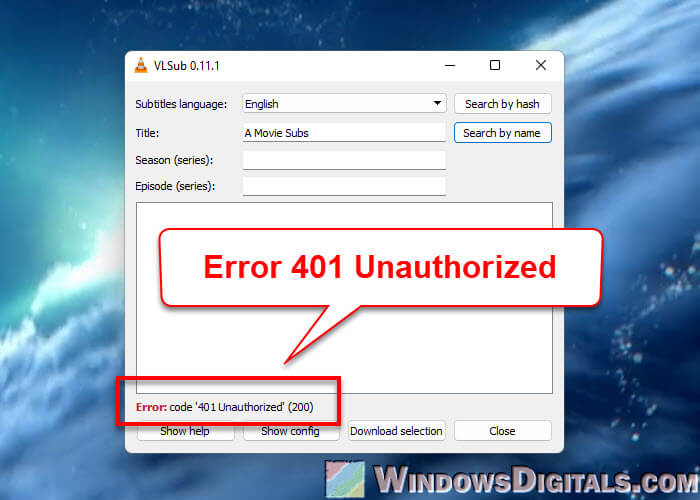 What does the 401 unauthorized error code mean?
The "Error: code '401 Unauthorized' (200)" error is essentially the VLC player communicating that it's been denied access to the server where it's trying to fetch subtitles. In this case, that server is hosted by OpenSubtitles.org, a free and popular online repository for subtitles.
The VLSub plugin in VLC relies heavily on this repository to source its subtitle files. When a user uses VLSub to search for subtitles, the plugin sends a request to this site's server to find and deliver the relevant subtitle files. However, in some instances, that request is denied, causing the error.
Useful tip: Convert SRT to 3D Subtitles and Add them to 3D Movies
How to fix VLSub error code 401 Unauthorized (200) in VLC Player
Certain functionalities on this subtitle repository website require users to have an account, potentially to maintain the quality of service or prevent misuse. By registering an account and entering the account credentials into the VLSub plugin, you're essentially giving the VLC player necessary authorization to access the server and fetch subtitles. This step could help overcome the "Error: code '401 Unauthorized' (200)" error.
Below is a step-by-step guide to resolve the issue:
Open your web browser and visit opensubtitles.org.
Click on "Register" and follow the prompts to create a new account. Remember to use a valid email address, as you'll need to confirm your account.
After registering, open your email to find a message from OpenSubtitles. Click the link in the email to "Confirm your account".
Now, open VLC Player and go to "View" in the menu, then click on "VLSub". This opens the VLSub window.
Click on "Show config" in the VLSub window. You'll see fields where you can enter your OpenSubtitles.org account credentials.
Input the username and password you just registered with into the corresponding fields, then click on "Save".
Now, try searching for subtitles again. The error should be resolved, and you should be able to download and use subtitles without issue.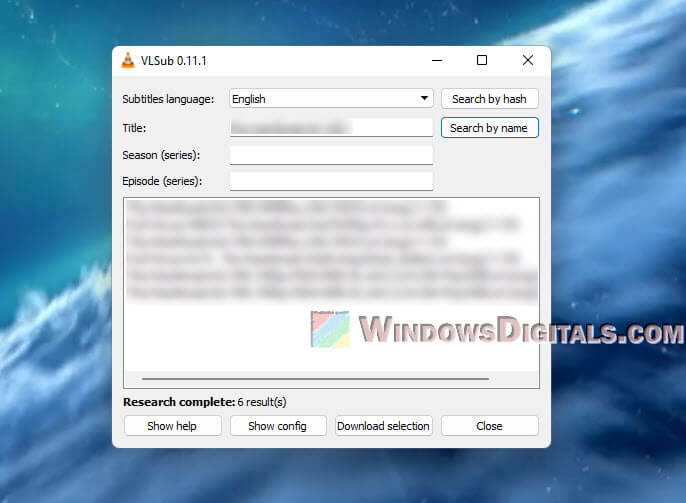 If you're still encountering the error after following these steps, make sure that you have confirmed your account through the email sent by OpenSubtitles. The service might not grant server access to unconfirmed accounts, which could be why you're still seeing the error message.
Related resource: How to Add Subtitles to Video in Windows 11
Final thoughts
To sum it up, resolving the "Error: code '401 Unauthorized' (200)" that occasionally pops up when using VLC's VLSub plugin is relatively straightforward. By registering for an account with the subtitle repository site and entering your credentials in the VLSub plugin configuration, you can overcome the unauthorized access issue and enhance your media viewing experience with the convenience of downloading subtitles directly in the VLC player.
However, it's vital to remember that these tools should always be used in a way that respects copyright laws. While the technology can help us improve and streamline our media consumption, it should not be leveraged to facilitate copyright infringement. As users, we have a responsibility to uphold the integrity of copyright laws, honoring the efforts and talents of those who create the content we enjoy.
Thus, as we strive to make our multimedia experiences better and more convenient, let's ensure that we are doing so ethically and legally. After all, in an age driven by digital content, a little respect for the rules goes a long way in sustaining the vibrant, creative world of entertainment we all love.