If after upgrading to Windows 10 April v1803 update, when you go to the Task View and you found that there is nothing shown in the Timeline feature in Windows 10, we will show you why it's not working and how to turn the timeline feature back on.
Timeline is a new and exciting feature introduced in Windows 10 April update. It allows user to search and view all activities in the past such as apps you have opened, webpages you have visited and documents you have accessed in the timeline. User can also return to any of these past activities in the timeline.
If your timeline is not working in Windows 10, it could mean that the feature is disabled. Here's how to enable the Timeline feature from the Activity history setting.
Fix: Timeline feature not working in Windows 10
If the Timeline is not showing any past activities, or you simply can't access to the Timeline feature, go to the following settings and check if you've allowed Windows to collect necessary info for timeline to work.
Go to Start, search for Settings and click on it.
Go to Privacy.
On the left pane, select Activity history.
Enable the settings that read "Let Windows collect my activities from this PC".
Optionally, if you want Windows to sync your activities across your devices, enable "Let Windows sync my activities from this PC to the cloud".
Under Show activities from accounts, make sure that the toggle beside your Microsoft account is toggled on.
If you have multiple Microsoft account on that list, toggling them on means to share the accounts' activities with each other in the Timeline.
When you have done enabling the said options and settings, restart your computer. Use your computer as Timeline collects your activities. Check back tomorrow and the Task View should show past activities in the Timeline.
If you can't access to the Task View from the taskbar, try to access it by pressing the Win Key + Tab. To re-enable the Task View button in taskbar, right-click your taskbar and select Show task view button.
If you're limited to only activities from the past few days, you can set Timeline to show more activities from more days in the past. Make sure you're signed into your Microsoft account. Go to Timeline. Scroll down until you see the "See more days in Timeline". Click on the Turn on button.
If nothing from the above helps, you will have to check your registry setting on the timeline feature. Before you do anything to your registry, create a system restore point as a backup so that you can revert to your backup if things go wrong.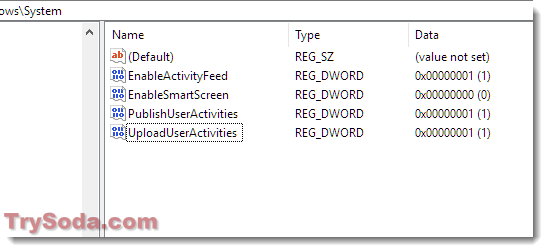 Go to Start Menu. Search for regedit and open it. Browse to the following path in the Registry editor.
HKEY_LOCAL_MACHINE\SOFTWARE\Policies\Microsoft\Windows\System
In this path, make sure that the DWORD (32-bit value) of EnableActivityFeed, PublishUserActivities, and UploadUserActivities are set to 1. If these items are not in the list, create them by right-clicking anywhere in the right panel, select New, then DWORD (32-bit). Enter the name as mentioned and set the value to 1.