Are you facing the annoying situation where the Start Menu search or Cortana becomes unresponsive or won't open at all in Windows 10 or Windows 11, often after an update? If this is the case, rest assured that there are multiple approaches you can take to tackle and resolve this issue.
It's important to note that if only the Windows key won't open the Start Menu (while clicking on the Start Menu icon still works), you may be dealing with a different issue. Check out this article: " Windows key button not working in Windows 10" for help with that problem.
Also see: StartMenuExperienceHost.exe Missing or Crash Windows 11/10
Windows 11/10 Start menu not working
If the Start menu is not working or won't open at all in Windows 11 or 10, try the solutions below.
Before diving into the more advanced solutions, try restarting your PC to see if it fixes the problem itself. Usually, a simple restart or a logout and re-login of your Microsoft account should be able to fix the issue. If it doesn't, you can then try the following solutions.
Solution 1: Kill explorer.exe and restart the process
If restarting is not an option, try terminating the explorer.exe process and restarting it. Here's how to do it:
On your Windows 10/11 desktop, press CTRL+ALT+DEL keys to open the Task Manager. If your Task Manager is in compact view, click on More details at the bottom to show all details.
Go to the Details tab and look for the explorer.exe process. Right-click the process and then click on End task. This will terminate and close your entire Windows explorer. You will see a black screen with only a working mouse cursor and the active Task Manager window.
To reopen the explorer.exe process, in the Task Manager window, click on File then Run New Task. Type explorer.exe in the Open field. Click OK to open the process. When your Windows Explorer is reloaded, retry opening the Start menu again and see if it opens this time.
Solution 2: Changing the WpnUserService registry value
This is a widely known fix for the start menu not working issue. The only problem with this fix is that you will need to open Regedit. However, you can open it from the Task Manager as well. Here's how to do it:
On your Windows 10/11 desktop, press CTRL-ALT-DEL keys to bring up the Task Manager.
Click on File, then Run New Task.
Type regedit and then click OK.
When UAC ask for permission, click OK.
In the Registry Editor, navigate to the following registry folder.

HKEY_LOCAL_MACHINE\SYSTEM\CurrentControlSet\Services\WpnUserService

On the right pane, double-click on the Start registry.
Change the value data to 4 and make sure Hexadecimal is selected as the base.
Click OK and close the Registry Editor.
Restart your computer and verify if the Start menu opens without any issues.
Solution 3: Run System File Check and DISM
System File Check is a built-in Windows 10/11 repair tool that automatically scans for and repairs any missing or corrupted system file. Since the Start menu is a part of the system file, running SFC may help to solve the problem.
To run SFC, we need command prompt access. Thus, press CTRL-ALT-DEL keys to open the Task Manager again. Go to File, then Run New Task. Type CMD in the open field and check the checkbox for Create this task with administrative privileges. Click OK to open the command prompt with admin privileges.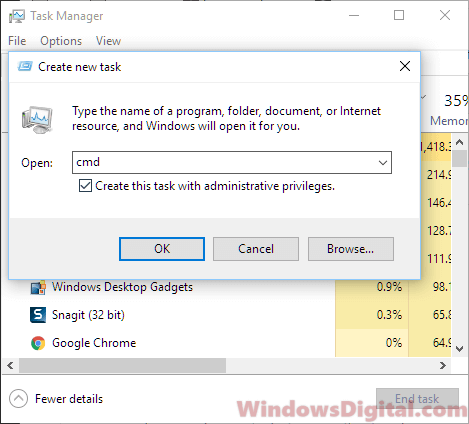 In the command prompt, enter the following commands followed by Enter key after each line of command:
sfc /scannow
Dism /Online /Cleanup-Image /RestoreHealth
Each of these commands may take some time to run. Try not to interrupt the entire scanning process. Restart your computer after all the scans and repairs are completed. Verify if the Start menu issue is fixed.
Other possible solutions
Additionally, you may want to try creating a new user in the command prompt. Open the command prompt as outlined above. In the command prompt, enter "net user username /add" where username is the new user name and can be any name you want. Reboot and login to the new user and see if the problem persists.
If none of these solutions work, it may be worth considering resetting your Windows 10/11 installation. This should only be done as a last resort and after backing up all important data. Resetting Windows allows you to keep your personal files, but it will remove all installed apps and drivers.