Just like you, we've also been struggling with the start menu search being not responding, crashing or simply not working, every once in awhile in our Windows 10 computers. We have 20 computers in our client's office running on Windows 10 which nearly half of them have had this issue.
We have tried every possible solutions including formatting and reinstalling the OS, but eventually the issue came right back. The only reason we could think of is that there were software that we were using on these PCs interfered with how the Windows 10 start menu search works and thus causing conflicts between them.
To this date, Microsoft has yet to provide a comprehensive solution to the problem. Well, it's not easy to make something up and make sure it's compatible with everything else. Many people including some of our clients' computers are still experiencing the start menu search not working problem in Windows 10.
Would running Windows Update help fix the problem?
As a matter of fact, the very first thing you should try is to run Windows Update. Microsoft is working hard to solve as many conflicts between software as they can and release these hotfixes in Windows Update. If there is a patch or build that does fix the conflicts between the software you use and Windows 10, then the issue can be permanently fixed.
However, it's rare that Windows Update would ever solve any problem for you. If Windows Update doesn't fix yours as well, try the following workarounds which we have tested and worked for us.
So, what were our scenarios on the start menu search not working problem and what did we do to solve them?
We've tried disabling and reinstalling our antivirus software, restarting Windows explorer.exe, setting Windows search service to automatic, using Windows start menu troubleshooter, changing paging file and a few other fixes which doesn't even worth to mention. None of the above works for us, until we found the solutions below.
Restart Cortana in Task Manager
Cortana and start menu search are correlated. Restarting the Cortana process solves the problem for us. The instruction below will show you how to terminate Cortana and allow it to restart itself.
Right click your taskbar and select Task Manager.
In Task Manager, go to the Processes Tab.
Look for Cortana from the list.
Click on it and then click End Task.
This will terminate the Cortana process. Windows 10 will then automatically restart Cortana. Try now and see if the start menu search not working problem still persists.
This fix is, however, just a temporary workaround. The start menu search problem will most likely happen again in your next PC restart and at that time you will have to do this fix again.
Recreate UsrClass.dat to fix start menu search not working error
UsrClass.dat is a file located in your Windows 10 appdata folder that holds your profile information. We tried to rename this file to allow Windows to create a new UsrClass.dat file. After that, the start menu search magically works again.
However, we can't be 100% sure that it's safe to remove the UsrClass.dat file. That's why we recommend to rename it to something like UsrClass.old.dat so that you can still revert the change if something bad happen. So far, we don't see any problem in our Windows 10 PC after renaming the file. Anyway, do this at your own risk.
UsrClass.dat is located in the following directory. Replace "username" with your actual Windows username.
C:\Users\username\AppData\Local\Microsoft\Windows\UsrClass.dat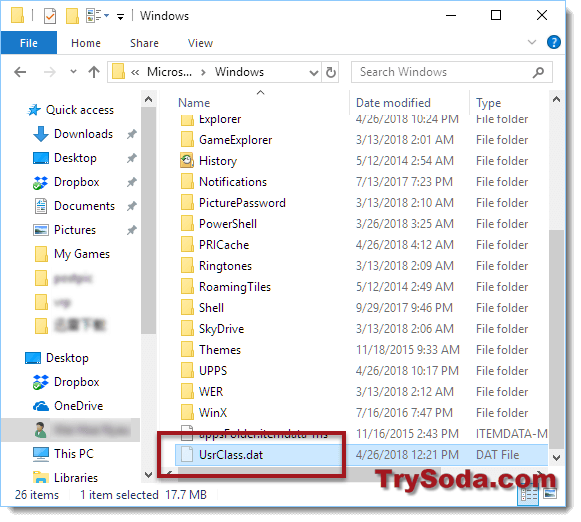 Rename it to UsrClass.old.dat. Then, restart your computer. Upon restart, Windows will automatically create a new UsrClass.dat file. This should then fix start menu search problem.
If it says "action can't be completed because the file is open in System", boot your Windows into safe mode to rename it.