The Windows 10 April 2018 update 1803 introduces timeline feature – a place that stores your past activities and allows you to go back to them and continue where you left off. These timeline activities history may get clogged up as time passes and may need a cleanup. This guide will show you how to clear timeline activity history in Windows 10.
To take a look at the timeline feature, click on the Task View icon on the taskbar or press Win + Tab keys on your keyboard. If you have been browsing websites or opening documents in Microsoft Office apps, you would see them listed on the timeline sorted by the date you visited them.
If you have been browsing a lot recently or have been working on many documents on Microsoft Word, the timeline could look messy with all the activities the timeline collected in the past and becomes difficult to look for an activity from the list. If you would want to clear the timeline activity history in Windows 10, here's how to do it.
By clearing the task view timeline activity history, it also help to fix the problems where the "Pick up where you left off" not working as it should.
How to Clear Timeline Activity History in Windows 10
To clear timeline activity history (or often know as task view activity history), follow the steps below.
Go to start menu.
Click Settings (the gear icon at the left).
Select Privacy.
On the left pane, select Activity History.
Under Clear activity history, click on the Clear button to clear timeline activity history in Windows 10.
After clicking on the clear button, when you go back to the Task View / Timeline activity history, it should be empty by now. It will start collecting your activity history all over again.
Clear button in Clear Activity History is missing
If you allow Windows to sync activities from your PC to the cloud using your Microsoft account, the clear activity history button will be hidden. Since you've already synced your activities to your Microsoft account, you will have to clear it from the "Manage my Microsoft Account activity data" page.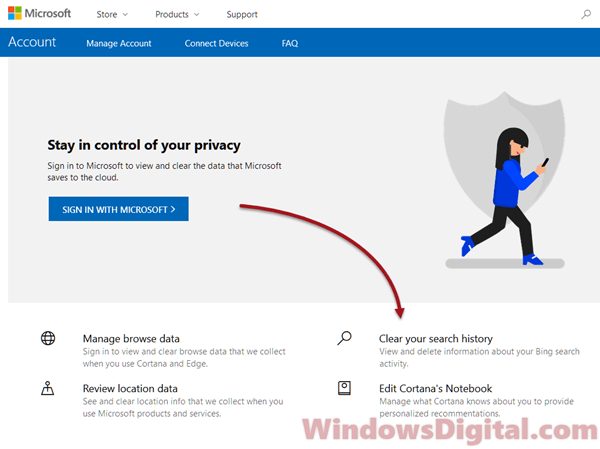 The clear button is made for activity history that are stored locally on your computer which doesn't get synced. As soon as you uncheck the "Let Windows sync my activities from this PC to the cloud" option, the clear button will appear again (switch to other setting page and switch back to Activity history).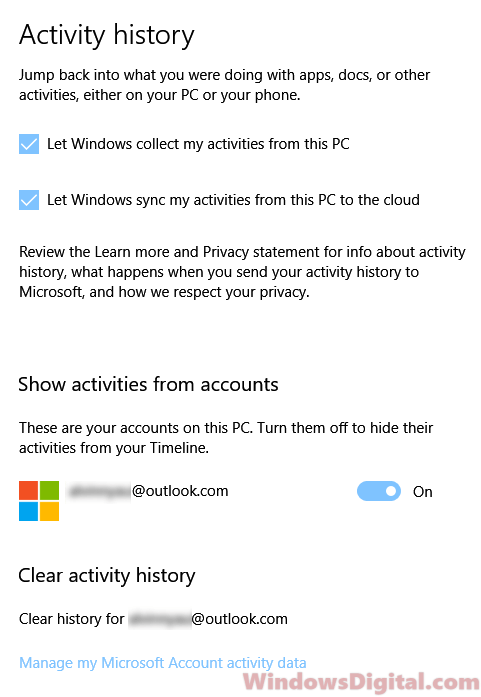 Alternatively, you can temporary switch off the "Let Windows sync my activities from this PC to the cloud", go to other setting page and then come back to Activity history again. Click the Clear button. Then, re-enable the sync.
Doing this will clear only the local timeline activity history and deletes the "pick up where you left off" items. It won't clear data Microsoft has already collected from you if you're using a Microsoft account and the sync was turned on. You will have to clear the search data manually from the Microsoft account interface by clicking the "manage my Microsoft account activity data" link as illustrated above.